NEWS
Tokiwagi Gakuen and Waseda University advance through first round of the Empress's Cup JFA 44th Japan Women's Football Championship
28 November 2022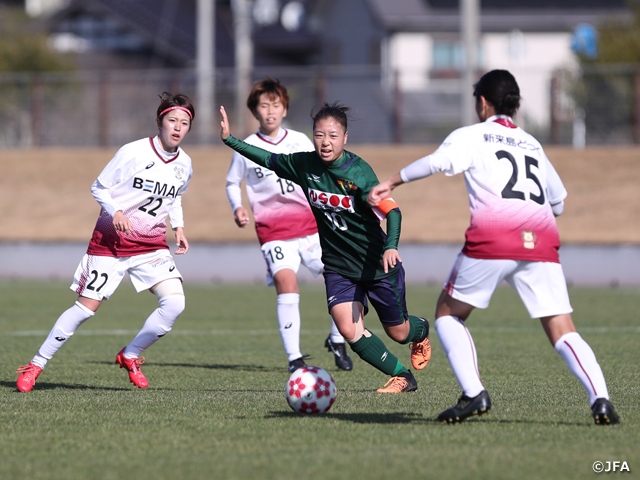 Following its kick-off on Saturday 26 November, seven of the remaining first round fixtures of the Empress's Cup JFA 44th Japan Women's Football Championship took place on Sunday 27.
Featured Match 1
Tokiwagi Gakuen High School 2-1 (0-1, 2-0) FC Imabari Ladies
The match between Tokiwagi Gakuen High School (Tohoku 1/Miyagi) and FC Imabari Ladies (Shikoku 1 /Ehime) came down to the wire, as the high school side scored late to win in dramatic fashion.
Imabari continued to create opportunities to threaten the Tokiwagi Gakuen goal after OCHI Nanaka's stunning shot gave them the lead in the 32nd minute, but they were unable to find a way to increase their advantage. Tokiwagi Gakuen, who are playing in their first Empress's Cup match in three years, gradually picked up their pace as the game went on, and they scored the equaliser in the 77th minute when ITO Yuna delivered a well-placed lob shot that found the back of the net. Two minutes later, Tokiwagi Gakuen went up 2-1 thanks to a goal from SHIRAKI Juna that was assisted by team captain TAKATSUKA Ena.
In efforts to rally back, Imabari created number of opportunities including the shot taken by SUZUKA Aki that struck the crossbar. Despite firing a total of 11 shots, more than twice as many as their opponents, Imabari failed to score the equaliser, as Tokiwagi Gakuen advanced to the second round with a 2-1 victory.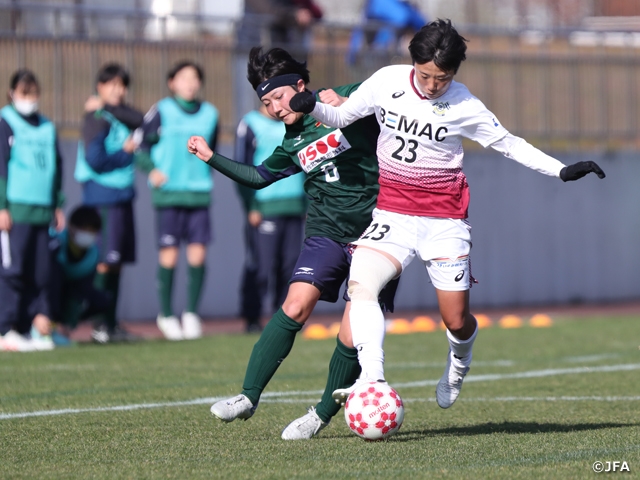 Featured Match 2
Bunnys Gunma FC White Star 1-3 (0-1, 1-2) Waseda University
Waseda University (Kanto 2/Tokyo), the defending champions of the All Japan University Women's Football Tournament, and Bunnys Gunma FC White Star (Nadeshiko 1/Gunma), who finished ninth in the first division of the Nadeshiko League, both played with great aggression from the outset. However, it was the university side who scored first.
The opening goal came in the 21st minute, when KASAHARA Ayano converted a cross delivered from the right side to put Waseda University in the lead. Kasahara was given another opportunity to score in the 51st minute, but this time OGAWA Yuka blocked her shot near the goal line. Waseda University extended their lead in the 74th minute when Kasahara converted a long-range effort, despite Gunma's goalkeeper TAYA Harumi saving their attempt from the penalty spot in the 69th minute.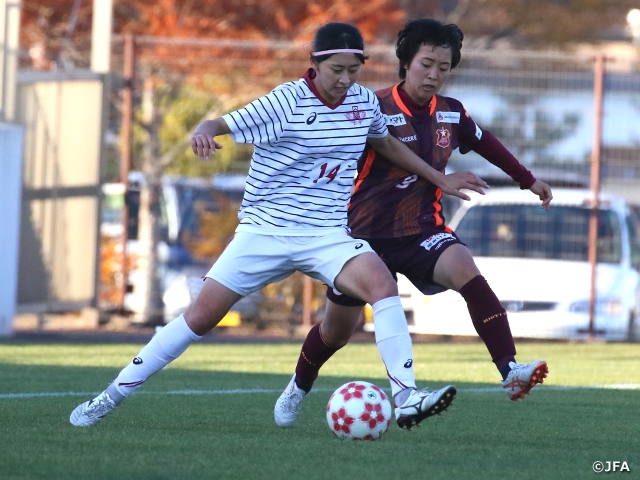 In efforts to rally back from a two goal deficit, Gunma shifted their formation to bring OYA Ayumi up top. This position change got paid off in the 85th minute when Oya converted a header to cut the deficit in half.
With the match intensifying in the closing minutes, it was Waseda University who scored the next goal. The goal came in the 87th minute, when TAKAHASHI Hina converted the deflection of a cross sent by YOSHINO Mao, as Waseda University moved onto the next round with a 3-1 victory.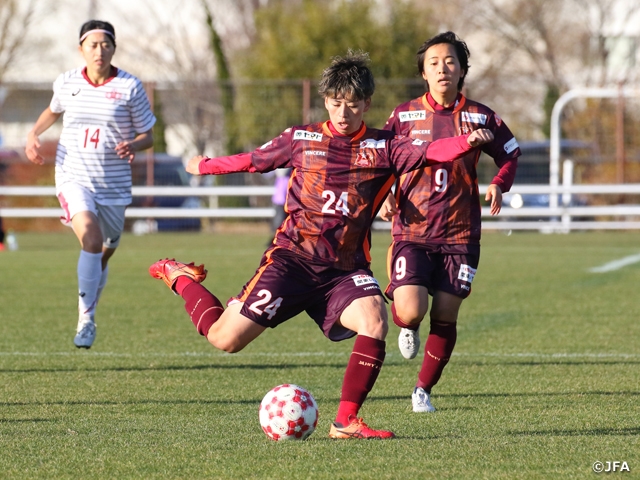 Players' Comments
MF #7 ITO Yuna (Tokiwagi Gakuen High School)
Facing an older team who are at a higher level than us, we didn't know how they were going to approach this match. Considering how we conceded the first goal from our own mistake, we were just focused on playing to our strengths in the second half. When I scored the equaliser, I didn't see exactly where the other goalkeeper was at, but I knew I had enough space, so I just took my chance. We were thrashed by our next opponent, Iga FC Kunoichi Mie (Nadeshiko 1/Mie), in the spring, so we hope to have our revenge this time.
MF #18 OCHI Nanaka (FC Imabari Ladies)
We struggled to win the ball in the first half but managed to gain momentum after scoring the opener. However, we were unable to capitalise on the opportunities we created afterwards. We had a difficult season in which we couldn't display the kind of football we desired but fought hard as a team to play through the Nadeshiko League playoffs and reach the stage of the Empress's Cup. If we can continue to work together as a team, I believe that positive results will follow.
FW #8 OYA Ayumi (Bunnys Gunma FC White Star)
This was a match we had to win. We were effected by the wind when we conceded the first goal, but I wish we could have kept our composure to possess the ball. Although we were able to gain momentum from the saved penalty, it was disappointing that we conceded another goal soon afterwards. We have struggled in the Nadeshiko League this season, but we hope to raise the overall level to become a better team. I personally will stive to become a player who can get involved in more goals.
MF #14 KASAHARA Ayano (Waseda University)
Although we saw some flaws in our defence, I am glad we were able to win this match. I scored the opening goal from a play I normally pass the ball. I have been making a conscious effort to take more shots, so I am glad it helped me score that goal. We don't get that many opportunities to play against first division teams of the Nadeshiko League, so we will try to enjoy the moment and paly with a challengers' spirit. There are alumni students of Waseda University playing for our next opponents, Asahi Intecc Loveledge Nagoya (Nadeshiko 1/Aichi), so I want to play to my strengths and contribute with a goal or an assist.
Empress's Cup JFA 44th Japan Women's Football Championship
Tournament Duration: Sat. 26 November 2022 - Sat. 28 January 2023
【1st Round】Sat. 26, Sun. 27 November
【2nd Round】Sat. 3, Sun. 4 December
【3rd Round】Sat. 10, Sun. 11 December
【4th Round】Sat. 17, Sun. 18 December
【Quarterfinals】Sun. 15 January 2023
【Semi-Finals】Sun. 22 January 2023
【Final】Sun. 28 January 2023