NEWS
Pescadola Machida U-18 becomes first F. League youth team to be crowned as champions at the JFA 6th U-18 Japan Futsal Championship
05 August 2019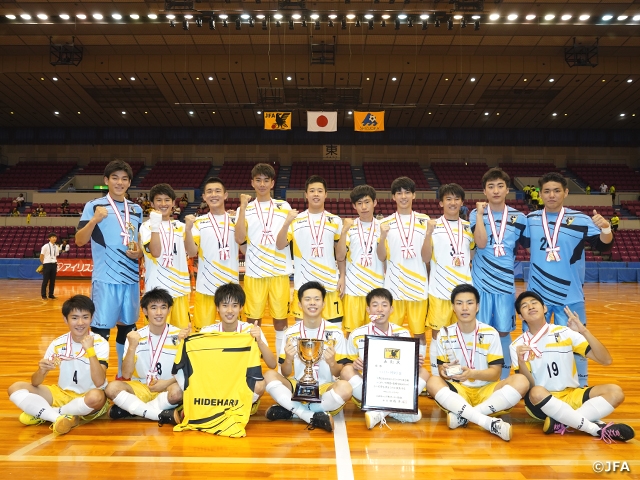 On Sunday 4 August, the final and third place match of the JFA 6th U-18 Japan Futsal Championship took place at Hamamatsu Arena.
For the first time in tournament history, three F. League youth teams remained on the final day. The third place match was played between Shonan Bellmare Londrina U-18 (Kanto3/Kanagawa) and Santos FC/Santista (Tokai/Aichi), where the two sides exchanged five goals apiece in regulation time to enter penalty shootouts. It was Londrina who prevailed at the end, as they won 3-1 in penalties to finish the tournament in third place.
The final featured a fixture between two F. League youth sides, Pescadola Machida U-18 (Kanto2/Tokyo) and Shriker Osaka U-18 (Kansai2/Osaka). While Machida started off the match by applying aggressive pressure from the front line, Osaka kept their composure in defence to seek for their opportunities to counter.
It was Machida who took the initiative in this match, as MORI Gensuke broke away from Osaka's IGUCHI Rintaro to free himself up in front of the goal and converted a timely pass to give his side a 1-0 lead at the 10th minute mark. Osaka responded just a minute later, when KOMINAMI Yuki received a pass from KASU Kibou and snuck a shot between the opposing goalkeeper's legs to level the match.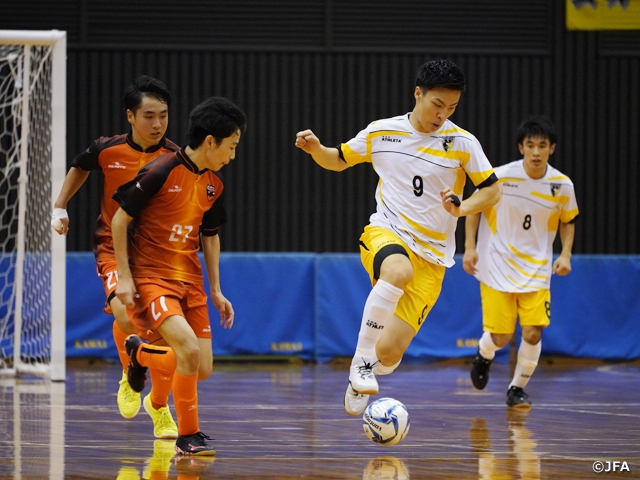 After scoring a hat-trick in the semi-final, Machida's HAMASAKI Ginsei got on the score sheets for the second match in a row, as he converted a quick driven ball from a set play to make it 2-1. Machida continued to threaten the opposing goal, but Osaka's goalkeeper NAKANO Anji showcased a fine performance to keep the score intact, as the match entered halftime with Machida leading by a single goal.
The second half saw the Machida side continue to dominate, as they utilised their full-court press effectively. While KAI Ryoto and Mori fell short from capitalising their opportunities, YAMANAKA Shoto captured the team's third goal in the 35th minute to double their lead.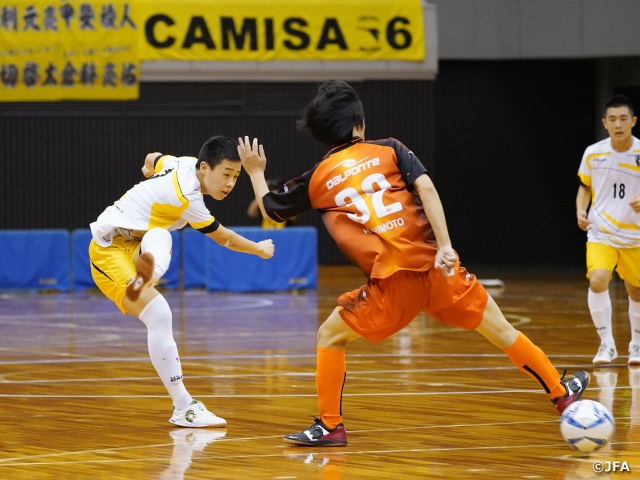 Just moments later, Osaka got back within a goal, as they scored a goal from a power-play. Osaka continued to apply pressure through their power-play, while Machida anticipated for their chance to extend their lead from a counterattack. Despite the efforts made by the Osaka sides, the match ended with a final score of 3-2, giving Machida their first ever title at the U-18 Japan Futsal Championship.
This year marked the first time a high school football team did not win the Championship. The champions were also awarded with the Fair Play Award, while their ace, Mori was named as the tournament MVP.
Coaches and Players' Comments
KAI Shuji, Coach (Pescadola Machida U-18)
In retrospect, we came long ways counting from the Tokyo qualifiers. We fought each match with great focus and made it all the way to the final. We didn't want to waste all the energy we spent on the matches leading to the final. Through the entire tournament, we were able to enter the final with a good amount of nervousness. The final match was very close, and we had to keep our concentration high until the very end. With that being said, I still believe that our team can achieve more than this.
MORI Gensuke (Pescadola Machida U-18)
Winning this tournament was our team's ultimate goal, so I am truly happy. It's very satisfying that we were able give back to coach Kai by handing him the champion's trophy. Our opponents did not look comfortable under pressure, so our ability to apply aggressive pressure really turned out to be effective in this match. It meant a lot that we were able to score two goals from set-plays. I was really trying to win the MVP as well. Our team managed to score many goals, while showcasing what we have been working on. The goals I have scored were just the end result of the team working hard, so this MVP was won by the entire team.
IGUCHI Rintaro (Shriker Osaka U-18)
Compared to the other matches, we were forced to spend more time on defence in the match against Machida. However, I was able to see how much our team has evolved over this tournament. Machida showed great bench strengths, so we should be proud of the fact that we gave them a tough match until the very end. Our team consists with many third graders, but we also have many second graders as well, so I hope the younger players will feed off of this bitter experience to do better next year. We saw three F. League teams dominate the podium, and we hope that this is a beginning of a new era.
IKUMA Yosuke, Coach (Shonan Bellmare Londrina U-18)
In the first half, we utilised every player on the game roster, including the first graders. We knew our opponents were fatigued, so we tried to score goals by applying aggressive pressure. Although we conceded two goals, we managed to equalise the match during the first half and take the lead at the beginning of the second half. The fifth goal we conceded was unexpected, but today we showcased our best performance of the tournament. Compared to our last tournament appearance, I feel like we managed to play with more unity as a team.

8/4 3rd Place Match: Santos FC/Santista vs Shonan Bellmare Londrina U-18
8/4 Final: Pescadola Machida U-18 vs Shriker Osaka U-18
JFA 6th U-18 Japan Futsal Championship
Tournament Dates: Thu. 1 - Sun. 4 August 2019
Tournament Venue: Hamamatsu Arena, Shizuoka