NEWS
F2 Kashiwa's amazing run continues as they defeat Oita to reach the Final of the JFA 26th Japan Futsal Championship
07 March 2021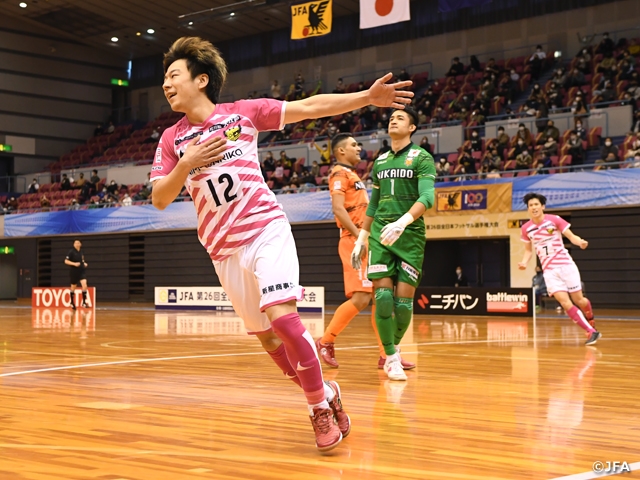 The semi-finals of the JFA 26th Japan Futsal Championship took place at Hamamatsu Arena on Saturday 6 March, where F.League division 2 side Toruela Kashiwa (F2/Chiba) and Fugador Sumida (F1/Tokyo) clinched their spot into the tournament final.
The first semi-final match saw early action, as Kashiwa's UCHINO Shuma intercepted a pass of Vasagey Oita (F1/Oita) and converted the opportunity to score the opening goal in the second minute. With momentum on their side, Kashiwa captured their second goal in the eighth minute, when SATO Tatsuya scored a goal from a play following a kick-in.
The F2 side took advantage of the loose defence of Oita to further extend their lead in the 12th and 13th minute, as NAKAMURA Yusuke and KUMAGAI Toshiki scored a goal apiece to make it 4-0.
With his side trailing by four goals, Oita's coach ITO Masanori reflected on the first half, "We conceded too many goals in the early minutes and made the match much tougher than it had to be." However, the runners-up of the F.League division 1 rallied before halftime to cut their deficit in half, as YOSHIDA Keigo and TAKIZAWA Taisho scored goals to make it 4-2 at the break.
Although it was the F1 side who finished the first half on the high note, it was Kashiwa who took the initiative to start the second half. After SHIRAKATA Hidekazu converted a FK in the 22nd minute, the F2 side added another goal from an own-goal in the 28th minute. With their backs against the wall, Oita rallied back in the closing minutes, scoring three consecutive goals to get within a goal, but Kashiwa managed to walk away with a 6-5 victory to reach the tournament final.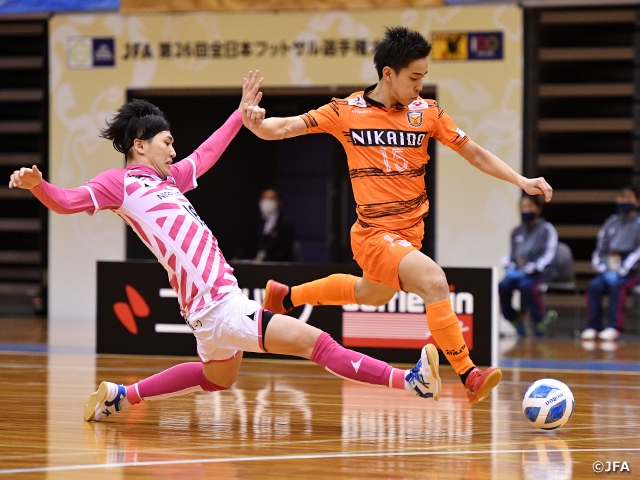 The second semi-final fixture between Pescadola Machida (F1/Tokyo) and Sumida came down to the wire. The match started with Sumida taking the initiative, as MIYAZAKI Satoshi scored the opening goal off of a kick-in of MORIMURA Takashi, who has announced his retirement after this season. Despite losing their ace, GARRINCHA, with an injury, Sumida managed to extend their lead in the 34th minute with a goal scored by KURIMOTO Hiroki. Morimura, who assisted both goals for Sumida, later reflected on his team, "With the season nearing the end, we are finally meshing together as a team."
With time running out, Machida deployed their power-play, as they brought in MORI Gensuke to replace their GK. With less than two minutes left to play, MOTOISHI Takehiro captured the net, which was followed by the equaliser scored by CREPALDI Vinicius with just 22 seconds left on the clock. After both sides failed to score goals in overtime, the match entered PKs, where Machida's fifth kicker KANAYAMA Yuki struck the goal post to send Sumida into the final. For Sumida, this will be their fourth final appearance, first since 2017.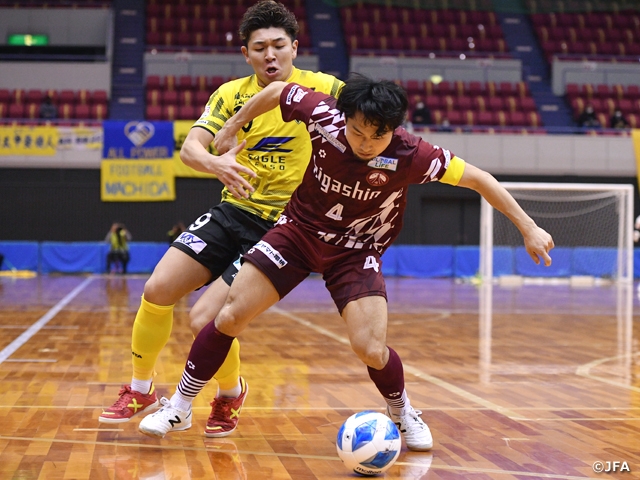 The final will take place on Sunday 7 March, where Kashiwa will square off against Sumida. If Kashiwa wins, it will be there first title, while for Sumida it will be their second title, first in 12 years. It will be interesting to see if the F2 side can continue their amazing run to complete the giant killing, or if Sumida can claim the title to defend the pride on behalf of all F1 clubs.
Players' Comments
FP #14 SHIRAKATA Hidekazu (Toruela Kashiwa)
We still have the F.League divisional play-offs left for us this season, and that is our ultimate goal for sure. However, we hope to finish strong in this tournament so that we can carry the momentum into the play-offs. It is also important for us to face F1s teams and get used to their pace and style. By facing and winning against F1 sides have give our team great confidence, so we hope to finish off this tournament on a high note.
FP #12 UCHINO Shuma (Toruela Kashiwa)
Besides this tournament, there are not many opportunities to face F1 clubs, so it has been really fun. This is also a rare opportunity for me to showcase my performance at my hometown. With our next match being the tournament final, I am a bit nervous, but I hope to enjoy the match as much as possible. We are getting a tremendous opportunity to play intense matches in three consecutive weeks, so we hope to make the most of these matches.
FP #10 CREPALDI Vinicius (Pescadola Machida)
We kept on fighting until the end, but Fugador Sumida was the stronger team today. It is necessary to carry out different strategies between cup matches and league matches, but our opponent managed to showcase a better performance. Overall, it was still a very good match. Although I was able to score the equaliser, I am responsible for conceding two of our goals. An experienced player must not make mistakes like that. I will reset my mind and work even harder to get better ahead of the next season.
FP #4 MOROE Kengo (Fugador Sumida)
With this being the semi-finals, I got pretty emotional when we won the match. The win itself was amazing, but I was moved because this is the last season with coach Suga, and I also remembered the time I missed a PK to lose to Nagoya Oceans eight years ago. We hope to win the final and give coach Suga a proper send off.

Semi-Finals 3/6【Full-Match】Toruela Kashiwa vs Vasagey Oita
Semi-Finals 3/6【Full-Match】Pescadola Machida vs Fugador Sumida
JFA 26th Japan Futsal Championship
Tournament duration: Fri. 19 February – Sun. 7 March
Venue: Mie Prefectural Sun Arena (Mie), Komazawa Olympic Park General Sports Ground (Tokyo), Hamamatsu Arena (Shizuoka)