NEWS
Regional sides cause upsets by defeating F2 clubs at the first round of the JFA 26th Japan Futsal Championship
20 February 2021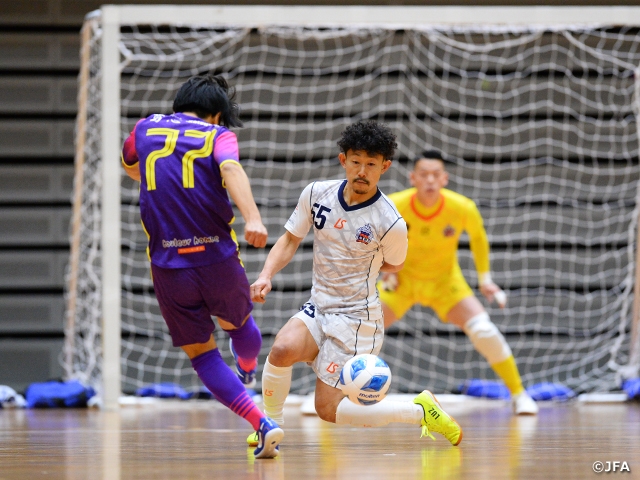 The first round of the JFA 26th Japan Futsal Championship took place on Friday 19 February. Upsets brewed at Mie Prefectural Sun Arena, as two F.League division 2 sides, Agleymina Hamamatsu (F2/Shizuoka), Porseid Hamada (F2/Shimane) lost to regional clubs on day one.
The fixture between Hamamatsu and Confianza FC (Kansai1/Nara) saw TOGO Shinya score the opening goal from a FK in the 12th minute to give Confianza the lead. The Kansai side quickly doubled their lead, scoring another goal in the 13th minute, once again scored by Togo. With momentum on their side, HASEGAWA So made it 3-0 in the 15th minute, giving Confianza a comfortable lead at halftime. After trailing by three goals, Hamamatsu started to deploy their power-play from the end of the first half, as coach YAMAMOTO Masanori later reflected, "We have been working on our power-plays since the end of the regular season." Although the J2 side managed to get within a goal, Confianza walked away with a 4-3 victory to advance to the second round.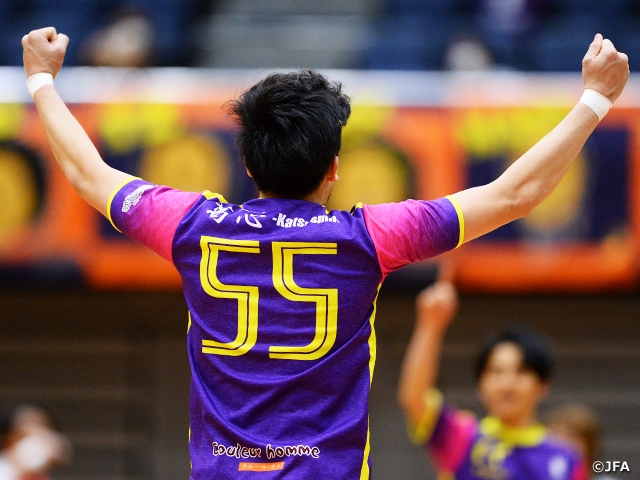 O-PA (Kanto2/Chiba) scored the opening goal against Luck The Drive (Chugoku/Hiroshima) in the ninth minute, when HAYASHI Kenji captured the net. The Kanto side managed to win the match 5-3, thanks to the hat-trick scored by Hayashi, as he later commented, "After losing in the play-offs at the Kanto League, we turned our focus to this tournament, so I feel relieved that we were able to win our first match."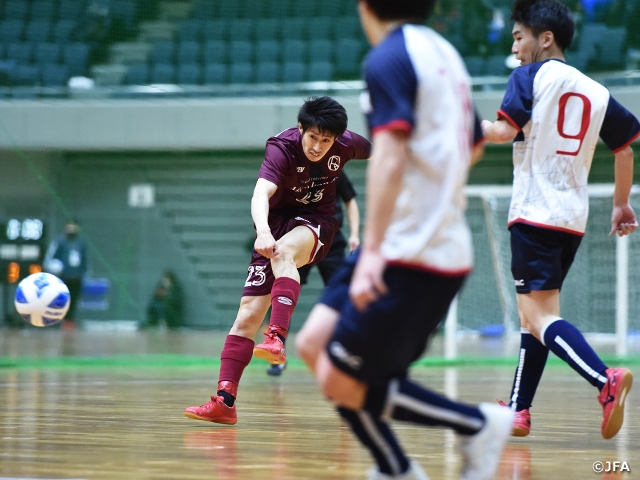 After losing all matches at F2 this season, Hamada announced the resignation of coach YAMAMOTO Naoki, while entering this tournament seeking for their first official match victory. However, the team struggled to deal with the speed showcased by FC miracle smile (Shikoku/Ehime) and conceded three goals in the first half. Despite managing to score two goals in the second half, the F2 side fell short from finding a victory, as coach Yamamoto commented after the match, "This is such a shame. We feel like we brought down the reputation of the F.League."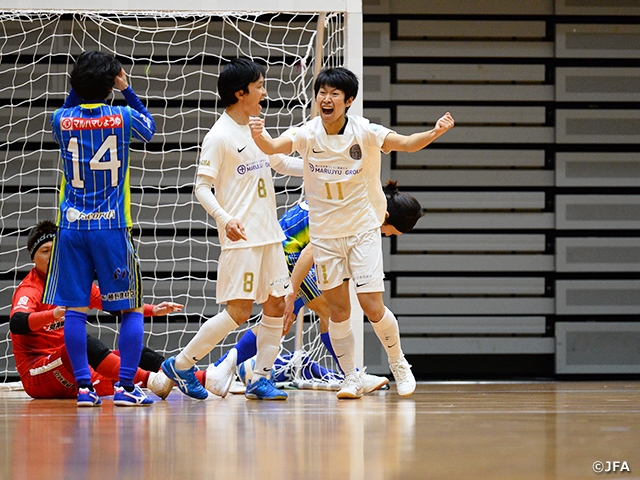 The match between Nagaoka Billboard FC (Hokushinetsu/Niigata) and Ritsumeikan University intramural club All.1 (Kansai2/Shiga) came down to the wire, as the score was tied 2-2 until the 29th minute. While Nagaoka took advantage of their physical strengths, the university side capitalised on a set-piece to score the go-ahead goal. With YAMAUCHI Ryunosuke scoring the team's fourth goal, Ritsumeikan secured a 4-2 victory to put the first round behind them.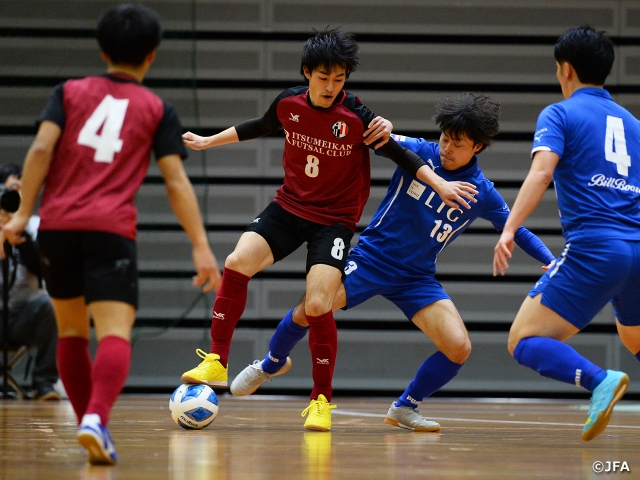 The second round will take place on Sunday 20, as the remaining four clubs of F2 will make their appearances. Subordinate teams of Nagoya Oceans and Fugador Sumida will be in the mix, as well as Crescer FC (Kyushu1/Fukuoka) who consists many former F.Leaguers, setting up intriguing fixtures at the second round.
Players' Comments
FP #5 WASHIKITA Kazuki (Agleymina Hamamatsu)
This is just so embarrassing, and we are just sorry for this result. After finishing the season in a disappointing way, we were very motivated to enter this tournament. I don't know what went wrong today, we just didn't have what it takes the win the match. As the team captain, I feel responsible. We are a team that used to play at F1, so we will try to regain our confidence and bounce back from this.
FP #55 TOGO Shinya (Confianza FC)
Facing a team from F2, we really wanted to cause an upset today, so we are glad that we were able to do just that. Although we play at the second division of the Kansai League, we have won against division one teams, and we were confident that we can compete at a higher level. Even today, we felt like we were showcasing an equal bout. Personally, I am glad that I was able to score a goal when the score was tied at 0-0 for a long time.
FP #14 ONISHI Shunta (FC miracle smile)
With our opponent being a team from the F.League, we entered the match with a challenger's spirit and tried to showcase our speed. I am disappointed that I wasn't able to score any goals, so I will try to do a better job executing my shots tomorrow. This win gives us great confidence moving forward, and we will continue to give our best efforts as a challenger.
FP #9 DAIMO Tetsuro (Ritsumeikan University intramural club All.1)
Coming into the match, we knew that we were the least skilled team in this tournament, but we were still confident that we are a strong team. We wanted to prove that you don't need skills to be strong, and I feel like we were able to show just that. If we can make it to the fourth round, we can face teams from the first division of the F.League, so we will try our best to reach that far.

1st Round 2/19
【Highlight】Agleymina Hamamatsu vs Confianza FC
1st Round 2/19
【Highlight】O-PA vs Luck The Drive
1st Round 2/19
【Highlight】Porseid Hamada vs FC miracle smile
1st Round 2/19
【Highlight】Nagaoka Billboard FC vs Ritsumeikan University intramural club All.1
JFA 26th Japan Futsal Championship
Tournament duration: Fri. 19 February – Sun. 7 March
Venue: Mie Prefectural Sun Arena (Mie), Komazawa Olympic Park General Sports Ground (Tokyo), Hamamatsu Arena (Shizuoka)