NEWS
Urawa advances to Semi-finals with advantage in away-goals over Shanghai SIPG - AFC Champions League 2019
18 September 2019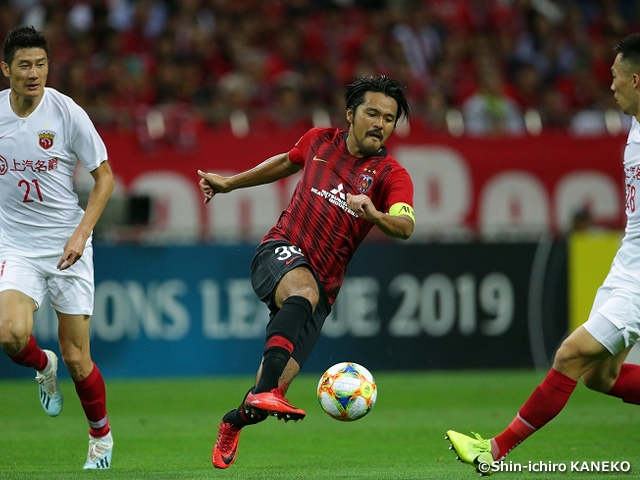 The second leg of the AFC Champions League 2019 quarterfinals took place on Tuesday 17 September, where Urawa Red Diamonds drew against Shanghai SIPG (China PR) 1-1 at home. With the aggregate score tied at 3-3, Urawa advanced to the semi-finals with their advantage in away goals.
After drawing the first leg 2-2 at Shanghai's home, Urawa needed a win or a draw less than 2-2 in order to advance through to the next stage. Shanghai was missing their key players, HULK and Odil AHMEDOV for this pivotal match, but their starting line-up still featured star players, Marko ARNAUTOVIC and OSCAR, as they desperately needed goals to advance through.
Although Urawa was missing MAURICIO for this match, their defence kept great composure to deny Shanghai from scoring an early goal. As the match progressed Urawa gradually picked up their pace and created a close opportunity in the 35th minute. The play was initiated by EWERTON, as the ball was played to HASHIOKA Daiki, who delivered a cross to NAGASAWA Kazuki at the centre, but his direct shot was blocked by the opposing goalkeeper, YAN Junling.
Just four minutes following this play, Urawa broke the deadlock. The goal came from a perfect delivery sent by SEKINE Takahiro from the left side, allowing KOROKI Shinzo to strike a header into the Shanghai goal. This goal was Koroki's seventh goal at the ACL this season, 25th overall at the ACL.
With Urawa taking a 3-2 lead in aggregate score, Shanghai rallied back in the second half. In the 56th minute, their forward LI Shenglong broke through from a counterattack, but Sekine made a great effort to deny the Shanghai striker from taking a shot.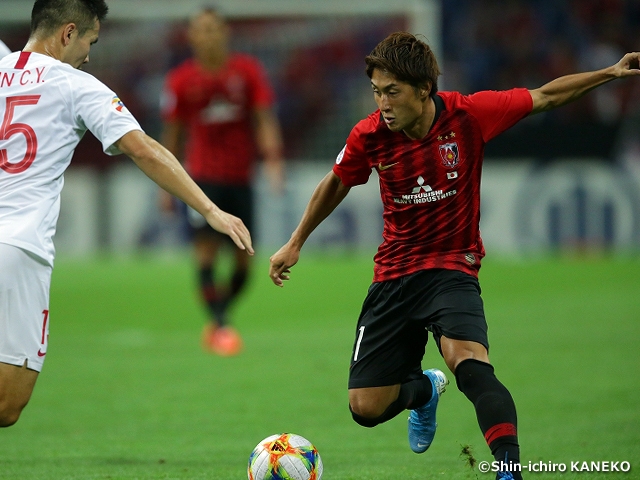 However, the match was levelled in the 60th minute, when Shanghai's WANG Shenchao converted a cross sent by YU Hai from the left side. Following this goal, Urawa created multiple opportunities to retake the lead, but their efforts fell short from finding the net.
Still needing a goal to advance, Shanghai shifted their system from a four-back to a three-back formation, as they brought in FU Huan in the 73rd minute. With Shanghai adding more layers to their offence, Urawa responded by brining ABE Yuki and MUTO Yuki into the match. The heated battle came down to the wire, but the match ended in a 1-1 draw. With this result, Urawa advanced to their fourth ACL semi-finals in franchise history.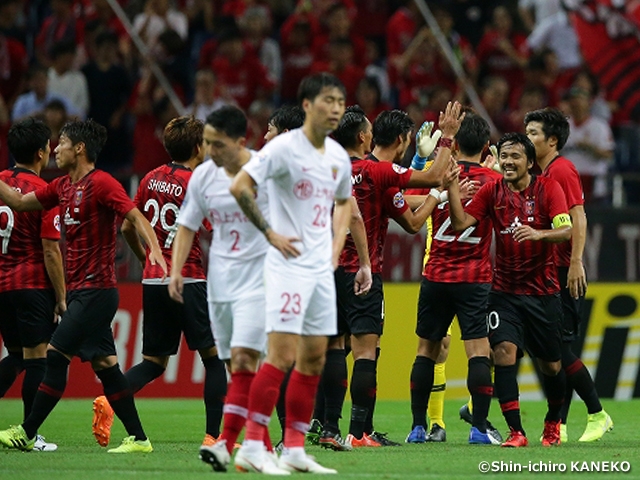 Urawa will now face the winner between the defending champions, Kashima Antlers (Japan), and two time ACL champions, Guangzhou Evergrande Taobao (China PR), as their second leg will take place on Wednesday 18 September. The semi-final fixtures for Urawa is scheduled on Wednesday 2 and Wednesday 23 October.
Coaches and Players' Comments
OTSUKI Tsuyoshi, Coach (Urawa Red Diamonds)
Although we drew today's match 1-1, we were able to advance through with the help of our two away goals scored in the first leg. He faced some tough stretches during this match, but with the support of our fans, our players managed to grab the ticket to the next round, so we are grateful for all the support. I felt like we were bringing out our full potential when we played offensively, so I told my players to play aggressively and try to keep ourselves on the same page, regardless of the situation. As a result, our players fought extremely hard as a team, and I am truly glad to see our players perform the way they did today. I wanted to showcase a match where everybody involved with the Reds organisation can regain the confidence to the club, so I am very thankful for my players.
MF SEKINE Takahiro (Urawa Red Diamonds)
I am glad that we were able to earn this result. However, I am disappointed that I was involved in the play where we conceded the goal, so I must make the necessary adjustments in that matter. The chance to compete for the ACL title is an opportunity that only comes around once in a lifetime, so I hope to give my best efforts to help the team win the title.
MF NAGASAWA Kazuki (Urawa Red Diamonds)
It would've been better if we had won the match, but I am glad we managed to advance through to the next round. We conceded a goal in a bad timing, but our team stayed vocal and kept our focus until the very end. Our opponent came out with a similar line-up from the first leg, so we had a pretty good idea of how to play against them. We didn't want to give Oscar too much space and I feel like our team played with a mutual understanding on the pitch.
FW KOROKI Shinzo (Urawa Red Diamonds)
We knew this was going to be a very difficult match. After taking the lead in the first half, we really wanted to score more goals to take control of the match, but our opponent was strong, and we ended up conceding the equaliser instead. After conceding the goal, we faced some tough stretches, but our defence fought hard to keep the score intact. I personally would like to face Kashima at the semi-finals.
Vitor PEREIRA, Coach (Shanghai SIPG)
Although we managed to apply aggressive pressure in the first 20minutes, Urawa gradually picked up their pace and started to utilise the width of the field wisely. After scoring the equaliser in the second half, we saw our opponents losing confidence, but we weren't able to capitalise on our opportunities. YANG Shiyuan's injury had a huge impact on our defence, but we also had to enter the match with many injuries and suspensions. We gave everything we've got but fell short from scoring the second goal. The result is disappointing, but every player gave their best efforts today.

Tournament Dates:
Play-offs: Tue. 5 - Tue. 19 February 2019
Group Stage: Mon. 4 March - Wed. 22 May 2019
Round of 16: Tue. 18 June - Tue. 13 August 2019
Quarterfinals: Tue. 27 August - Wed. 18 September 2019
Semi-finals: Tue. 1 - Wed. 23 October 2019
Final: 1st Leg/Sat. 9 November 2019, 2nd Leg/Sun. 24 November 2019