NEWS
Urawa clinches second place with win, Kawasaki eliminated despite away victory at the AFC Champions League 2019
22 May 2019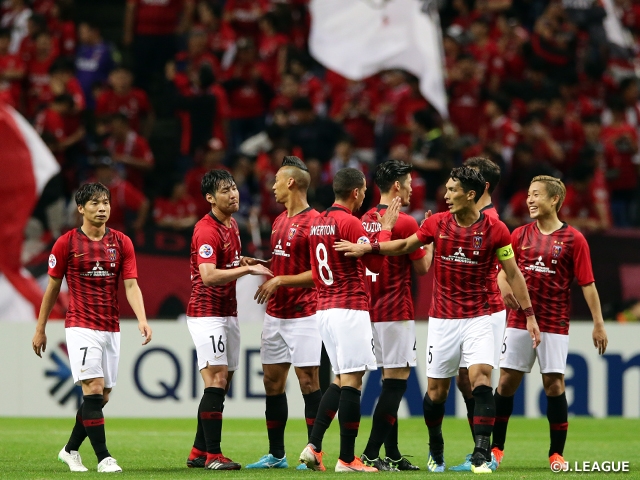 The final fixtures of the AFC Champions League (ACL) 2019 group stage took place on Tuesday 21 May, where Urawa Red Diamonds won their home match against Beijing Sinobo Guoan (China PR) 3-0 to clinch second place of Group G to advance to the next round. Despite their 4-0 away victory against Sydney FC (Australia), Kawasaki Frontale was eliminated from the tournament after finishing third in Group H.
Nagasawa comes off bench to give boost for Urawa
In the fixture between Urawa and Beijing where the match was played with the second-place spot at stake, midfielder NAGASAWA Kazuki, who came in as a first half substitute, scored and assisted a goal each to give Urawa their second round of 16 appearance in three years.
In order for Urawa to clinch second place of their group, they needed a win or a scoreless draw in their final fixture played at home. However, the team was forced to use their substitution early in the match, as KASHIWAGI Yosuke was unable to continue after suffering an injury in the 13th minute. For the visiting side, their only hope to advance was through scoring goals, as they built their offence around Renato AUGUSTO, Jonathan VIERA, and Cedric BAKAMBU to create opportunities. In the 20th minute, Bakambu struck consecutive shots to threaten the Urawa goal, but goalkeeper NISHIKAWA Shusaku responded well to keep the Congolese from scoring a goal.
It was the substituted midfielder who made the difference in this pivotal match for Urawa. After Kashiwagi went down, it was Nagasawa who came into the match. The 27-year-old midfielder went onto score the opening goal in the 34th minute after receiving the ball from MUTO Yuki. Nagasawa then assisted Muto in the 41st minute to give Urawa a 2-0 lead by halftime.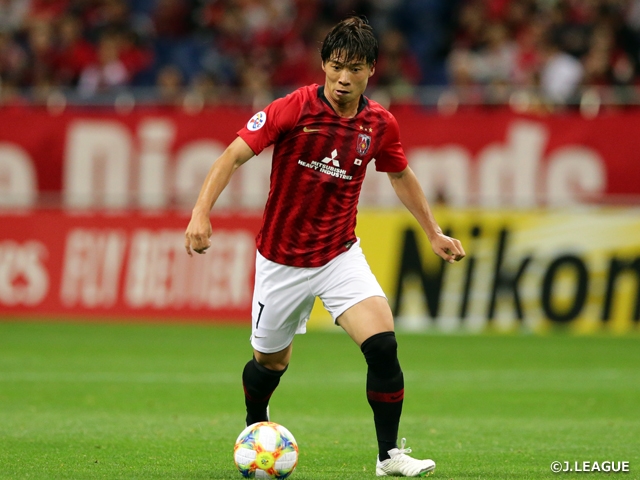 With momentum on their side, Urawa entered the second half with great aggression, as Muto made numbers of attempts to threaten the opposing goal. Beijing responded with numerous attacks initiated by Bakambu and BA Dun, but neither side managed to find the back of the net.
Urawa's third goal came in the 81st minute, when the ball was exchanged through Muto, YAMANAKA Ryosuke, and KOROKI Shinzo. The final pass was delivered by Muto to allow Koroki to slot the ball into the net, only but sealing the deal for Urawa. With this goal, Koroki marked his 21st goal at the ACL, renewing his own record of most goals scored at the ACL by a Japanese player. The Urawa striker also recorded his 59th appearance at the ACL, which is also a record.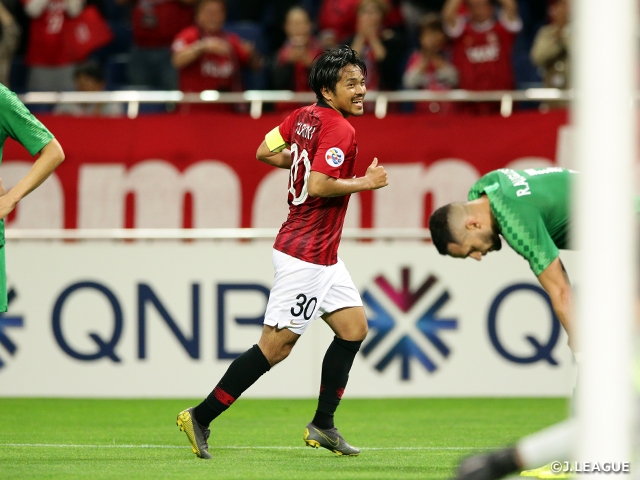 After winning the match 3-0 and finishing as the runners-up in Group G, Urawa will now face Group H leaders, Ulsan Hyundai (Korea Republic) in the round of 16. The two teams will clash in a home and away format, where Urawa will welcome Ulsan to their home on Wednesday 19 June, and travel to Korea on Wednesday 26 June.
Kawasaki scores 4 goals but still gets eliminated
After winning over Sydney with a brace scored by WAKIZAKA Yasuto, their fate to move onto the round of 16 was in the hands of other teams playing on the same day.
The first goal scored by Wakizaka came in the third minute, when he struck a shot from distance. The 23-year-old midfielder then doubled his tally in the 20th minute with a shot taken inside the penalty area to give Kawasaki an early 2-0 lead. With TANAKA Ao scoring a goal in the 28th minute, Kawasaki took a commanding 3-0 lead into halftime.
Kawasaki continued to dominate in the second half, as Leandro DAMIAO scored the team's fourth goal in the 59th minute. However, despite their 4-0 victory over Sydney, Kawasaki was eliminated from the tournament after Shanghai SIPG (China PR), who was a point ahead of the J. League Champions, won their match against Ulsan 5-0 to clinch their spot as the runners-up in Group H.
In Group C, NAKAJIMA Shoya's Al-Duhail (Qatar) drew against Al-Hilal (Saudi Arabia) 2-2 in a match where both sides had already clinched the round of 16. SHIOTANI Tsukasa's Al Ain (UAE) lost their final fixture against Esteghlal (Iran) 1-2 to finish the group stage without a win. While Nakajima played 62 minutes, Shiotani played through the entire match. In the round of 16, Al-Duhail will face the Group D leaders Al Sadd SC (Qatar) on Tuesday 6 August at home, and Tuesday 13 August in an away match.
Coaches and Players' Comments
Oswaldo OLIVEIRA, Coach (Urawa Red Diamonds)
It turned out to be a tough match as we expected, but the players did a wonderful job to contain Beijing's high-quality offence by shutting down their key players, Augusto and Viera. Our goalkeeper made an excellent save in the early minutes to bring us great momentum, and we managed to showcase an effective defence throughout the match. Our offence also managed to be critical in the goal scoring opportunities. With Kashiwagi getting injured, we had to bring in Nagasawa earlier than we expected, but his presence made all the difference today. He contributed greatly in our defence, scored the first goal, assisted the second goal, and got himself involved in the third goal as well. He was wonderful in this match today.
MF NAGASAWA Kazuki (Urawa Red Diamonds)
With Kashiwagi getting injured, I came into the match earlier than I expected, but knowing that we needed a victory in order to advance to the knockout stage, I was able to enter the field with a strong intention to win the match, so I am glad that I was able to earn results. In the scene where I assisted the second goal, I managed to dribble through the opponents nicely and though of taking a shot myself, but I saw Muto unmarked, so I made the decision to pass the ball. I am glad he was able to score that goal.
MF AOKI Takuya (Urawa Red Diamonds)
It helped a lot that I was able to rest in our most recent league match. We were able score goals from good offensive plays and our defence was also very effective today. I feel like we need to play every match like we did today.
FW KOROKI Shinzo (Urawa Red Diamonds)
We have wonderful players on the bench, so the starting 11 players told each other to give our very best efforts from the beginning. We managed to showcase great defence which led to our offensive plays. I personally wasn't able to perform the way I wanted, but I am glad I was able to score at the end. The record was made possible with the support of my teammates and the fans. I want to win the ACL once again. I want to return to that stage and win the Asian title.
Roger SCHMIDT, Coach (Beijing Sinobo Guoan)
We really wanted to advance to the next round, so this is a disappointing result for us. Urawa did well in both offence and defence. They were much bolder and more offensive than the last time we faced them. They were also very critical in their opportunities. Those aspects all factored into today's match. We struggled after one of our players got injured. We were also missing many of our core players due to various reasons, and we weren't able to make the necessary adjustments. Overall, we did well in this tournament, but we lacked some qualities in certain aspects. The ACL has given us a wonderful learning experience, so we hope to become a better team from this experience. I would like to congratulate Urawa for their achievement.

Tournament Dates:
Play-offs: Tue. 5 - Tue. 19 February 2019
Group Stage: Mon. 4 March - Wed. 22 May 2019
Round of 16: Tue. 18 - Wed. 26 June 2019