NEWS
Kawasaki keeps hope alive with a draw, Urawa in 2nd place with away win at the AFC Champions League 2019
08 May 2019
On Tuesday 7 May, the fifth group stage match of the AFC Champions League (ACL) 2019 took place, as third place Kawasaki Frontale drew their home match against Shanghai SIPG (China PR) 2-2 in Group H, while Urawa Red Diamonds won their away match 2-1 against Buriram United (Thailand) to get in second place of Group G. As a result, both teams kept their hopes alive ahead of the final group stage match to advance through to the round of 16
Kawasaki concedes brace to Hulk
With the team trailing one point behind the Chinese Super League Champions, Shanghai SIPG, Kawasaki entered the match with their back against the wall, as a loss would have eliminated them from the competition.
At the beginning of the match, Kawasaki showed great aggression in their offence, despite missing NAKAMURA Kengo, IENAGA Akihiro, and NARA Tatsuki due to injuries. However, it was the visiting side who struck first, when the Brazilian forward, HULK scored the opening goal off a counterattack in the seventh minute.
Kawasaki responded six minutes later, when Leandro DAMIAO combined with SAITO Manabu to capture the goal with a right footed shot to make it even. Following the equaliser, both teams created opportunities, as Damiao and MORITA Hidemasa came close for Kawasaki, while Odil AHMEDOV nearly scored the go-ahead goal in the 30th minute for Shanghai.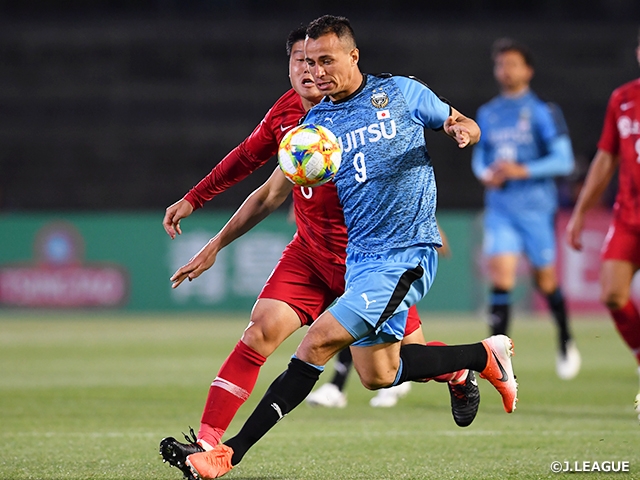 In the second half, the match saw Shanghai adding more numbers in defence, while the home side continued to press hard with mid-range shots taken by MAWATARU Kazuaki, OSHIMA Ryota, and Saito. HASEGAWA Tatsuya also created an opportunity when he dribbled his way into the penalty area to threaten the opposing goal.
The go-ahead goal came in the 66th minute, when TANIGUCHI Shogo converted the cross delivered by Morita to give Kawasaki a 2-1 lead.
However, just five minutes later, Shangahi built up an attack after intercepting a pass in the midfield. Hulk responded to the cross delivered by OSCAR to score the equaliser. In efforts to retake the lead, Kawasaki brought in WAKIZAKA Yasuto, SUZUKI Yuto, and YAMAMURA Kazuya onto the pitch following the goal. An opportunity was created in the 85th minute, when the ball was connected through Yamamura and NOBORIZATO Kyohei in the left flank, before KOBAYASHI Yu struck a shot in front of the goal, but his attempt couldn't capture the target, as the match ended in a 2-2 draw.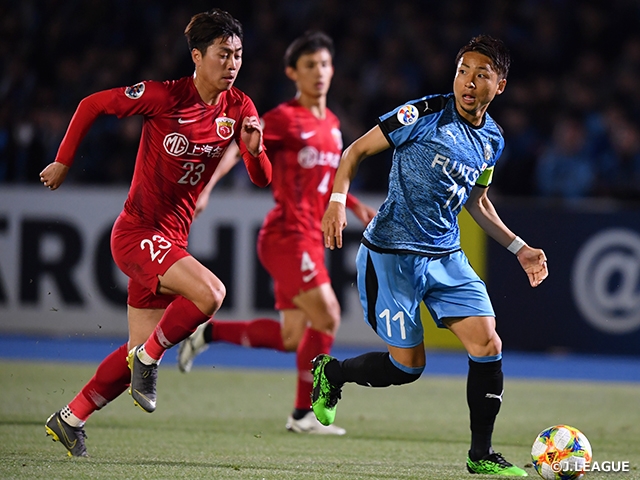 As a result, in order to advance through to the next round, Kawasaki must win their final group stage match against Sydney FC (Australia) on Tuesday 21 May at Sydney, while Shanghai draw or lose their home match against Ulsan Hyundai (Korea Republic). Kawasaki cannot advance with a draw, as Shanghai has the advantage in the head-to-head record in case of a tie breaker. After the match, Taniguchi mentioned, "We are in a tough situation, but still have hope. We will just focus on winning our match."
In the other match played in Group H, first place Ulsan has won over Sydney 1-0 to secure their spot into the round of 16, while Sydney was eliminated from the competition.
Muto scores winning goal for Urawa
With their hopes still very much alive, Urawa defended through their one goal lead they earned in the first half to earn the second-place spot of the group.
Following their J. League match against Iwata on Friday 3, Urawa made a single change to their starting line-up, as defender IWANAMI Takuya was named in the line-up. In a match held at the home of the Thai League 1 Champions, it was the visiting Urawa side who struck the opening goal, when KOROKI Shinzo responded to the through-ball delivered by EWERTON before striking a right footed shot that shook the net in the third minute of the match.
With the team facing elimination with a loss, Buriram rallied back with the equaliser scored by Pedro JUNIOR in the 16th minute. However, Urawa responded 10 minutes later, when MUTO Yuki converted the loose ball following a cross sent by Koroki. For Muto this was his first goal of the season.
Urawa kept their intensity high to maintain their pressure upfront, while showcasing a solid performance in defence to keep their one goal lead.
On this day, Beijing Sinobo Guoan (China PR) lost their home match against Jeonbuk Hyundai Motors (Korea Republic) 0-1. With Beijing and Urawa now tied in points, Urawa took the second-place spot with their advantage in goal differential. Urawa can now clinch the round of 16 with a win over Beijing on Tuesday 21 at home. With the game results, Jeonbuk has secured first place, while Buriram was eliminated.
In the WEST division, NAKAJIMA Shoya's Al-Duhail (Qatar) drew against Esteghlal (Iran) 1-1 in an away match in Group C to secure second place in the group. In the match, Nakajima played the full 90 minutes. Meanwhile, SHIOTANI Tsukasa's Al Ain (UAE) lost their away match against Al-Hilal (Saudi Arabia) 0-2 to finish in fourth place of the group. Shiotani was serving his suspension and didn't feature the squad.
On Wednesday 8 May, Sanfrecce Hiroshima will host Guangzhou Evergrande Taobao (China PR) at home, while Kashima Antlers will play an away match against Johor Darul Ta'zim (Malaysia) with the advancement to the round of 16 on the line.
Coaches and Players' Comments
ONIKI Toru, Coach (Kawasaki Frontale)
We are deeply disappointed about this result and we feel guilty towards our fans who has shown great support for us at home. Despite conceding the opening goal, we managed to keep our composure and take the lead. This was a match we had to win. The two goals we conceded came from plays we were fully aware of, and it really showed that we need to improve as a team. We conceded numbers of opportunities from our own mistakes. At the ACL, we cannot afford to make those mistakes. It's better not to make any mistakes, but it's important how we recover from those mistakes. We are in a very difficult situation, but we just have to do our part by winning the next match. We will not give up until the end. We will be stronger both physically and mentally before our final group stage match.
DF TANIGUCHI Shogo (Kawasaki Frontale)
The second goal we conceded came from a quality cross, which really highlighted the level of competition at this level. Even though I was able to score a goal, I am disappointed that I couldn't lead the team to a victory.
MF MORITA Hidemasa (Kawasaki Frontale)
The national title means nothing if we cannot win at the ACL. We play with great pride, and it's that much disappointing when we end up empty handed. The way we turned over the ball following our goal was not good and we made it difficult on ourselves by conceding goals from our own mistakes.
FW KOBAYASHI Yu (Kawasaki Frontale)
I had to score the third goal for the team. Our opponents really had the upper hand in speed, and they showcased their abilities in the goal scenes. It was great that we managed to come from behind, but it was disappointing to concede right afterwards. This match made us realise that we need to better manage our matches.
Vitor PEREIRA, Coach (Shanghai SIPG)
Despite this match being an away match played with just two days rest following our league match, we managed to showcase our strengths and discipline, while playing with great intensity against a very strong team. Kawasaki has many players with great speed and talent. We knew we won't be able to take control of the match, so we focused on keeping our plays compact and kill the spaces so that we can anticipate for our opportunities to counter. With many teams still in contention, this point means a lot for us.

Tournament Dates:
Play-offs: Tue. 5 - Tue. 19 February 2019
Group Stage: Mon. 4 March - Wed. 22 May 2019