NEWS
Kawasaki keeps their hopes alive with a draw, while Hiroshima wins an away match to take group lead at AFC Champions League 2019
24 April 2019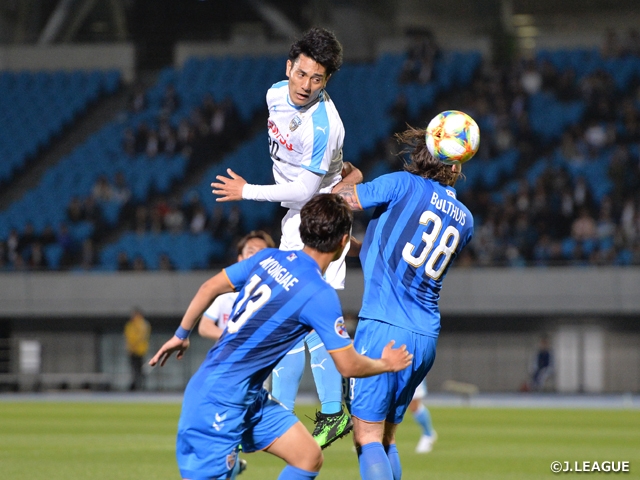 On Tuesday 23 April, the fourth Sec. of the AFC Champions League (ACL) 2019 group stage took place, as Kawasaki Frontale drew their home game against Ulsan Hyundai (Korea Republic) 2-2 to keep their hopes alive to advance through Group H, while, Sanfrecce Hiroshima earned a 1-0 victory over Daegu FC (Korea Republic) in an away match to mark their third consecutive wins to claim the group lead in Group F.
Kawasaki scores late equaliser
In order to keep their hopes alive to advance to the round of 16, Kawasaki managed to score early in their home match against Ulsan, but the group leaders came back scoring two goals within the first half. With their late equaliser, Kawasaki managed to squeeze out a point, but surely would have loved to earn the full three points in this match.
NAKAMURA Kengo made his return to the Kawasaki starting line-up after being side-lined for four matches with lack of fitness. The home side got to a great start as their opening goal came in the eighth minute, when KOBAYASHI Yu received a pass from OSHIMA Ryota before striking a right footed shot to mark his first goal of the season.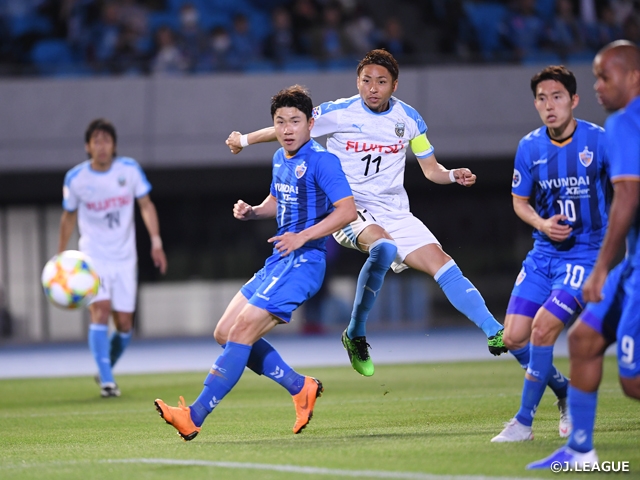 Despite scoring an early goal, Kawasaki's lead didn't last long as Ulsan captured the equaliser just 10 minutes later, when PARK Yong-woo followed up on the header struck by Mix DISKERUD to level the match.
With the match tied at one goal apiece, it was Ulsan who took control of the match as KIM Bo-kyung forced turnovers in midfield to create opportunities for the Brazilian striker Junior NEGRAO. The visitors scored the go-ahead goal in the 31st minute from that exact play, when Kim initiated a counter attack after forcing a turnover that led to the goal scored by Negrao.
While Kawasaki struggled to break through the solid defence displayed by Ulsan, the first half ended with a score of 1-2.
However, after bringing in their striker CHINEN Kei at the beginning of the second half, the Kawasaki offence was rejuvenated, as the change allowed midfielder SAITO Manabu to penetrate the left flank to create more opportunities.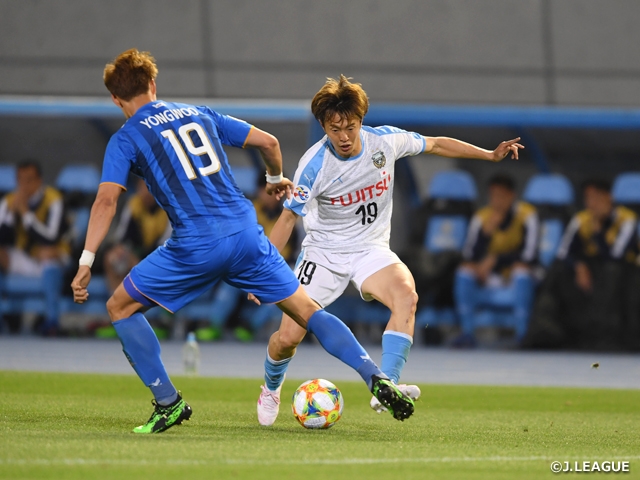 In the 48th minute, IENAGA Akihiro struck a shot after receiving the ball from Chinen, followed by an attempt made by Saito in the 53rd minute. In efforts to level the match, Kawasaki brought in WAKIZAKA Yasuto and Leandro DAMIAO on the 73rd and 78th minute respectively.
The long-awaited moment came in the 82nd minute, when Kobayashi responded to a cross delivered by NOBORIZATO Kyohei. The shot taken by Kobayashi was blocked by the goalkeeper, but Chinen was there to capitalise on the loose ball and equalise the match.
With momentum on their side, Kawasaki dominated the remaining minutes as Chinen and Wakizaka made numbers of attempts at goal. In additional time, Kobayashi came within inches to score a goal, but his shot was denied by the goal post. Kawasaki struck a total of 12 shots just in the second half, but fell short from taking the lead, as the match ended with a final score of 2-2.
As a result, Ulsan remained at the top of the group with their eight points. Second place Shanghai SIPG (China PR) also drew against fourth place Sydney FC (Australia) 2-2 to give Kawasaki hopes to advance through to the next round. With two matches remained to play, Shanghai has five points, Kawasaki with four, and Sydney with three. Kawasaki will need to win the remaining two matches to advance through, as they will face Shanghai at home on Tuesday 7 May, followed by their final fixture against Sydney.
Rookie scores game winner for Hiroshima
With three teams competing for the top spot with six points apiece in Group F, it was the rookie defender ARAKI Hayato who scored the deciding goal in the 34th minute to give Hiroshima their much needed three points and the top spot of the group.
Despite their 2-0 victory at home, Hiroshima struggled against the intense pressure applied by Daegu.
However, the away side managed to convert a corner kick in the 34th minute when Araki struck a header off the ball delivered by MORISHIMA Tsukasa from the left side. After making his official match debut in the ACL play-off match in February, Araki had only made the roster once in the J. League, but after appearing in four matches at the ACL, he scored his first ever professional goal.
In this match, Daegu brought back their Brazilian forward EDGAR, who has scored three goals in three matches in this year's ACL, to their starting line-up. With another Brazilian striker CESINHA upfront, the home side made their efforts to level the match, but the Hiroshima defence, who has conceded the fewest goals in the J. League this season, showcased a superb performance to keep the clean sheet to help push the team up to the group lead.
With consecutive wins over Daegu, Hiroshima can now clinch their round of 16 berth with a win in their next home fixture against Guangzhou Evergrande Taobao (China PR) on Wednesday 8 May. Even if they draw or lose to Guangzhou, depending on the result of the other match, they may secure second place or better in the group to advance through.
Guangzhou drew their match against Melbourne Victory (Australia) 1-1 to increase their tally to seven points. For Melbourne V, this was their first point earned in this competition, but with the team trailing six points behind second place Guangzhou, their hopes to advance through are on thin ice. Former Japan National Team member HONDA Keisuke was not included to their roster on this day.
In the West division, Al-Duhail (Qatar) won an away match against Al Ain (UAE) 2-0 to increase their tally to seven points, good enough to rank second place in Group C. NAKAJIMA Shoya and SHIOTANI Tsukasa both started for their sides, but after receiving his second yellow card of the tournament, Shiotani will be suspended for the next fixture.
The group leaders Al-Hilal (Saudi Arabia) won their match against Esteghlal (Iran) 1-0 to solidify their chance to advance through. With nine points under their belt, the Saudi Arabian side are likely to secure their spot into the round of 16, while Esteghlal drops to third place with their four points.
The fourth Sec. of the EAST division will continue on Wednesday 24 April, as Group E leaders Kashima Antlers will welcome Gyeongnam FC (Korea Republic) at home, while Urawa Red Diamonds will face Jeonbuk Hyundai Motors (Korea Republic) in an away match in Group G.
Coaches and Players' Comments
ONIKI Toru, Coach (Kawasaki Frontale)
In order to advance through, we really needed to earn the full three points in this match. After scoring the opening goal, we wanted to ride the momentum, but we ended up conceding two goals to make it a difficult game. We started to play a bit passively after taking the lead and made too many mistakes during that stint. That was a regretful stretch we would like to take back. However, the players did well to keep their focus and score the equaliser. The momentum we showed in the closing minutes was something we would like to carry into our next match.
MF OSHIMA Ryota (Kawasaki Frontale)
We conceded a goal from our own mistakes and even though we were aware of their set-plays, we still conceded a goal, so that was disappointing. It felt like our vulnerability was exploited when we conceded those consecutive goals. We managed to squeeze out a point to keep our hopes alive, and it made it clear what we need to do in the remaining matches.
MF SAITO Manabu (Kawasaki Frontale)
It was regretful that I couldn't earn any results in the 90 minutes I was given. I kept running until the last second, but I still couldn't score any goals, so I am disappointed.
KIM Do-hoon, Coach (Ulsan Hyundai)
I think both teams fought very hard. Although we were dominated in the closing minutes, our players fought with great intention to win the match, so this draw is a disappointing result for us. However, each point earned is a precious point. I would like to thank my players. The first goal we conceded came as a surprise, but after that goal, we shifted our formation from 4-5-1 to 4-4-2 and added more pressure in the midfield, which led to our side scoring two goals. We will give our best in the remaining two matches.

Tournament Dates:
Play-offs: Tue. 5 - Tue. 19 February 2019
Group Stage: Mon. 4 March - Wed. 22 May 2019