NEWS
Hiroshima wins two straight while Kawasaki suffers second loss at AFC Champions League 2019
11 April 2019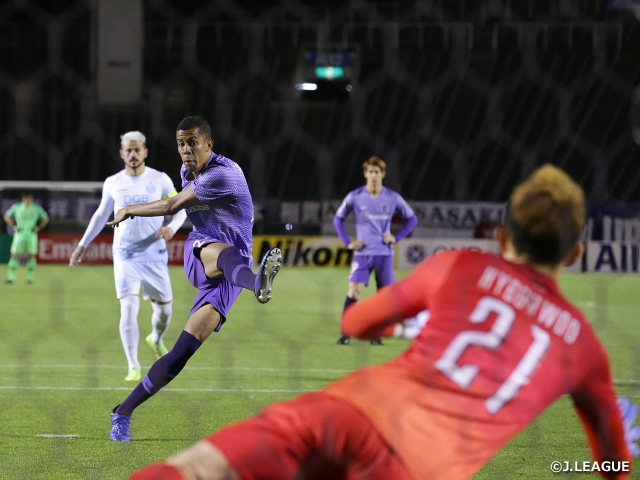 The third match of the AFC Champions League (ACL) 2019 group stage took place on Wednesday 10 April, where Sanfrecce Hiroshima won against Daegu FC (Korea Republic) 2-0 in Group F to mark their second straight victory, while Kawasaki Frontale suffered their second loss in Group G after losing an away match against Ulsan Hyundai (Korea Republic) 0-1.
Hiroshima scores two goals in the first half
After wining one and losing one in their first two group stage matches in Group F, third place Hiroshima faced the group leaders Daegu. With the team currently leading the J League, Hiroshima made their efforts to carry over the momentum into the ACL by utilising six of their starting players from their recent league match.

The opening goal came in the 10th minute, when Hiroshima's NOGAMI Yuki was brought down in the penalty area to earn a penalty kick, which Douglas VIEIRA calmly converted to take the lead.

With the early lead, the home side showed their composure to keep the possession of the ball. Their second goal came in the 26th minute, when SASAKI Sho dribbled up the left flank before passing the ball to WATARI Daiki in the centre. Once receiving the ball, the striker penetrated the penalty area before firing a shot that pierced the net, giving Hiroshima a 2-0 lead. With the goal, Watari has now scored in two consecutive ACL matches.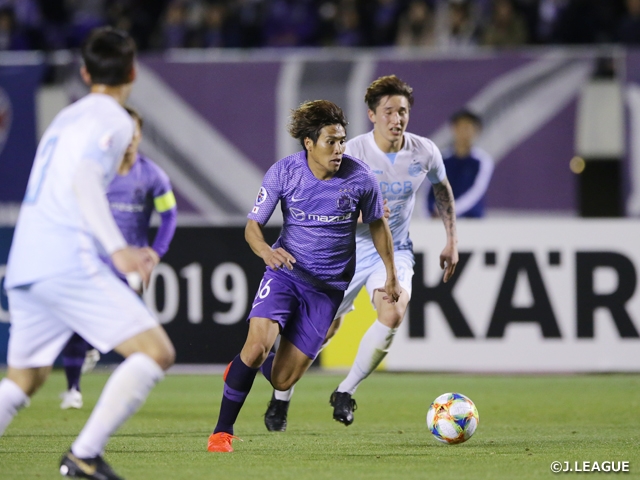 Trailing by two goals, Daegu sought for their opportunities through the free kick taken by CESINHA and the side attacks attempted by Dario JUNIOR, but Hiroshima showed great composure to minimise the threats to keep the clean sheet. In efforts to rally back, Daegu brought in their forward EDGAR, who has scored three goals in the recent two matches, and Jung Seung-won at the beginning of the second half, but their efforts kept falling short to find the back of the net.

Conversely, Hiroshima came close to scoring their third goal when Watari launched a shot from distance in the 56th minute and struck a header in the 75th minute to threaten the opposing goal.

With the clock winding down, Daegu picked up their intensity to make the final efforts. In the 90th minute, Hiroshima's second half substitute, MINAGAWA Yusuke, was ejected from the match after receiving his second yellow card. However, Hiroshima managed to hold on to their two-goal lead to win their second straight ACL match. The team has extended their official match winning streak to six, while keeping a clean sheet in four consecutive matches.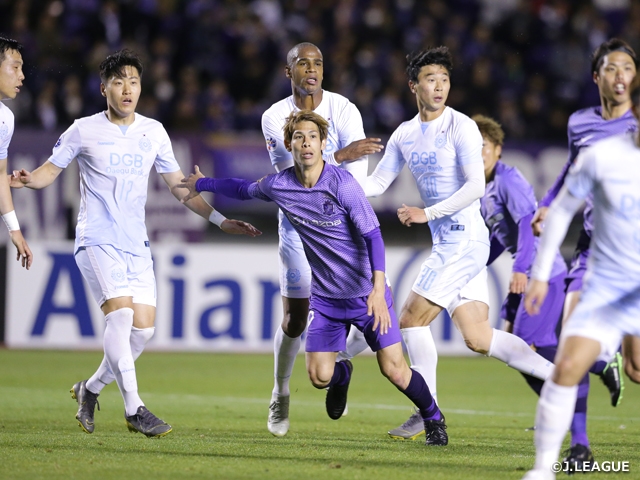 In the other match played in Group F, Guangzhou Evergrande Taobao (China PR) won against Melbourne Victory (Australia) 4-0 at home to mark their second win. Former Japan National Team member HONDA Keisuke started the match for the Australian side and played until midway into the second half.

As a result, three teams now have six points in the group. With their advantage in goal differential, Guangzhou takes first place, while Daegu dropped to second place. Hiroshima remains in third place, and Melbourne V sits at fourth with zero points.
Kawasaki concedes just before the final whistle
In Group H, third place Kawasaki faced the group leaders Ulsan Hyundai in an away match. Despite keeping the score tied at 0-0 until the very end, Kawasaki conceded a goal in the closing seconds to lose the match 0-1.

Following their J League match against Cerezo Osaka on Friday 5, Kawasaki rotated seven players from their starting line-up, giving players with fewer minutes with the start. The fresh line-up featured players like Caio CESAR, MAGUINHO, and Michael JAMES joining the core members such as KOBAYASHI Yu and IENAGA Akihiro.

Despite showing dominance in ball possession to control the match and taking twice as many shots than their opponent, Kawasaki struggled to score a goal. As the match entered additional time of the second half, it was Ulsan's late substitute, Kim Soo-an, making a diving effort to convert a cross to score the deciding goal for the Korean side.

With the loss, Kawasaki remains in third place with three points, while Ulsan kept their group lead with seven points under their name.

In the other match played in Group H, fourth place Sydney FC (Australia) and second place Shanghai SIPG (China PR) drew 3-3, each keeping their place intact.

The fourth group stage match will be held on Tuesday 23 and Wednesday 24 April, where the same fixtures will be held with teams switching the home court.
Coaches and Players' Comments
JOFUKU Hiroshi, Coach (Sanfrecce Hiroshima)
We started off this season's ACL with the play-offs and we have been able to see our team improve over each match we play. The players did a great job to execute our game plan to keep a clean sheet against the incredibly talented offence of Daegu. To be honest, it would've been better if we scored the third goal. Our next away fixture will not be an easy match, but we will give our best to earn points there.
MF SHIMIZU Kohei (Sanfrecce Hiroshima)
I am glad that we were able to score two goals and finish the match with a clean sheet. We managed to control the ball and manage the risks in the first half. Although we saw some close opportunities created by our opponents in the second half, we were able to keep them scoreless until the end.
FW WATARI Daiki (Sanfrecce Hiroshima)
With the two goals, we managed to control the match in our favour and created opportunities to score the third goal as well, so we hope to continue this performance. I feel like what we need to do as a team is getting clearer. I always keep in mind of the players who are not able to play and try to make the efforts in behalf of them on the pitch. I was able to use that motivation to help my performance today.
Andre Luiz SANTOS, Coach (Daegu FC)
We knew coming into the match that Hiroshima has been doing well in the J League, and we have prepared ourselves to cope with them, but we ended up conceding early in the match. After we brought in two of our substitutes in the second half, we managed to gain momentum, but Hiroshima was fully prepared to face us. This away match was very difficult for us, so it is Hiroshima's turn next to face a difficult match at our home. The next match is going to be very important, and it is a match we cannot afford to lose, but for now, we will focus on our league match first and prepare for our next encounter against Hiroshima afterwards. If we can take care of our business one at a time, we should be able to enter the match with a good momentum.
MF NISHI Tsubasa (Daegu FC)
Knowing how solid Hiroshima plays defence, we made it difficult on ourselves by conceding two goals. After Edgar came into the match, we tried to take advantage of his height and ability to control the ball. I've always played abroad, so it feels a bit strange playing in Japan. Our supporters are great at creating a positive vibe at home, so we hope to earn points in our next matchup against Hiroshima.



Tournament Dates:
Play-offs: Tue. 5 - Tue. 19 February 2019
Group Stage: Mon. 4 March - Wed. 22 May 2019