NEWS
Japan Beach Soccer National Team loses to Portugal despite taking the lead twice - BSWW Mundialito Nazare 2019
15 August 2019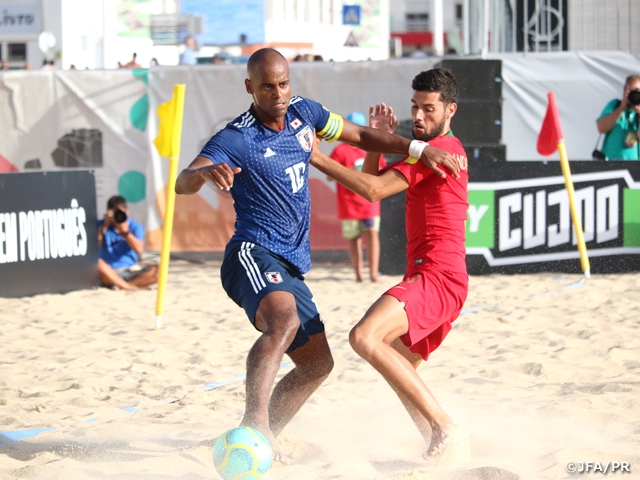 BSWW Mundialito Nazare 2019 vs Portugal Beach Soccer National Team
Wed. 14 August 2019 18:30 (local time) Match Duration 36mins (12mins×3)
Estadio do Viveiro (Nazare, Portugal)
Japan Beach Soccer National Team 2-4 (1-0, 1-3, 0-1) Portugal Beach Soccer National Team
Scores
10' OKUYAMA Masanori (Japan Beach Soccer National Team)
16' goal against (Portugal Beach Soccer National Team)
16' MOREIRA Ozu (Japan Beach Soccer National Team)
17' goal against (Portugal Beach Soccer National Team)
20' goal against (Portugal Beach Soccer National Team)
31' goal against (Portugal Beach Soccer National Team)
Starting Line-up
GK: TERUKINA Shingo
FP: MOREIRA Ozu, YAMAUCHI Shusei, OBA Takaaki, OKUYAMA Masanori
Reserves
GK: KAWAI Yusuke
FP: TABATA Teruki, KOMAKI Masayuki, IINO Tomoyuki, AKAGUMA Takuya
Match Report
On Wednesday 14 August, the Japan Beach Soccer National Team played their second match of the BSWW Mundialito Nazare 2019 against the Portugal Beach Soccer National Team and lost the match 2-4. The match against the host nation was played in a fully packed stadium where the local fans cheered on their national team.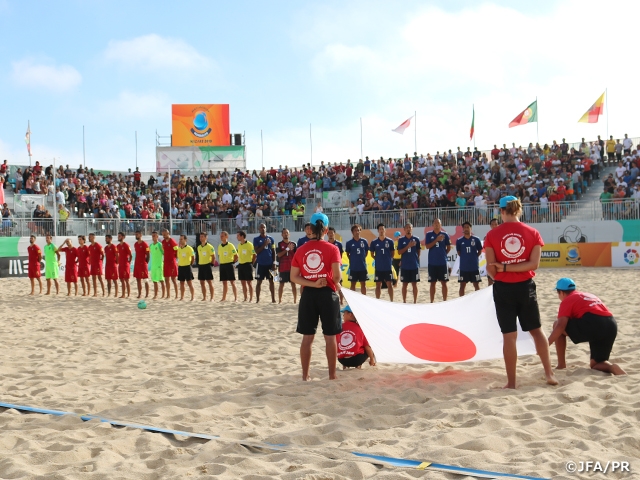 Both teams tried their luck by taking long shots in the early minutes, and it was the Japanese side who scored the opening goal. In the 10th minute, MOREIRA Ozu dribbled up the left side before sending a cross towards the centre, allowing OKUYAMA Masanori to score the first goal of the match.
Although the two sides struggled to create opportunities in the early minutes of the second period, Portugal scored the equaliser in the 16th minute with a shot from mid-range. Japan responded soon after and retook the lead with Moreira's penalty kick. However, the home side rallied back to score two goals in a row to take the lead for the first time in this match.
The third period saw both sides go back in forth, but Portugal capitalised on an opportunity to double their lead, as the match ended with a final score of 2-4.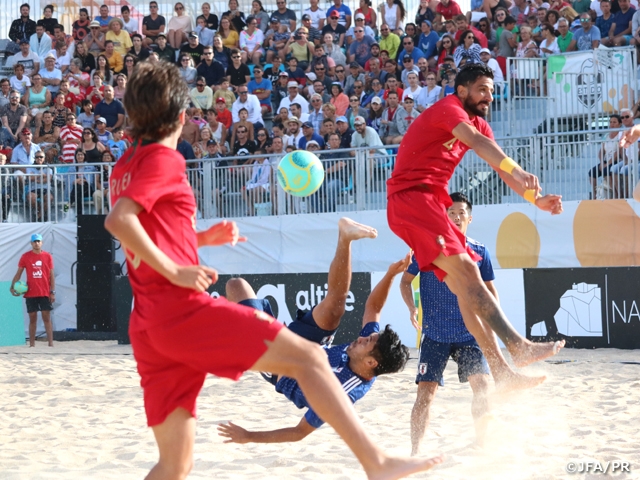 The Japan Beach Soccer National Team will now face the Senegal Beach Soccer National Team on Thursday 15 August.
Schedule
BSWW Mundialito Nazare 2019
Tue. 13 August
2-4
1st Match vs Spain (Estadio do Viveiro)
Wed. 14 August
2-4
2nd Match vs Portugal (Estadio do Viveiro)
Thu. 15 August
17:00
3rd Match vs Senegal (Estadio do Viveiro)
*Local time
*The schedule is subject to change due to the team condition, the weather, etc.
BSWW Mundialito Nazare 2019
Dates: Thu. 8 - Sat. 17 August 2019