NEWS
SAMURAI BLUE's Coach Moriyasu shares aspiration ahead of KIRIN CHALLENGE CUP 2023 "I want the players to challenge themselves to reach new goals"
24 March 2023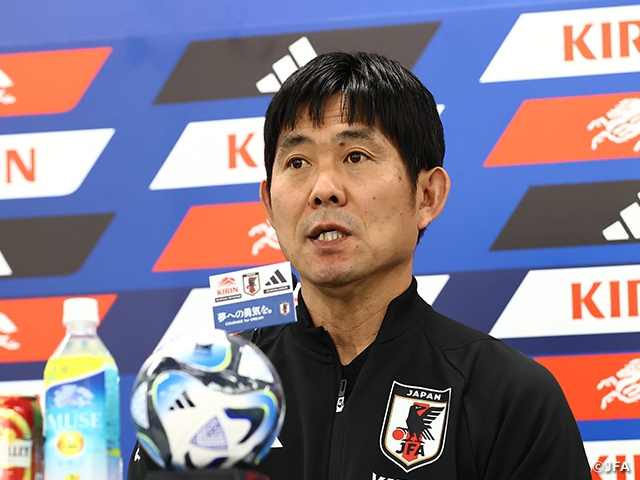 On Thursday 23 March, one day before their match against the Uruguay National Team in the KIRIN CHALLENGE CUP 2023, Head Coach MORIYASU Hajime of the SAMURAI BLUE (Japan National Team) appeared in a press conference held at the match venue, Japan National Stadium in Tokyo, where he shared his aspiration for the team's new beginning towards the FIFA World Cup 2026™, saying, "I want the players to challenge themselves to reach new goals."
With his eyes set on the FIFA World Cup 2026™, coach Moriyasu has chosen a diverse group of players for this match, primarily those who helped his side finish in the top 16 at the FIFA World Cup Qatar 2022™ but also a number of new and returning players, as the coach commented, "In order to build on the team's success at the FIFA World Cup Qatar 2022™, I'm interested in seeing what these players can bring to the table ahead of the FIFA World Cup 2026™."
The head coach position had been vacant since the Uruguay National Team was eliminated in the group stage of the FIFA World Cup Qatar 2022™. Coach Marcelo BROLI, who is currently in charge of the U-20 national team, will serve as the team's interim coach for this match.
23 players have arrived in Japan, including those who play in Europe, such as Manuel UGARTE (Sporting CP) and Federico VALVERDE (Real Madrid). The team mainly consists of players who played in the FIFA World Cup Qatar 2022™, plus several youngsters, as they prepare ahead of the South American qualifiers for the FIFA World Cup 2026™, which starts in September this year.
At the press conference, coach Broli said, "Japan is a tough opponent. We want to attack with high intensity and make it difficult for Japan."
Japan's overall record against Uruguay is 2-2-4, and this is their first meeting since drawing 2-2 at the CONMEBOL Copa America group stage in June 2019.
The two teams held their official training sessions in the evening, with most of the session being closed to the public. During the first 15 minutes of session, which was open to the press, the Japanese players were seen going through their warmup routines, before the field players were divided into two groups to play a possession drill, while the goalkeepers went over their catching drills.
SUGAWARA Yukinari (AZ Alkmaar), who missed out on a call-up last June due to injury and is aiming to make his first appearance for the national team since his debut against Cameroon in October 2020, said, "This is a huge opportunity for me and it's up to me to make the most of it. I need to express myself on the pitch and showcase my determination for victory."
Coach Moriyasu has indicated his intention to work without a team captain for the time being, and ENDO Wataru (VfB Stuttgart), who has been named game captain this time, said, "Captain or not, what I do remains the same," and added that the team, which includes new players, "must compete (individually) and improve as a team. We need to keep the ball moving and try to create chances for ourselves."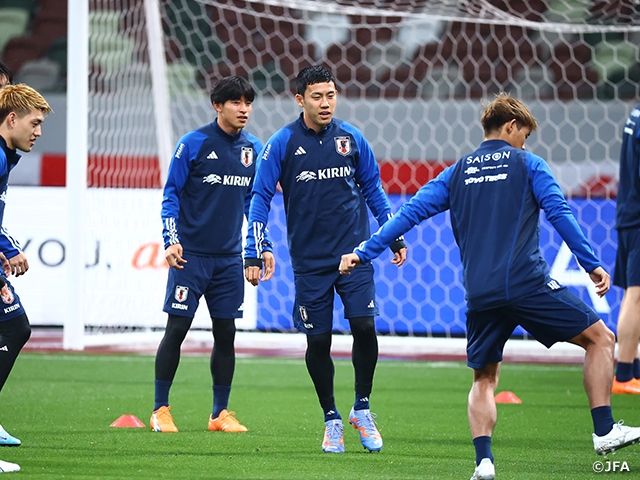 The SAMURAI BLUE's match against the Uruguay National Team is scheduled to kick-off at 19:30 on Friday 24 March at Japan National Stadium in Tokyo. The team will then face the Colombia National Team on Tuesday 28 March at Yodoko Sakura Stadium in Osaka.
KIRIN CHALLENGE CUP 2023
SAMURAI BLUE vs Uruguay National Team
Date: Friday 24 March 2023, 19:30 (subject to change)
Venue: Japan National Stadium, Tokyo
Tournament Information