NEWS
【Reflecting on the AFC Asian Qualifiers】Interview with Mr. NAKAMURA Kengo - "Now it is up to each player to prepare themselves"
22 March 2022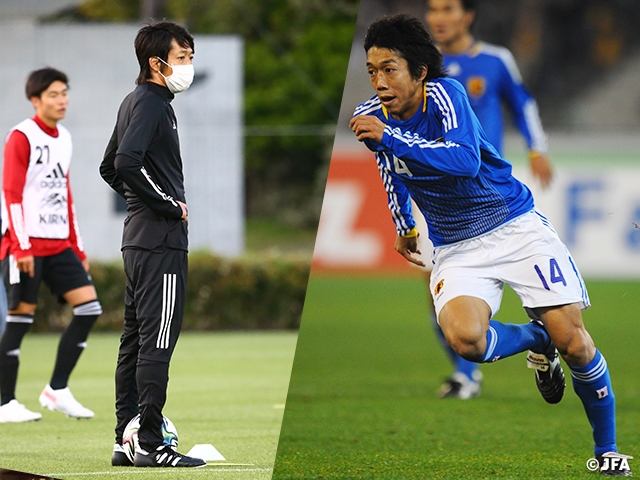 In this interview series "Reflecting on the AFC Asian Qualifiers," we talked to players who played in the final round of the FIFA World Cup Asian qualifiers as a member of the SAMURAI BLUE (Japan National Team). In our seventh interview, we talked to Mr. NAKAMURA Kengo, who contributed to Japan's World Cup qualifications on two occasions, 2010 FIFA World Cup South Africa™ and 2014 FIFA World Cup Brazil™.
*This interview was conducted online on 4 March 2022.
――Japan are currently ranked second in Group B of the AFC Asian Qualifiers (Road to Qatar), with their qualification to the FIFA World Cup™ on the line in the upcoming matches against Australia and Vietnam in March.
NAKAMURA The situation is straightforward. A win against Australia would qualify them into the World Cup, so I think the players will enter the first match with a strong desire to get the job done. Of course, depending on how the game unfolds, a decision may be made to settle for one point, but I hope the team will enter the match with the intention of winning three points. Japan can go into this series of matches with an advantage because they have recovered from their early stumble in the Asian Qualifiers. I hope they will make full use of this advantage.
――What are your impressions of Australia?
NAKAMURA Until a while ago, they used to rely on long-balls and deployed strategies in which they took advantage of their strong physicality and physique, but they have moved away form that style of play. They have been transformed into a team that builds up solidly from the back, possess the ball, and display collective plays in both offence and defence. Under coach Ange POSTECOGLOU (current head coach of Celtic FC/Scotland), I sensed a change in the last time they qualified for the World Cup, but looking at the current players, I get the impression that they are committed to shifting to a more ball-possession football than they did then.
――How about Vietnam?
NAKAMURA Their results so far (1 win, 7 losses) show that they have been struggling to win matches, but considering that this is their first appearance in the final round of the Asian qualifiers, I think they are in the midst of a team development process. They have good players in key positions, so if they can continue to participate in competitions like the Asian qualifiers, they can become a force to be reckoned with. They fight very hard in every match, making them a likeable team for everyone.
――Reflecting on your experience in the final round of the Asian qualifiers, you assisted OKAZAKI Shinji's decisive goal against Uzbekistan, which helped the team qualify for the 2010 FIFA World Cup South Africa™.
NAKAMURA During the Asian qualifiers for the South Africa World Cup, I was often in the starting line-up, gaining experience and confidence through international friendlies before entering the qualifiers. I don't think I could have made that pass (to Okazaki) without having plenty of confidence and composure. However, we really struggled after taking the lead. The turf was too long to pass the ball and surrounded by the bizarre away-from-home atmosphere, Uzbekistan, who still had a chance to qualify for the World Cup, started to rally back. We also saw coach OKADA Takeshi and HASEBE Makoto being sent off towards the end of the match, which really reminded us how tough it could be when competing in Asia. The atmosphere was completely different from that of a normal match.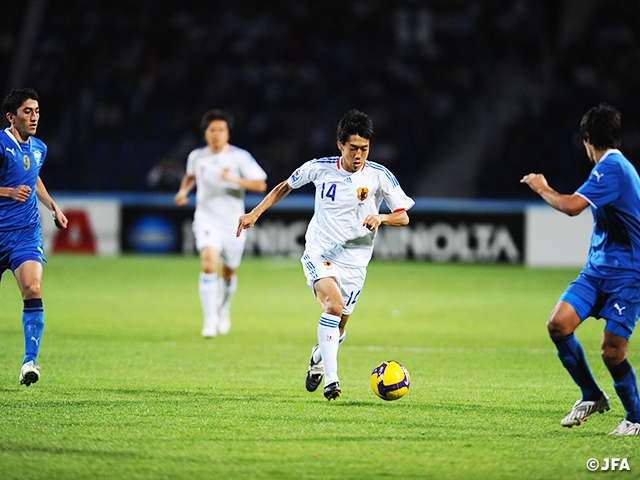 ――Four years later, you watched the team qualify for the 2014 FIFA World Cup Brazil™ from the bench in the home match against Australia.
NAKAMURA During that time, I was often used as a substitute, so I was aware of my role as a back-up. While I knew that I was the job of the veterans to act as the balancer of the team, I had no intention of giving up my playing time, so I was determined to make a case for myself whenever I was given the opportunity to play on the pitch. I was present at the moment when the team qualified for the World Cup in two occasions, and I was very happy both times.
――What were you conscious of when going into away matches for the national team?
NAKAMURA Adjusting to different climates, cultures, and time zones. But prior to that, I always made sure to switch my mindset. Playing for the national team is different from playing for your club. For example, even when you are not performing well with you club, you have to put that aside when you are called up to the national team. Naturally, the tactics were different, so I had to adapt and think about how I could show my strengths under each coach.
――That's what led to your long and successful career in the national team?
NAKAMURA You shouldn't sacrifice everything for the team, but you also shouldn't be too selfish. Each player has their own role and position, and I think the key to longevity is to be aware of this.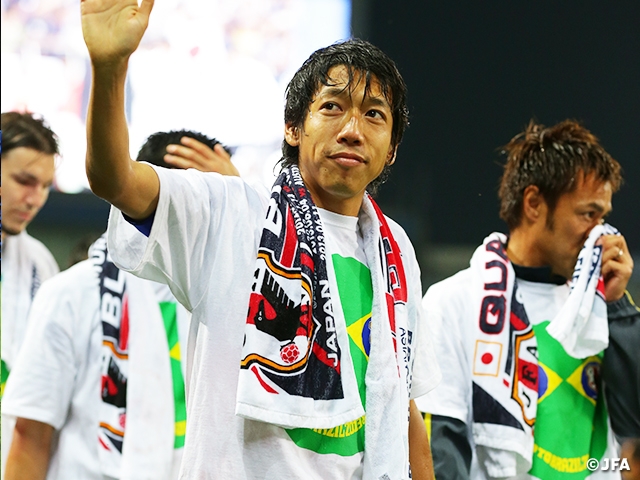 ――Finally, please give a message to the players of the SAMURAI BLUE.
NAKAMURA As I mentioned earlier, it was the coaches, the staff, and the players who recovered from the difficult times in the early stages which led them to where they are now, and I hope that they will enter the final matches with the confidence they have built up leading to this point. Now it is up to each player to prepare themselves so that they leave no regrets and to increase their odds of winning. You are almost there, so hang in there! I am rooting for you guys!
Asian Qualifiers - Road to Qatar
SAMURAI BLUE (Japan National Team) vs Australia National Team
Date: Thu. 24 March, 20:10 (18:10 Japan time)
Venue: Stadium Australia (Sydney, Australia)
Tournament Information
SAMURAI BLUE (Japan National Team) vs Vietnam National Team
Date: Tue. 29 March, 19:35
Venue: Saitama Stadium 2002 (Saitama)
Tournament Information