NEWS
SAMURAI BLUE's Coach Moriyasu hopes to find out where they currently stand in match against Serbia
11 June 2021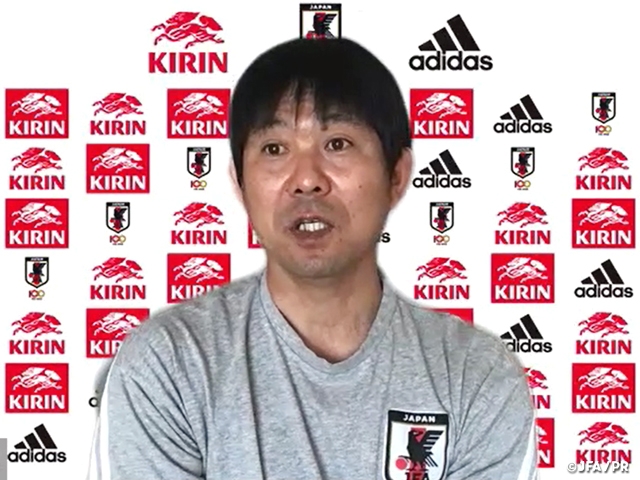 On Thursday 10 June, coach MORIYASU Hajime of the SAMURAI BLUE (Japan National Team) appeared in a press conference ahead of their match against the Serbia National Team at the KIRIN CHALLENGE CUP 2021 and shared his aspiration to find out where the team currently stand, describing the Serbian side as the "perfect opponent to find out what it takes to compete at the world stage and measure our strengths."
Japan has already clinched their spot into the final round of the FIFA World Cup Qatar 2022™ Asian qualifiers, and this match against Serbia will give them perspective on how they can coupe against teams outside of Asia, as this will be their first match against a European side since their match against Belgium at the 2018 FIFA World Cup Russia™.
Regarding their opponent, coach Moriyasu mentioned, "Serbia has players who are capable of building their plays from the defence line. We must play good defence in order to stop them from controlling the ball possession against us." The coach continued by describing the match as an opportunity, "If we can overcome the adversity we face in this match, it will allow us to raise the overall level of this team."
Serbia is led by coach Dragan STOJKOVIC who has played and coached at Nagoya Grampus in the past. The team is currently in second place in Group A of the European qualifiers for the World Cup, coming off wins against Ireland and Azerbaijan, while drawing against Portugal.
The Serbian side is without Aleksandar MITROVIC and other core members of the team, due to injuries and other reasons, but coach Stojkovic mentioned to use this as an opportunity to give the younger players experience and raise the team's overall level ahead of the European qualifiers, which is scheduled to resume in September.
When asked about Japan, coach Stojkovic mentioned, "They have great speed and technique. We must be careful against their entire squad." The former Yugoslavian striker also listed names such as KAMADA Daichi (Eintracht Frankfurt) and MINAMINO Takumi (Southampton FC), showing signs that they are fully prepared to face Japan. The team has arrived in Japan on Friday 4th and has been holding a training camp since.
On this day, the SAMURAI BLUE held their official training session at the match venue in the evening to go over the team strategy.
With OSAKO Yuya (Werder Bremen) out of the squad due to injury, this gives the team an opportunity to test different attacking options, as Minamino shared his takes on the match, "Regardless of who takes over his place, we will try to play collectively and establish our attacking patterns."
MORITA Hidemasa (CD Santa Clara), who will be entering his first national team match against a European side, shared his view on the match, "I have improved a lot over the past six months, and this match will give me the opportunity to gain perspective on where I currently stand. It will be a great learning experience."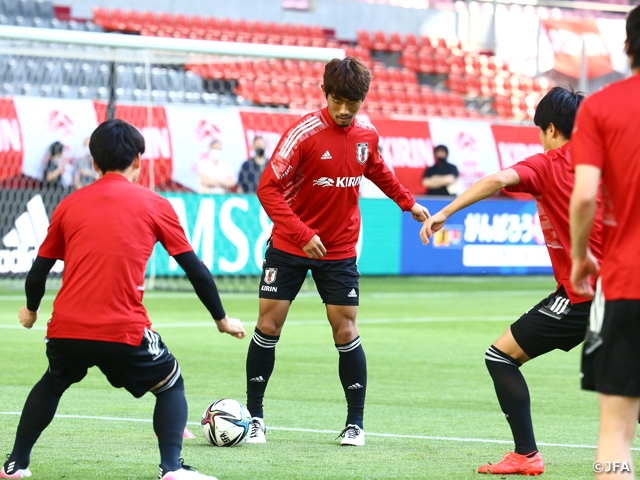 The last time the two sides faced each other was in October 2013, where Serbia won the friendly match 2-0. Dating back to the Serbia and Montenegro and Yugoslavia era, Japan holds a total record of three wins and four losses.
The match between the SAMURAI BLUE and Serbia National Team will kick off at 19:25 on Friday 11 June at Noevir Stadium Kobe. In order to prevent the spread of COVID-19, the match will be held behind closed doors.
Coaches and Players' Comments
MORIYASU Hajime, Coach of SAMURAI BLUE (Japan National Team)
We are excited to face a strong team like Serbia. We are expecting a high intensity match, so it will be interesting to see how our players respond under pressure. I want our players to utilise this opportunity to try new things. Serbia is currently ranked 25th in the FIFA ranking, but they are much better than what the ranking suggests. We must find ways to stop (Nemanja) GUDELJ, or else he can give us a hard time throughout the match. We will prepare ourselves so that we can build our offence through defence and create opportunities that can threaten the opposing goal.
I will be conveying the basic ideas to our players, but I will need them to be flexible so that they can make adjustment against sudden system changes. Last year, we played against Cote d'Ivoire who deployed a three-back formation, but our players managed to make the necessary adjustments against them. These past match experiences have allowed us to become more versatile and broaden the base of the team. Many teams have adapted to make system changes during a match, so that is something we will be working on in this match.
Osako's injury is a huge blow to our team, but it gives us the opportunity to work on other options when he is not available. It will allow other forwards to gain match experience and give the team more options at the final qualification round and other competitions in the future. We are given the opportunity to play football despite the ongoing pandemic. We hope to deliver dream, hope, courage, and energy to those watching us.
GK SCHMIDT Daniel (Sint-Truidense V.V.)
At this training camp, we have been spending a lot of time on drills to block shots. It is an aspect I need to improve on, so I have been observing and learning from other goalkeepers. The other three goalkeepers on this team have given me great inspiration, especially Kawashima, who has exceptional work ethics and great agility. We are expecting to face aggressive pressure from Serbia, so I hope to keep my composure when I have the ball and try to help create numerical advantage for the team. We will be facing tall opponents, so I will try to showcase my effectiveness when defending against set-pieces and crosses. I will also be prepared to block shots and do my best to keep a clean sheet.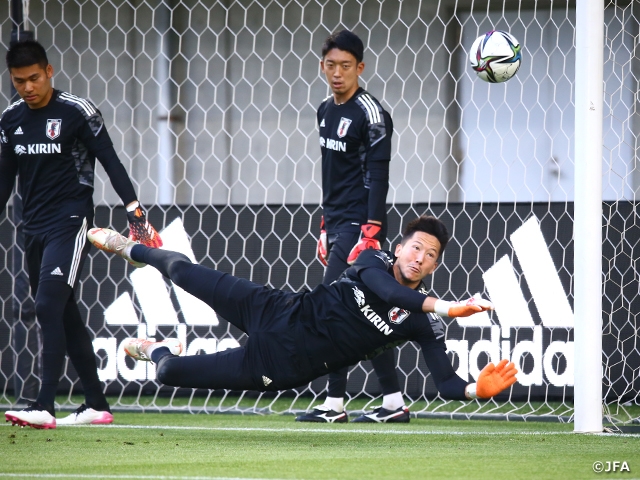 MF MINAMINO Takumi (Southampton FC)
Serbia is a very strong team, and it means a lot for us to be able to face a team from Europe at this timing. It will be interesting to see how much we can coupe against them. We will be playing without Osako, so how we make our adjustments and perform in the midfield will be tested in this match. I will try to keep in mind how each player plays. It is also important that we make the necessary adjustments when we have a mismatch in our formation. These our some of the things we must communicate and prepare ourselves ahead of the match.
MF MORITA Hidemasa (CD Santa Clara)
Personally, this is my first time facing a European team with the national team, and I am aware that they are a very strong team. I don't know how our opponent will approach this match, but I am thinking that this will be a great opportunity to showcase how much I have improved over the past six months in Portugal. It should give me great confidence if I can contribute to the team's victory. The Serbian players are much bigger and faster than the players we face in Asia, so we need to work even harder to win the individual battles. We need to be keen on applying pressure when there is a mismatch, while also focusing on keeping a high ball possession. But all and all, we need stay flexible and make our adjustments depending on how our opponent plays against us.
MF KAMADA Daichi (Eintracht Frankfurt)
We must stay eager to win the match. In doing so, we must understand what the coach is demanding from us and try to heighten the quality of our combination plays. We still have lots to work on, but I feel like I am getting more and more comfortable playing with this team. I have been telling my teammates to trust me with the ball even when I am getting marked by the opponent. It is a risky play, but it is much more effective. Serbia is a stronger team than any of the teams we faced in Asia. I have played against Serbian and Croatian players at Frankfurt, and I am getting the impression that they are physically very strong. I am also getting the impression that they are short-tempered, so if we can possess the ball for a long time, we might be able to get under their skin and make them lose their composure. I believe in what our coach is trying to do, so we should continue to work on what we have been doing. At a personal level, I will try to play as many matches as possible with my club and try to become a better player that can help the national team reach a higher level.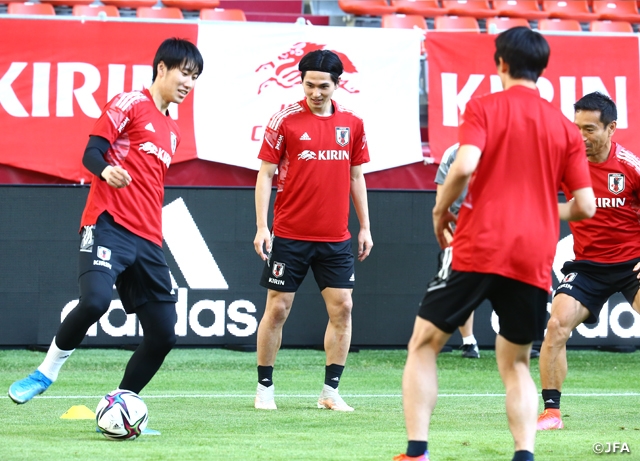 Dragan STOJKOVIC, Coach of Serbia National Team
I am happy to be back in Japan. We are without some of our core players like Mitrovic, Tadic, and Milinkovic, but it will not be an issue if the younger players can fill in their shoes. We have been working on both the three-back and four-back formations, and we hope to be able to incorporate both formations within a match. Japan is a team with great speed and technique, so we must be careful of their entire squad. They have a player on the right side who can dribble very well, and Kamada is a great player. We don't know if Minamino will start on the left or the centre, but either way we need to pay close attention to him. There is no difference between players from Aisa and Europe in terms of technique and strategy, but the biggest difference is size and speed. However, the Japanese players are capable of overcoming such handicap, so they can certainly win against bigger and stronger teams. I will be anticipating to score a goal from the bench tomorrow, so please tell the referee not give me a red card.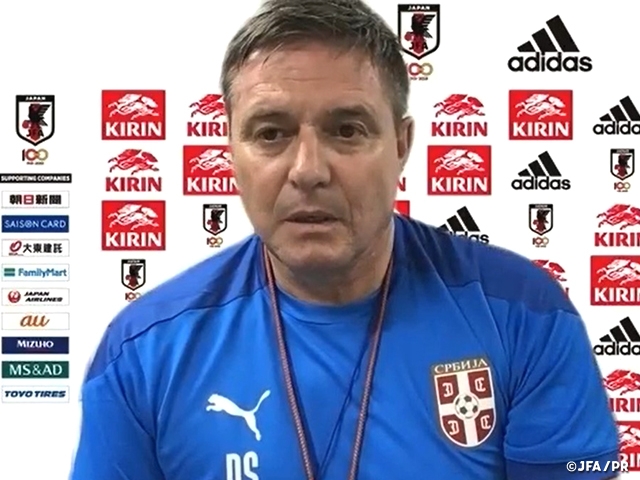 Fri. 11 June, 2021 [19:25]
SAMURAI BLUE vs Serbia National Team
Venue: Noevir Stadium Kobe (Hyogo)