NEWS
Serbia National Team arrives in Japan ahead of KIRIN CHALLENGE CUP 2021 (6/11@Hyogo)
09 June 2021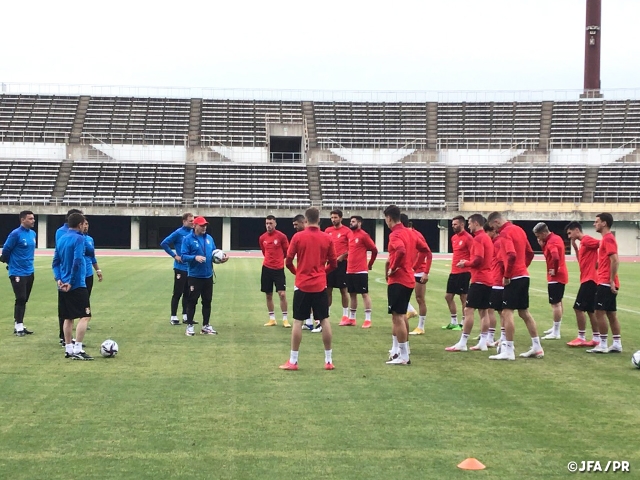 On Friday 4 June, the Serbia National Team arrived in Japan ahead of the KIRIN CHALLENGE CUP 2021, where they will face the SAMURAI BLUE (Japan National Team) at Noevir Stadium Kobe on Friday 11 June. The team has started its training camp in Japan from Saturday 5th.
The Serbia National Team has held a domestic training camp prior to their departure and the players were tested and confirmed negative for COVID-19 within 72 hours of their departure, while antigen tests were also conducted at the Japanese airport. The Serbia National Team will face the SAMURAI BLUE in the KIRIN CHALLENGE CUP 2021 on Friday 11 June at 19:25.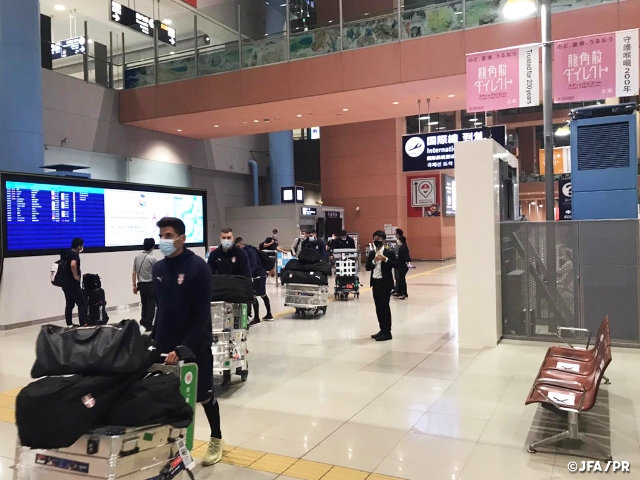 Coach's Comment
Dragan STOJKOVIC, Coach
I have many fond memories from my days in Japan. I spent seven years in Japan as a player, which gave me an unforgettable experience. I believe that I was able to contribute to the development of Japanese football during my time in the J.League, and I also spent six priceless years as the coach of Nagoya Grampus. Japan is my home away from home and I always feel a lot of support when I come to Japan. When traveling from Europe to Japan, there are always issues surrounding your physical condition, such as jet lag, but this time we have prepared ourselves by eating well and sleeping well. We have brought a young team, and I am planning on giving them a lot of opportunities. Our lives have been deeply affected by the corona pandemic, but we will give our best efforts. I am just glad that I was able come back to Japan like this. It is very unfortunate that I cannot meet the Japanese supporters due to the pandemic, but we must respect the preventive protocol. I hope our lives will be back to normal, next time I visit Japan.
Players' Comments
Stefan MITROVIC, Captain
I have played against many Japanese players in the past, and I have also played on the same team with some Japanese players as well. Japanese players are always professional and very hard working. I currently play with KAWASHIMA Eiji in France, and I think he symbolises the virtues of the Japanese players. The Japan National Team consist of many high-level players who play in the top leagues of Europe, so we are expecting a very tough match. They also have players thriving in the J.League, which is one of the most competitive leagues in Asia. We are honoured and thrilled to be given this opportunity to face such spectacular team. We will do our best to prepare ourselves ahead of this match, as coach Stojkovic has taught us a lot about Japanese football. We believe in the power of football, and although we are facing a worldwide pandemic, we hope to showcase a spectacular match that can entertain and unite all the people who are watching the match.
Nemanja MAKSIMOVIC
We understand that Japan is also influenced by COVID-19, just as serious as the countries of the world. That is why we are so grateful to be invited for this match. We feel very fortunate that we are given this opportunity to visit a wonderful country like Japan and conclude our season by facing a spectacular team like the Japan National Team. Unfortunately, we are not allowed to go outside this time, so I hope I will have another opportunity to get acquainted with the Japanese culture and customs someday. At Getafe, I was teammates with SHIBASAKI Gaku and KUBO Takefusa, who are top class players, but they were also wonderful people, and it was my pleasure to be able to play with them. From them, I was able to tell that Japan has a very nice culture with calm and kind people, and that people are well educated.
The match against Japan on the 11th will be a very difficult match for many reasons. We have travelled for 25 hours, and this match will be our final match of the season. Our squad features many young players who lack experience, because we were not able to bring many of our core players due to injuries and other reasons. That is why I must showcase my leadership to support them. Playing for the national team is a very special moment, so we are fully motivated for this match. We also understand that Japan is a very strong opponent. We hope to showcase a sensational performance in our final match of the season, earn positive results, and enter our vacation on a high note.
The world is facing a very difficult situation, but we are hoping that we will get our normal lives back soon. We are looking forward to seeing you at the stadium when everything is back to normal.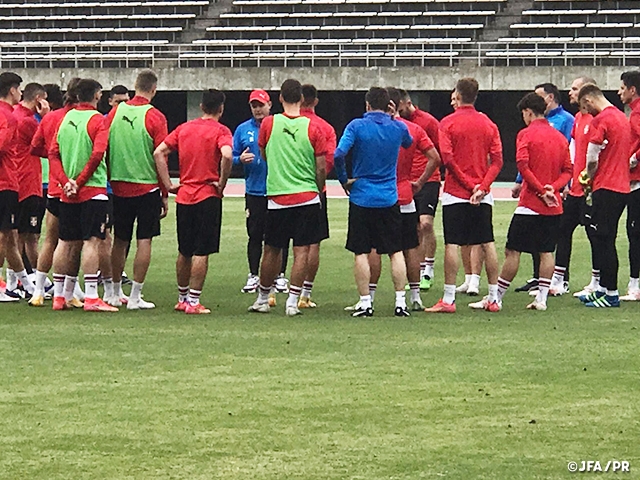 Fri. 11 June, 2021 [19:25]
SAMURAI BLUE vs Serbia National Team
Venue: Noevir Stadium Kobe (Hyogo)