NEWS
SAMURAI BLUE lose to Mexico after conceding two goals in second half
18 November 2020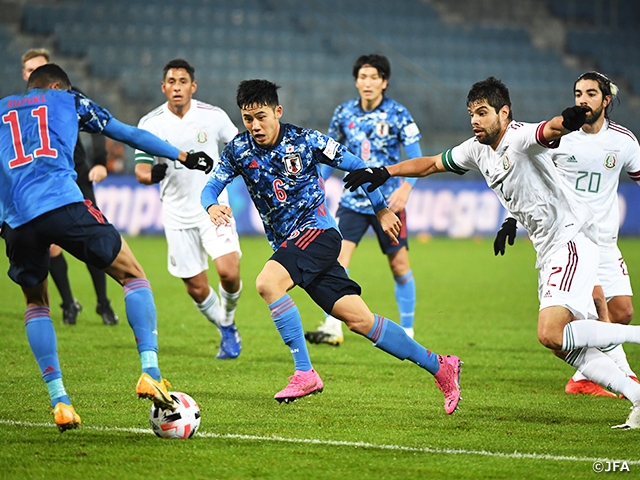 The SAMURAI BLUE (Japan National Team) played in an international friendly match against Mexico National Team on Tuesday 17 November (Wednesday 18 in Japan) at Stadion Graz Liebenau, Graz, Austria. After conceding two goals in the second half, Japan lost the match 0-2, suffering their first loss of the year in their final match of the year.
With this match against Mexico being their last test match ahead of the second round of the Asian qualifiers for the FIFA World Cup Qatar 2022™, which will resume next March, Japan rotated nine players from their starting line-up against Panama. SCHMIDT Daniel (Sint-Truidense V.V.) started in goal with YOSHIDA Maya (U.C. Sampdoria), TOMIYASU Takehiro (Bologna FC 1909), NAKAYAMA Yuta (PEC Zwolle), and SAKAI Hiroki (Olympique de Marseille) forming the four-back defence line. SHIBASAKI Gaku (CD Leganes) and ENDO Wataru (VfB Stuttgart) were named as the defensive midfielders, while HARAGUCHI Genki (Hannover 96) and ITO Junya (KRC Genk) were placed in the flanks. With SUZUKI Musashi (Beerschot AC) playing as the lone striker, KAMADA Daichi (Eintracht Frankfurt) filled in the number 10 position.
Mexico on the other hand, also rotated six players from their match against Korea Republic, mixing up players who have played in the World Cup in 2018, such as their veteran GK Guillermo OCHOA, and young players to start off the match against Japan. The match started with Mexico applying aggressive pressure in pursuit to take the initiative, but Japan showed great transitions to evade the pressure and to create opportunities to threaten the Mexican goal.
In the 10th minute, Ito initiated a play in the left flank, connecting the ball to Kamada, who dribbled into the penalty area to send a cut back towards the centre, almost setting up the goal for Suzuki, but the striker fell short from connecting with the delivery. Two minutes later, Haraguchi tried his luck from distance, driving a shot towards the far post, but Ochoa made a jumping save to parry the shot out of bounds. Another close opportunity was created in the 15th minute, when Suzuki broke into the box facing the GK one-on-one, but Ochoa once again made a superb save by blocking the shot with his leg, followed it up with a another save that denied the shot of Ito, who struck a shot off the rebound. Japan continued to threaten the opposing goal during the first half but struggled to find the net.
Despite their struggles in the early minutes, Mexico gradually picked up their pace towards the end of the first half, as Hector MORENO connected with a FK to strike a header in the 41st minute, but the match entered halftime tied at 0-0.

After seeing his team's performance in the first half, coach Gerardo MARTINO made changes during halftime, shifting their system from a one-anchor to a two-anchor formation. By adding a player deep in their midfield, Mexico increased their ball possession to take control over the match in the second half. Gaining momentum from the tactical change, Mexico started to threaten the Japanese goal, as Luis ROMO and Raul JIMENEZ each made an attempt in the 50th and 60th minute, respectively.
Thick fog starting to cover the stadium, and in efforts to change the dynamics of the match, coach MORIYASU Hajime made his first substitutions in the 57th minute, bringing in MINAMINO Takumi (Liverpool FC) and HASHIMOTO Kento (FC Rostov). However, it was Mexico who broke the deadlock soon after, as Jimenez broke through the left side to capture the opening goal in the 63rd minute.
Moments later, Henry MARTIN, who entered the match to replace Jimenez, delivered a through ball that allowed Hirving LOZANO to break loose and score the second goal in the 68th minute. After winning their match against Korea Republic by scoring three goals in just four minutes, Mexico once again showcased their firepower by scoring two goals in five minutes against Japan.
Japan made efforts to rally back, as they brought in KUBO Takefusa (Villarreal CF) in the 72nd minute, followed by ASANO Takuma (FK Partizan) in the 77th minute, but struggled to create any major chance. Conversely, Mexico almost scored their third goal in the 79th minute when Uriel ANTUNA made an attempt from close range, but Schmidt made a brilliant save to protect the Japanese goal.
MIYOSHI Koji (Royal Antwerp FC) was introduced to the match in the 85th minute to add layers to their offence, but could not make a difference, as Japan lost the match 0-2. With this result, Japan finished the year with a record of two wins, one draw, and one loss.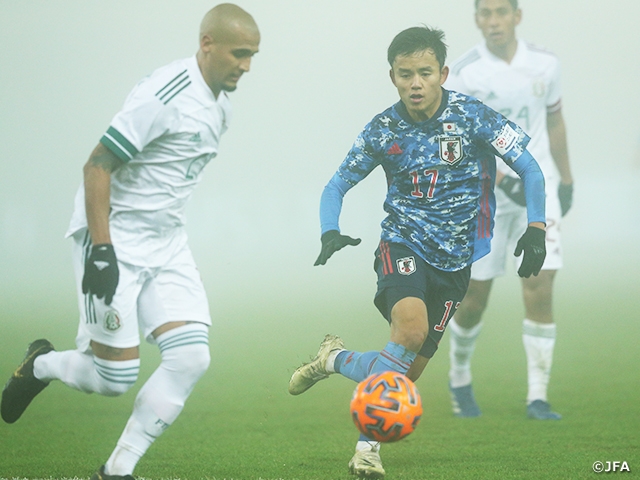 Coaches and Players' Comments
MORIYASU Hajime, Coach of SAMURAI BLUE (Japan National Team)
This 0-2 result shows that our opponent was more critical in the final third. In order for us to compete at the world stage, we must construct a solid concept in both offence and defence, heighten the quality of our plays even while playing with high intensity, and polish our plays in the final third. Our players showed great aggression in the first half, anticipated for the ball, and fought for the ball with great courage, which allowed us to create numbers of opportunities. We did not enter the second half poorly, but our opponent came out with more intensity, forcing us to make mistakes, in which allowed them to gain more momentum. It showed our inability to evade pressure when the opponent raises the level of intensity and our lack of quality to convert chances while being under pressure. However, we managed to showcase an equal bout in the first half, as we built our rhythm and created chances in the early minutes. Although we were kept scoreless in this loss, our players fought courageously until the final whistle. We created enough chances that could have given us the victory, so I want our players to continue to play with confidence and strive to create more chances in our future matches.
DF #22 YOSHIDA Maya (U.C. Sampdoria)
Mexico has players who are extremely good at keeping the ball and connecting the passes. We struggled dearly to win the ball in the second half, and our opponent showed great game management after taking the lead. Although we created plenty of chances, we still needed to convert them while we had the momentum, especially after seeing how our opponent managed to capitalise their chances. Jimenez was set to be replaced after that one play, so it was regretful that we allowed him to score that goal in his last play. As a whole, we committed too many small mistakes. If we make that many mistakes against a strong opponent like Mexico, it is inevitable that we are in for a tough match. We will certainly face tough matches at the World Cup, so we must find ways to persevere through those tough times while anticipating to initiate counterattacks, which was exactly what Mexico did against us in the second half. There was a clear difference between the two sides, but I personally felt like we can do much better both as a team and as individuals.
MF #4 NAKAYAMA Yuta (PEC Zwolle)
Our opponent played with great energy, showed great ball possession as a team, and I felt so much pressure from their attacking players. We conceded goals during times where our team's patience was being tested, and we were not able to persevere. We need to get better. If we were able to convert the chances we created in the first half, this result could have been much different. I have not been playing as a left fullback with my club, but I felt like I was able to play in that position at a high level, so that was a positive thing. In order to earn the trust from the national team, I will give my best efforts to adjust to the roles I am given at my club and at the national team.
MF #7 SHIBASAKI Gaku (CD Leganes)
We were able to create many critical opportunities and also showed many great combinations, but we struggled to make our adjustments after our opponent raised their intensity level. Mexico showed great techniques and I think they had the upper hand in that aspect. They made very few mistakes in their build-up plays, and even when they do make a mistake, they showed quick transitions to recover from it and also played solid defence, which was close to the concept we are striving for. Our attacking plays were effective, but we still need to polish the quality so that we can execute the same plays even when the intensity level is raised. Mexico's transition between offence and defence was executed at a high level and it was something we need to learn from them.
MF #8 HARAGUCHI Genki (Hannover 96)
Our opponent showed their ability to make adjustments during the match, which was something we were striving to show in this match. While our opponent made the necessary adjustments, we failed to make ours. I was getting flashbacks from the match against Belgium, which made me think "not again…" but I am glad this was not a match at the World Cup. We must make the most of the next two years, so that we do not make the same mistakes from two years ago.
MF #9 KAMADA Daichi (Eintracht Frankfurt)
We showed great defence in the first half, which allowed us to build our attacks, but our opponent made adjustments in the second half, changed their play style, and marked me man-to-man. It also forced us to drop deeper in defence and that was an aspect we had to address and change earlier. When facing stronger opponents, the quality at the final third in both ends can be a huge difference, so once I return to my club, I will work hard and strive to become a player that can make a difference for the team.
FW #11 SUZUKI Musashi (Beerschot AC)
We failed to convert the chances created in the first half and when we face a strong team like this, that can make a world of difference, so I feel responsible as a striker. (In the one-on-one scene) I saw the GK go down, so I aimed towards the far post, but he left his leg to make a great save. I should have lifted the ball more. I always try to use my head when I take shots, but I feel like my opponent had the upper-hand against me and the quality of my shot was not very good neither, so I hope to become a player that can capitalise on those types of situations.
Gerardo MARTINO, Coach of Mexico National Team
It was clear that Japan was controlling the match in the first half. They created crucial chances and the first 20 to 25 minutes of the first half was perhaps the worst stint since I became the national team coach. Although we started to play better towards the end of the first half, we still lacked depth in our plays. We made adjustments during halftime, anticipated what Japan was doing, and created awkward situations for them to take control of the match. Japan showed great build-ups and discipline in their offence but lacked quality to convert their chances in the first half. In order to have advantage in matches like this, you must capitalise on the opportunities you are given.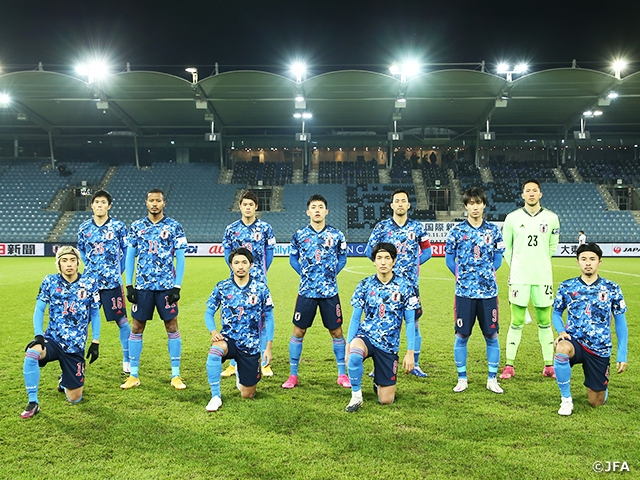 Schedule
Mon. 9 November
PM
Training
Tue. 10 November
PM
Training
Wed. 11 November
PM
Training
Thu. 12 November
TBC
Official Press-conference/Training
Fri. 13 November
1-0
International Friendly Match vs Panama National Team
(Stadion Graz Liebenau)
Sat. 14 November
PM
Training
Sun. 15 November
PM
Training
Mon. 16 November
TBC
Official Press-conference/Training
Tue. 17 November
0-2
International Friendly Match vs Mexico National Team
(Stadion Graz Liebenau)
*Schedule is subject to change
International Friendly Match
Fri. 13 November 15:15 (23:15 Japan time) vs Panama National Team
Tue. 17 November 21:00 (Wed. 18 November 5:00 Japan time) vs Mexico National Team
Venue: Stadion Graz Liebenau (Graz, Austria)