NEWS
SAMURAI BLUE (Japan National Team) resumed its training in Kazan ahead of their Poland match
26 June 2018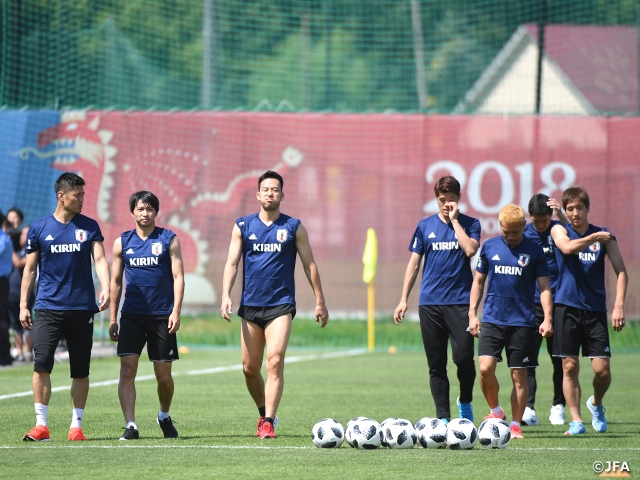 The SAMURAI BLUE (Japan National Team) who is participating in the 2018 FIFA World Cup Russia returned to its basecamp in Kazan after their epic battle against the Senegal National Team, where they earned one point to their tally. The team will prepare ahead of their third group stage match against the Poland National Team with their advancement to the round of 16 at stake.
Following the 2-2 tie against Senegal, the team left the match site, Ekaterinburg on a charter flight to their basecamp Kazan. The team was then gathered the next day before noon, under the scorching summer sun at the training grounds of FC Rubin Kazan. The players who started in the match the night before took a slow walk before stretching their body and went through core trainings in order to recover their conditions.
The reserve members including HONDA Keisuke (CF Pachuca), OKAZAKI Shinji (Leicester City Football Club), and USAMI Takashi (Fortuna Dusseldorf) who entered the match as a substitute, all went through many drills during this session.
After the players were stretched up, they were seen passing and juggling the ball. They then went onto a possession drill where they played 5 vs 5 with limited touches and interception goals, followed by a shooting drill from build ups. Honda and Okazaki were then seen going through pace-running while the other members including the two goalkeepers played a 4 vs 4 mini-game, where they focused on their transition between offence and defence.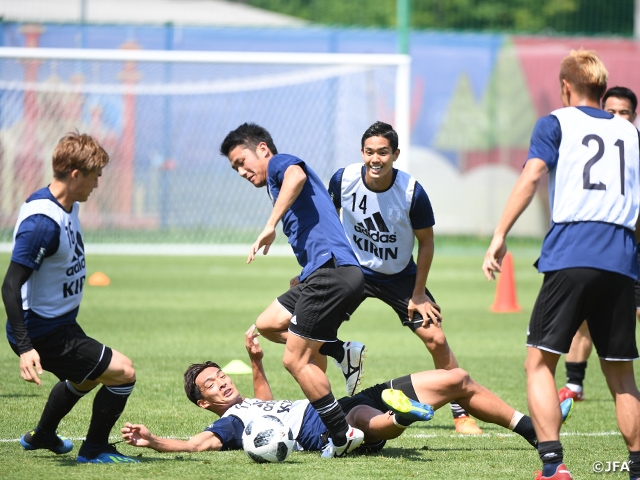 The team finished up the session by practicing penalty kicks where Goalkeepers HIGASHIGUCHI Masaaki (Gamba Osaka) and NAKAMURA Kosuke (Kashiwa Reysol) also participated as a spot taker. Following the team session, MUTO Yoshinori (1.FSV Mainz 05) and Usami were seen conducting extra shooting drills.
Their third group stage match against Poland will be held with a three-day rest following the Senegal match at Volgograd, where it's widely known to be a hot and humid area.
After playing two matches, Japan is currently tied in first place with Senegal in Group H with four points after winning and drawing a match apiece. With a record of one win and one loss, Colombia trails in third place with their three points, while Poland has already been out of contention with their two losses.
A draw against Poland will secure Japan at least second place in the group, which will give them their first round of 16 appearance since 2010. Even in case of a loss, Japan can still clinch if Senegal beats Colombia in the other group match.
Regarding their next match against Poland, Usami pointed out, "Poland is a strong opponent. They may entered the match with a relaxed approach to earn a win." He continued by stating, "It is important for us to initiate the action to earn the win, rather than being passive."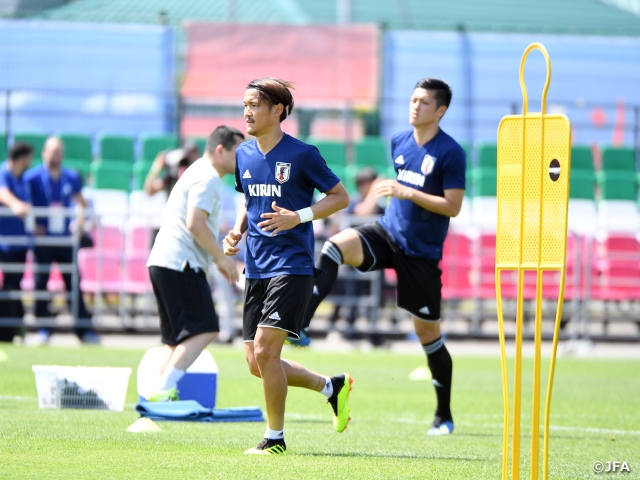 In preparation for their match on Thursday 28 June, the team will head to Volgograd on Tuesday 26, following their training session at Kazan.
Players' Comments
FP #6 ENDO Wataru (Urawa Red Diamonds)
I personally felt that we could play against Senegal on equal terms. We knew they would have the advantage in physiques and athleticism, but I believed that we will have our chances to win the match. In a way, the 2-2 result can be disappointing as we could have won the match, but the way we levelled twice in the match can been looked as an encouraging result. The players are communicating well, continuously discussing what we are doing well and what we are lacking. We are not too overwhelmed by the results. I think the result of us winning and tying a match, is purely reflecting our performance.
FP #11 USAMI Takashi (Fortuna Dusseldorf)
Although my time on the pitch was very limited, the fact I got into the match was a great experience for me. Even the time I've been spending on the bench has given me a positive influence. I want to be more demanded by the team and earn more minutes on the field. The next match can be a difficult match for us, as Poland can be setting their eyes on their next goal already. It is important for us to initiate the action to earn the win, rather than to play passively.
FP #15 OSAKO Yuya (Werder Bremen)
The four points we have earned thus far has given me the sense that it is not that easy. However, the fact we have managed to earn four points against teams that are seen as better teams on paper, should be taken as a positive. The players are keeping a good distance between each other, while the team is surrounded in a good atmosphere as everybody is playing well, whether they start or enter the match as a substitute. Poland consists many quality players in their squad, and you never know when their form returns at their best. When they are in good form, they can be very dangerous, so we must stay alerted. Poland will most likely enter the match with a refreshed mind so we must face them with a strong commitment towards the match.
FP #17 HASEBE Makoto (Eintracht Frankfurt)
In yesterday's match, we managed to take the initiative of the match by doing what our opponents didn't want us to do. We also responded well to the second balls to add layers to our attacks while creating more time in offence. I think those were the positives from the match. I don't think we can enter the match looking for a tie and earn the results we want. We must win out of this group stage with a victory. Although we earned four points in two matches, we haven't accomplished anything yet. The next match will be the deciding match. We must enter the match with the intention to earn three points and place our focal point on our performance.

USAMI Takashi (Fortuna Dusseldorf/Germany) Interview

OSAKO Yuya (Werder Bremen/Germany) Interview

HASEBE Makoto (Eintracht Frankfurt/Germany) Interview
Schedule
2018 FIFA World Cup Russia
Tue. 19 June
2-1
1st Match vs Colombia (Mordovia Arena)
Wed. 20 June
PM
Training
Thu. 21 June
PM
Training
Fri. 22 June
AM
Training
Sat. 23 June
PM
Official Conference・Official Training
Sun. 24 June
2-2
2nd Match vs Senegal (Ekaterinburg Arena)
Mon. 25 June
PM
Training
Tue. 26 June
AM
Training
Wed. 27 June
PM
Official Conference・Official Training
Thu. 28 June
17:00
3rd Match vs Poland (Volgograd Arena)
*Local Time
*The schedule is subject to change due to the team condition, the weather, etc.
2018 FIFA World Cup Russia
Tournament Dates: 14 June - 15 July 2018

Group stage
1st Match Tue. 19 June Kickoff at 15:00 vs Colombia National Team (Mordovia Arena)
(21:00 Japan time)
2nd Match Sun. 24 June Kickoff at 20:00 vs Senegal National Team (Ekaterinburg Arena)
(Mon. 25 June, 0:00 Japan time)
3rd Match Thu. 28 June Kickoff at 17:00 vs Poland National Team (Volgograd Arena)
(23:00 Japan time)