NEWS
Japan cruise past Jordan, advance to quarters in Asian Cup
21 January 2015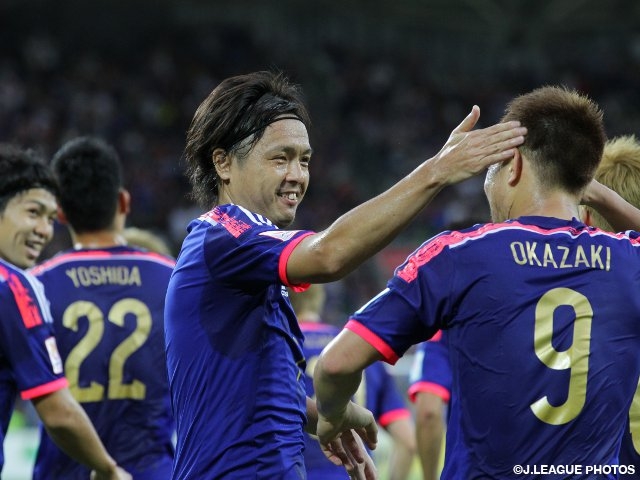 AFC Asian Cup 2015 Australia Group Staged 3rd Match
20 January 2015 20:00 Kick Off Playing Time 90minutes
Melbourne Rectangular Stadium (Melbourne/Australia)
SAMURAI BLUE(Japan National Team)2-0(1st 1-0、2nd 1-0)  Jordan National Team
Scores
24min HONDA Keisuke (SAMURAI BLUE)
82min KAGAWA Shinji (SAMURAI BLUE)
Starters
GK:KAWASHIMA Eiji
DF:NAGATOMO Yuto, MORISHIGE Masato, SAKAI Gotoku, YOSHIDA Maya
MF:ENDO Yasuhito, KAGAWA Shinji, HASEBE Makoto
FW:HONDA Keisuke, OKAZAKI Shinji, INUI Takashi
Substitutes
GK:NISHIKAWA Shusaku, HIGASHIGUCHI Masaaki
DF:UEDA Naomichi, OTA Kosuke, SHIOTANI Tsukasa, SHOJI Gen
MF:KIYOTAKE Hiroshi, KONNO Yasuyuki, SHIBASAKI Gaku
FW:TOYODA Yohei, MUTO Yoshinori、KOBAYASHI Yu
49min INUI Takashi → KIYOTAKE Hiroshi
78min OKAZAKI Shinji → MUTO Yoshinori
86min ENDO Yasuhito → SHIBASAKI Gaku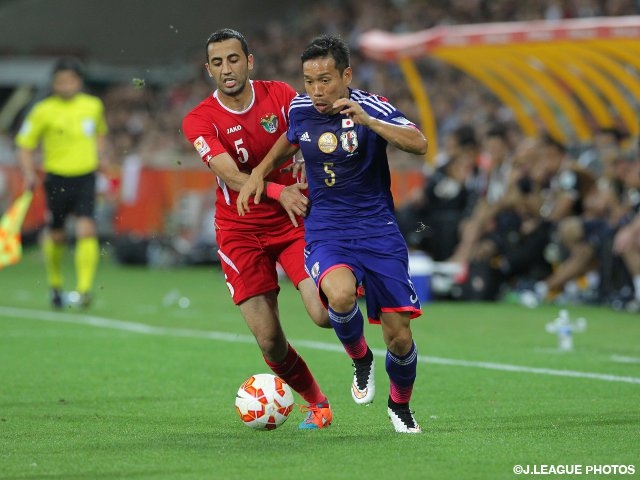 SAMURAI BLUE (Japan men's national team) capped a 2-0 victory with goals from HONDA Keisuke and KAGAWA Shinji over Jordan in their final group stage match in the 2015 AFC Asian Cup in Melbourne, Australia, on 20 January. Japan notched three straight wins and booked a spot in the quarterfinals. Kagawa was selected the MVP of the game.
Japan qualified through Group D in the first place with nine points and will face the United Arab Emirates, who finished second in Group C, on the 23rd in Sydney in the quarterfinal round. In the other Group D match, Iraq sank Palestine 2-0 and proceeded to the next round in the second place of the group.
While Japan could qualify with a draw or better, they could have been eliminated from the stage with a loss, so it wasn't necessarily an easy match to play for Japan. But Japan head coach Javier Aguirre came in the game with the same starting lineup from their previous two games, indicating their will for the win.
Four years ago, Japan managed to tie in the last minute against Jordan in their first game. Jordan came physically from early against Japan this time as well. Jordan attempted to not give freedom to midfielder HASEBE Makoto, who set a new Japan national record for playing as the captain for the 56th game, midfielder ENDO Yasuhito and Kagawa, having man defence with them. Yet Japan still managed to dominate the ball. They relayed passed from Endo to Kagawa to Inui to get the Jordan defence off-balance on 10th minute, and nearly scored a goal with a free kick by Honda on 18th.
On 24th minute, Japan connected quick passes from Hasebe to Inui to OKAZAKI Shinji laterally, and the Okazaki fired a shot. The Jordan goalkeeper saved it, but Honda put the deflected ball into the goal to get a lead.
Japan struggled with Jordan's physical plays, but MORISHIGE headed a corner kick of Honda on 29th, and then Okazaki reacted a through ball by Kagawa and made a shot, which wound up hitting the side net. Both players cooked the 25,616 fans at the stadium.
The first time Jordan threatened the Japan goal was on 28th minute, when Hamza Aldaradreh intercepted a ball and fired a shot. In the second half as well, Jordan tried to rally around Ahmad Hayel and Monther Abu Amara, both of whom came in as substitutes, with plays up front and in the sides.
On 54th, Jordan earned a free kick with Hayel's tenacious play, and Saeed Murjan aimed to score with it. And three minutes later, Amara brought the ball near the Japan goal and fired a shot. But Japan goalkeeper KAWASHIMA Eiji stood high in front of them and didn't allow a goal.
Japan sent midfielder KIYOTAKE Hiroshi early in the second half. From pass works emphasizing on side changes, Endo fired a middle shot on 55th minute and others like Honda, defender YOSHIDA Maya and Kagawa threatened the Jordan goal.
On 82nd, forward MUTO Yoshinori, who came in as a late substitute, received a pass from Kiyotake and dribbled up in the left side. Muto launched a cross and Kagawa put it into the goal with his right foot to give Japan a 2-0 lead.
In the stoppage time, midfielder SHIBASAKI, also a late substitute, fed Honda a pass and Honda penetrated into the box. He had a shot but it hit the post.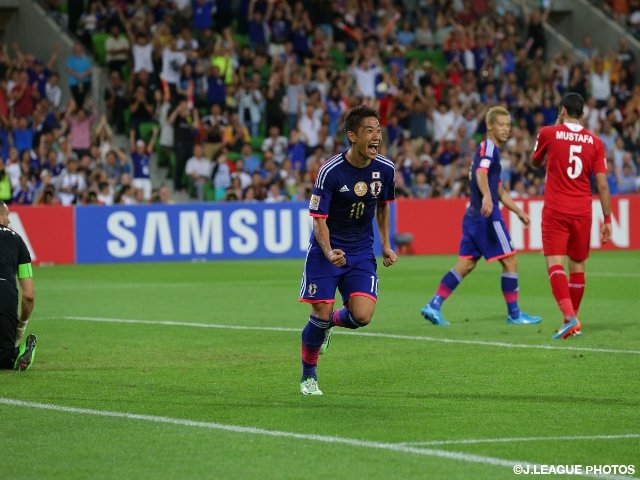 Comments
Javier AGUIRRE Head Coach
It was a game with a lot of intensity and we were required to have our best game. But we were able to outplay our opponents and score some goals, and I think we were a deserving team to advance to the next round. We've been able to have a better defence in this tournament. Had we scored our second goal a little earlier, we would have played a lot easier game, but it was actually not so easy and our players did very well. I want Kagawa to get in the box and have shots more often. We earned a penalty kick from a play like that in our Iraq game. I'm satisfied with his job. I think all the eight teams who qualified through the group stage round have a chance to win the championship, so we will have to start from zero again. The No. 10 player of the UAE is a great player who attracts the eyes of European clubs, but you can't win the game with just one player. We will need to be careful with all the players. We have two day's rest, but we would like to rest our players as much as possible and like we've done, we are going to battle, paying respect to the opponents.
MF KAGAWA Shinji (Borussia Dortmund)
Our opponents came against us pretty tough, but I think that with the goal that put us ahead in the first half enabled us to play the game smoothly. They put more pressure on us in the second half, but we were able to have our second goal from a countre and that was an ideal way. More than anything, it was great for us to be able to win holding them to none goals. (On the first goal for him in a while) I was frankly glad, but the more important thing was that our team won it. I was happy that my teammates were pleased about my goal as well. But I would like to move forward from here for the next game. I think that our next game will be very tough and we can't afford to lose, so I would like to prepare for it, thinking to leading our team to a win.
MF ENDO Yasuhito (Gamba Osaka)
I wasn't bothered by the heat. (On how Jordan came in the game) it was within our assumption. We didn't have many risky occasions and we'd anticipated that Hasebe would be defended tightly. It was just, we should start plays from outside, if we can't do so inside. Our opponents were in the situation that they needed nothing but the win, but we were in a position that we could end in a draw, so we had some room mentally. We are not a team who win a game by protecting a one-goal lead, but it was great that we could held them to zero goals.
MF HONDA Keisuke (AC Milan)
(On his own goal scene) As for that particular scene, I think that I was able to react to (the deflected ball) very well. Yet I feel like I could have done better had I reacted as well at some other occasions. We are certainly going to keep up with good things. Because we had few big chances, I want to move quicker so I can create big chances for my own sake. It's not so good to assess ourselves in positive ways, but compared with our training game in Cessnock, our connections have clearly gotten better in the last few days. Regarding Kagawa's goal, he was very pleased. He can score goals, so it's encouraging for us that he can score like that, not just in game making.
Ray WILKINS Jordan National Team Head Coach
We are disappointed that we ended up losing. Japan are a very good team and they wouldn't let us do what we wanted to do. Because our players were doing hard, we are certainly disappointed. I think we respected our opponents a little too much. Japan have many players who are playing in Europe, so they are physically stronger and are a team who have a good balance with their younger players and players with experience. Their pass works while they were moving was particularly great. I think that unless you have a very good team, it's going to be very tough to beat Japan.
Click Here For The Photo Gallery
International Friendly Match
U-22 Japan National Team vs U-22 Myanmer Natinal Team
Wednesday,11 March 2015 Kick Off at 19:10(estimate time) Chiba / Fukuda Denshi Arena
More Information
KIRIN CHALLENGE CUP 2015
SAMURAI BLUE (Japan National Team) vs Tunisia National Team
Friday, 27 March 2015 Kick Off at 19:30(estimate time) Oita / Oita Sports Park
More Information
International Friendly Match
SAMURAI BLUE (Japan National Team) vs Uzbekistan National Team
Tuesday,31 March 2015 Kick Off at 19:25(estimate time) Tokyo / Tokyo Stadium
More Information