NEWS
SAMURAI BLUE (Japan National Team) welcome new coach Javier Aguirre
24 July 2014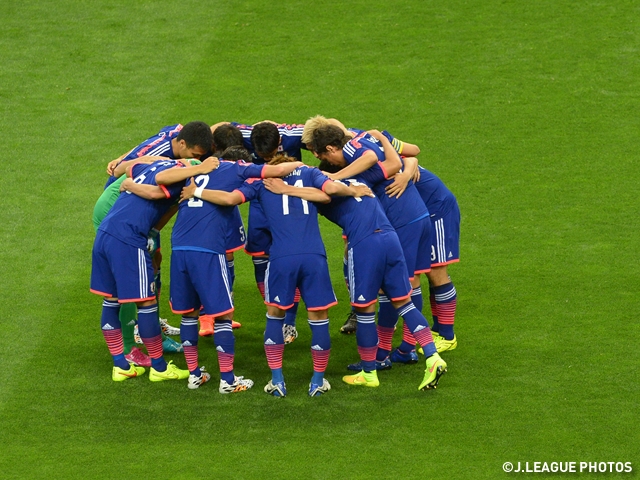 The Japan Football Association has appointed Javier Aguirre as the new head coach for SAMURAI BLUE (Japan National Team).
We also announce to bring the following coaches on board: Stuart Gelling (England) as the assistant coach, Juan Iribarren Morras as the physical coach, and Ricardo Lopez Felipe as the goalkeeper coach.
SAMURAI BLUE (Japan National Team) Head Coach Profile
Javier AGUIRRE
Date of Birth: 1 December, 1958 (age: 55)
Place of Birth: Mexico City (Mexico)
[Playing Career]
Played in Mexico (Club América, Atlante FC & Guadalajara), the United States (Los Angeles Aztecs) and Spain (Osasuna).
Capped 59 matches and scored 14 goals as a Mexican international. Participated in the 1986 FIFA World Cup Mexico (reached quarter final).
[Coaching Career]
1995-1996 Atlante FC (Mexican Liga MX, First Division)
1998-2001 Pachuca (Mexican Liga MX, First Division)
2001-2002 Mexico National Team *2002 FIFA World Cup Japan/Korea, reached quarter final
2002-2006 Osasuna (Spanish La Liga, First Division)
2006-Feb 2009 Atlético Madrid (Spanish La Liga, First Division)
2009-2010 Mexico National Team *2010 FIFA World Cup South Africa, reached quarter final
Nov 2010-Dec 2011 Real Zaragoza(Spanish La Liga, First Division)
Nov 2012-2014 RCD Espanyol (Spanish La Liga, First Division)
[Key Honours and Awards]
1984 Mexico League Champion (Club América) *as a player
1999 Mexico Winter League Liguilla Champion (Pachuca)
2001 Copa América 2nd Place (Mexico National Team)
2005 Spain King's Cup 2nd Place (Osasuna)
2009 CONCACAF Gold Cup Champion (Mexico National Team)
SAMURAI BLUE (Japan National Team) Coaching Staff Profile
<Assistant Coach> Stuart GELLING
Date of Birth: 8 September, 1973 (age: 40)
Nationality: England
[Playing Career]
1989-1992 Liverpool FC
[Coaching Career]
1996-2009 Liverpool FC Elite Academy Coach
2009-Present Managing Director (SGI Sports Management), Academy Director (FC Welsh)
<Physical Coach> Juan Iribarren Morras
Date of Birth: 30 April, 1967 (age: 47)
Nationality: Spain
[Coaching Career]
Worked as a physical coach for:
Osasuna (Spanish La Liga, First Division)
Atlético Madrid (Spanish La Liga, First Division)
Mexico National Team
Real Zaragoza (Spanish La Liga, First Division)
Legia Warsaw (Polish Ekstraklasa, First Division)
RCD Espanyol (Spanish La Liga, First Division)
<GK Coach> Ricardo Lopez Felipe
Date of Birth: 30 December, 1971 (age: 42)
Nationality: Spain
[Playing Career]
1995-1998 Atlético Madrid (Spanish La Liga, First Division)
1998-2002 Real Valladolid (Spain)
2002-2005 Manchester United (English Premier League)
2005-2013 Osasuna (Spanish La Liga, First Division)
*Spanish international (for 2002 FIFA World Cup)
[Coaching Career]
2013-2014 Club Brugge KV (Belgian League Division One)