NEWS
U-24 Honduras National Team arrive in Japan ahead of KIRIN CHALLENGE CUP 2021 (7/12@Osaka)
10 July 2021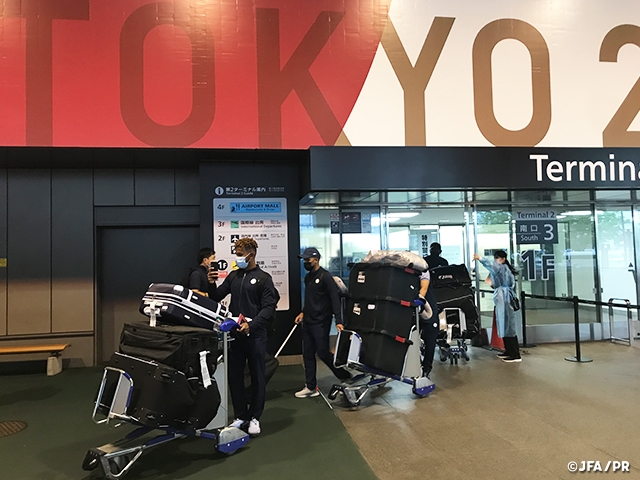 On Friday 9 July, the U-24 Honduras National Team arrived in Japan ahead of the KIRIN CHALLENGE CUP 2021 match against the U-24 Japan National Team, scheduled to take place on Monday 12 July at YODOKO SAKURA STADIUM (Osaka). The Honduran players were tested and confirmed negative for COVID-19 within 72 hours of their departure, while antigen tests were also conducted at the airport before entering the country. The players came through gates specially ornamented for the Games of the XXXII Olympiad (Tokyo 2020) before leaving the airport.
The KIRIN CHALLENGE CUP 2021 match between the U-24 Japan National Team and U-24 Honduras National Team is scheduled to kick-off at 19:30 on Monday 12 July.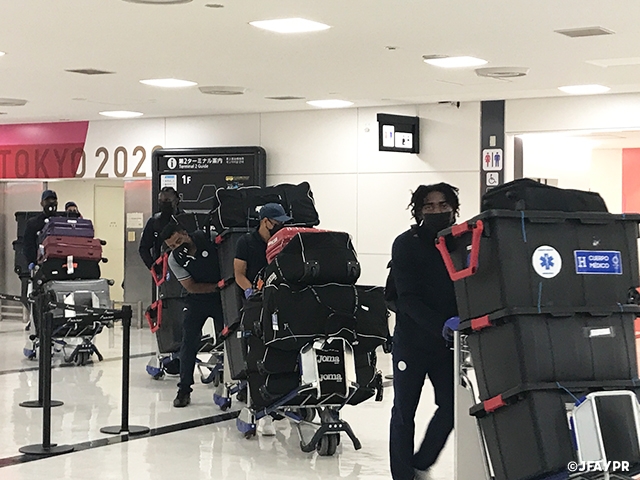 Coach and Player's Comments
Miguel FALERO, Coach of U-24 Honduras National Team
This is my second time visiting Japan. The first time was when I won the Toyota Cup title as a player of Penarol in 1982. It has been a long time since then, but I am still amazed by how organised, clean, and beautiful this country is. Unfortunately, we will be playing under a difficult circumstance due to the effect of the pandemic, but we will do our best to make the necessary adjustments. Our players will need to overcome many hurdles, including the fatigue from the long travel and the time difference, but the Japanese people have welcomed us with warm hospitality, so we will give our utmost efforts to showcase a spectacular match.
Denil MALDONADO (Everton de Vina del Mar/Chile)
The way we were welcomed here in Japan was amazing and I feel that this is one of the nicest experiences in my life. This is my third time visiting Japan, and I was deeply impressed by the plays of Kubo, when we faced the U-20 Japan National Team in my previous visit. I am glad to be given another opportunity to face Japan, as the Honduras National Team have gotten much stronger since. We will be staying for a longer stint this time, but the people in Japan are so kind to us, so I am sure this will be another amazing experience for us.
Squad of U-24 Honduras National Team
Coach
Miguel FALERO
Squad
GK
1 Alex GUITY (CD Olimpia)
12 Michael PERELLO (RCD Espana)
DF
21 Elvin OLIVA (CD Olimpia)
5 Cristopher MELENDEZ (CD Motagua)
4 Carlos MELENDEZ (CD Vida)
2 Denil MALDONADO (Everton de Vina del Mar/Chile)
16 Jose GARCIA (CD Olimpia)
3 Wesly DECAS (CD Motagua)
MF
15 Carlos PINEDA (CD Olimpia)
7 Jose REYES (RCD Espana)
20 Jorge ALVAREZ (CD Olimpia)
8 Edwin RODRIGUEZ (CD Olimpia)
11 Samuel ELVIR (UPNFM)
6 Jonathan NUNEZ (CD Motagua)
FW
13 Bryan MOYA (Primeiro de Agosto/Angola)
9 Jorge BENGUCHE (Boavista FC/Portugal)
14 Jose PINTO (CD Olimpia)
18 Juan OBREGON (Hartford Athletic/USA)
19 Douglas MARTINEZ (Real Salt Lake/USA)
10 Rigoberto RIVAS (Reggina/Italy)
17 Luis PALMA (CD Vida)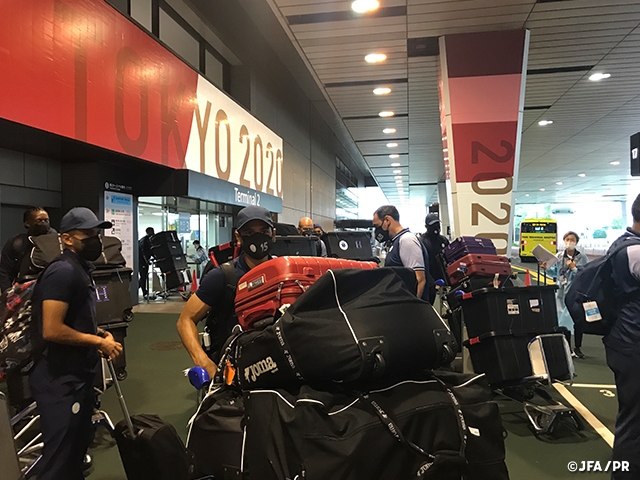 Mon. 12 July 2021 [19:30]*subject to change
U-24 Japan National Team vs U-24 Honduras National Team
Venue: YODOKO SAKURA STADIUM (Osaka)