NEWS
U-24 Japan National Team to face Jamaica in final match before announcing squad for the Olympics
12 June 2021
On Friday 11 June, one day before the international friendly match against the Jamaica National Team, the U-24 Japan National Team held an official training session at the match venue, Toyota Stadium. Coach YOKOUCHI Akinobu appeared in an online press conference following the training session and shared his aspiration, "We are determined to win tomorrow's match against Jamaica."
Since announcing the current squad in late May, the team has faced the SAMURAI BLUE and U-24 Ghana National Team in a short span, but this time the team was given six days between matches to prepare for their match against Jamaica, as coach Yokouchi mentioned, "It is difficult to make the players understand everything, but we set priorities to certain areas and conveyed the basic team concept to our players." The coach continued by stating, "In this match against Jamaica, I need our players to incorporate the team concept while understanding the opponent's strengths and weaknesses."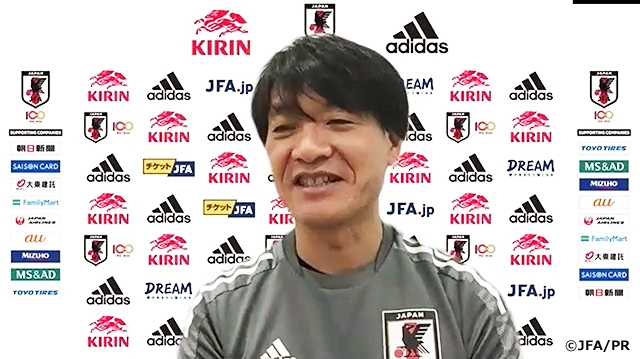 With this being their final match before announcing the roster for the Tokyo Olympics, the players are fully motivated entering this match. SEKO Ayumu (Cerezo Osaka), who was called up to replace the injured TOMIYASU Takehiro (Bologna FC 1909), commented, "I am given one final chance, so I need to make the most of this opportunity."
The U-24 Japan National Team will be facing the Jamaica National Team, who is currently ranked 45th in the FIFA ranking. Led by coach Theodore WHITMORE, the team has lost to USA in March, but tied their most recent match against Serbia. When asked about their opponent, coach Yokouchi mentioned, "They have players with great speed and power, and capable of initiating sharp counterattacks as a team."
Coach Whitmore was not available for the online press conference due to a stomach ache, but assistant coach Jerome WAITE took the podium and commented about the squad that is preparing ahead of the CONCACAF Gold Cup, "Organisation and concentration is our strengths. Speed will be a key factor in this match." Ahead of their match against Japan, the assistant coach shared his aspiration, "We hope to showcase our strengths. We know it will not be easy, but we hope to earn a positive result."
The match between the U-24 Japan National Team and Jamaica National Team will take place on Saturday 12 June (13:35) at Toyota Stadium, Aichi.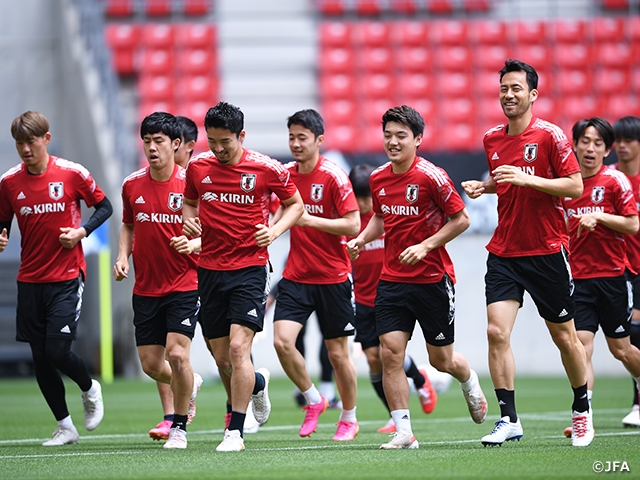 Coach and Players' Comments
YOKOUCHI Akinobu, Coach of U-24 Japan National Team
We will start thinking about the Tokyo Olympics after this match, so for now, we need to focus on winning the match ahead of us. I know the players are feeling pressured, but we need see who can perform under pressure. We are expecting a hot weather tomorrow, so we will see who shines in tomorrow's match.
GK #1 OSAKO Keisuke (Sanfrecce Hiroshima)
We have just one day left in this training camp. Out of the four goalkeepers, we don't know who gets the start tomorrow, but I am prepared to give my best effort at any given time. The Tokyo Olympics is the stage I have always strived for, so I feel fortunate that I am among the final candidates to make the roster. Showcasing my strengths in a match is one thing, but it is also important to take an active role and show my presence in each of our training sessions.
DF #2 SUGAWARA Yukinari (AZ Alkmaar)
(With the match being played at his former club's home stadium) I am very pumped up. I have attended this stadium as a fan, so it goes long ways. Since then, I became a member of Nagoya Grampus and started to play on the pitch of this stadium. I feel honoured and proud that I am getting the opportunity to play at this stadium as a member of the national team. I have always watched the national team play at this stadium. I have watched YOSHIDA Maya (U.C. Sampdoria) play here and think, "I want to be like him, I need to be playing there."
DF #28 SEKO Ayumu (Cerezo Osaka)
I was very disappointed when I found out that I didn't make the roster. Especially because I was pretty satisfied with the way I played in March. It was sort of a reality check for me, and it allowed me to realise where I stand. The fact that I was named as a late call-up gives me an opportunity to make a case for myself. I need to prove that I belong here. I need to showcase that I can be a threat in offence and be a difference maker among the centre halves. I am in great condition right now, and fully motivated for this opportunity.
FW #13 TAGAWA Kyosuke (FC Tokyo)
(After playing with the OA players) I am getting the impression that their decision making is much faster than us. They are always anticipating for the next play and give out accurate directions based on their experience. I don't know when or where I will be given the chance to play in this match against Jamaica, but I am determined to give my best if I am given the opportunity. The Tokyo Olympics is a huge turning point for my career. It makes a huge difference whether or not I participate in this tournament, so I will do whatever it takes to make the squad.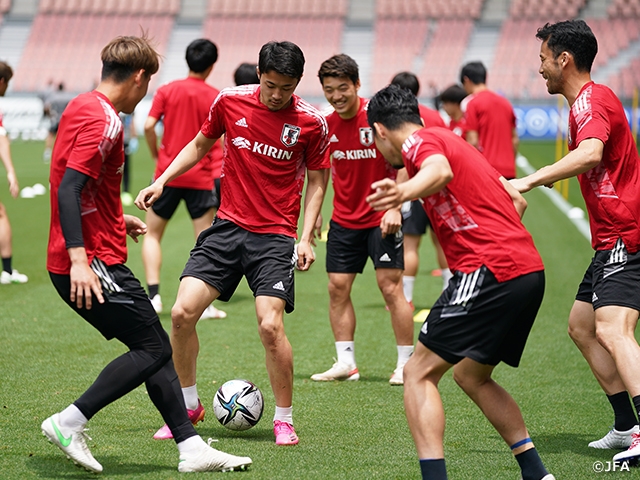 International Friendly Match
U-24 Japan National Team vs Jamaica National Team
Date: Sat. 12 June 2021 [13:35]
Venue: Toyota Stadium (Aichi)