NEWS
U-22 Japan National Team draws 0-0 against Mexico at North & Central America Tour
07 September 2019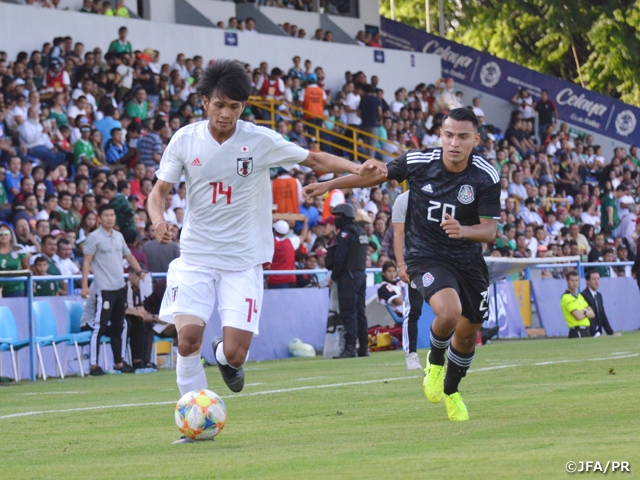 On Friday 6 September, the U-22 Japan National Team faced the U-22 Mexico National Team at Estadio Miguel Aleman in Celaya, Mexico, where the two sides showcased a heated battle that ended in a scoreless draw.
In this match against the Central American powerhouse, acting coach YOKOUCHI Akinobu started a line-up with OSAKO Keisuke in goal, a three-man defence line consisting IWATA Tomoki, TATSUTA Yugo, and MACHIDA Koki. SAITO Mitsuki and TANAKA Ao took the role as the defensive midfielders, while NAGANUMA Yoichi and SUGIOKA Daiki were positioned in the flanks. UEDA Ayase was named as the lone striker along with WATANABE Kouta and ABE Hiroki playing as the offensive midfielders.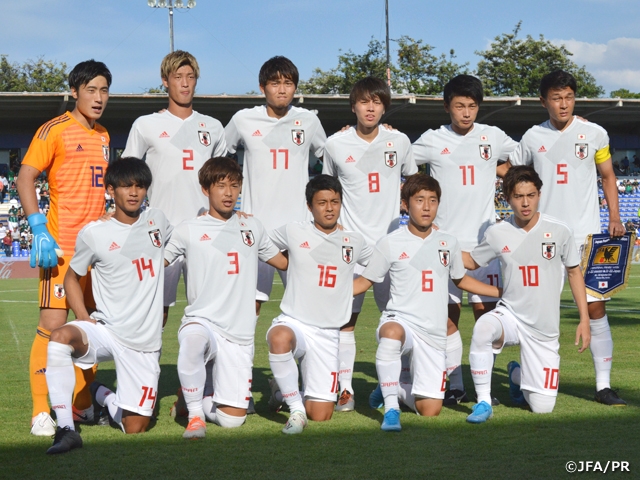 Nearly 13,000 local fans crowded into the stadium, as the match kicked-off under a complete away atmosphere for Japan, and it was the home side who took the initiative in the early goings. With Mexico applying aggressive pressure from their frontline, Japan was forced to make numbers of mistakes, as they struggled to keep possession of the ball. On the other hand, Mexico created multiple opportunities through short-counters and longballs. In the 14th minute, Japan almost conceded the opening goal from a mistake committed by Osako, but Mexico failed to capitalise the opportunity.
Despite struggling in the early minutes, Japan gradually picked up their pace as the game progressed. In the 15th minute, Ueda responded to Sugioka's pass and struck a shot, followed by Tanaka's long-range effort made in the 20th minute. Although neither shot was successful in scoring a goal, Japan managed to put up an equal bout as the match entered halftime.
The second half saw the Mexican side regain their momentum, as they started off the half with great intensity. Led by Tatsuta and Machida, the Japanese defence showcased a persistent effort to block off the shots taken by the home side. Japan created opportunities from counterattacks, as their second half substitute, ENDO Keita, made numbers of attempts to threaten the Mexican goal.
In additional time of the second half, a golden opportunity to score the game winner arrived for Japan, but Endo's shot was denied by a superb save made by the Mexican goalkeeper, as the match ended in a scoreless draw.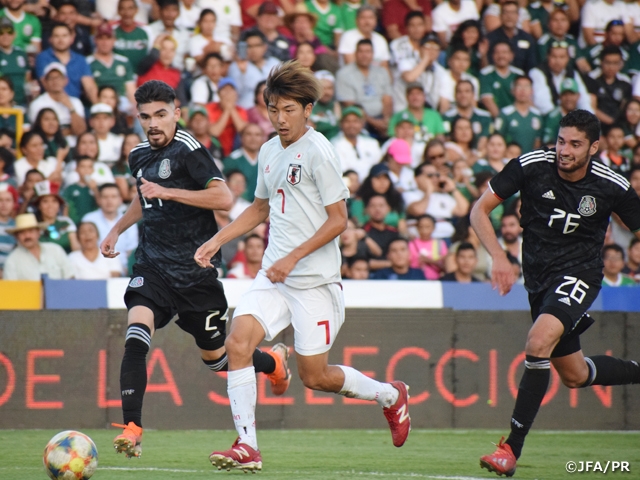 Following the match, acting coach Yokouchi reflected on his side's performance, "the players did a fine job to stay patient for the entire 90 minutes and I feel like we were able to showcase a glimpse of our strong points."
The U-22 Japan National Team will now travel to the USA and play a match against the U-22 USA National Team on Monday 9.
Coach and Players' Comments
YOKOUCHI Akinobu, Acting Coach
We have faced Mexico at the Toulon International Tournament, so we had sufficient information on them. Our game plan was to contain our opponent's strong points while exerting ours. We had limited time to train under this high altitude, so it must have been tough for our players, but they did a great job to run through the entire match. We knew we couldn't afford to give our opponents any free space, so we committed ourselves in defence at all times. Despite our efforts, we still saw room for improvements, especially in our responses against cross balls. Mexico is a defensively sound team, but we also didn't showcase enough quality to score goals. We struggled to deal with our opponent's pressure and made many mistakes that could have led to a conceded goal. However, the mistakes were only committed because our players were challenging themselves to execute our style of football, so I would like to praise my players for their attitude.
GK #12 OSAKO Keisuke (Sanfrecce Hiroshima)
It took me a while until I got used to the stadium's atmosphere and the pitch condition. I was inconsistent in the early minutes of the match, and that is an aspect I must improve on. If the pitch condition is bad, I could have played simpler from the beginning, so that's a decision I needed to make earlier in the match. We hope to win against USA, especially today's result. I hope we can we finish this tour on a high note.
MF #5 SUGIOKA Daiki (Shonan Bellmare)
With this being an away match, we started off playing too passively. However, we managed to keep a clean sheet and pick up our pace as the match progressed. It would have been better if we have won the match, and I also wished that I could have scored or assisted a goal for the team. As an offensive player, my job is to score goals, so I had to capitalise on the opportunity I was given during this match. It is an honour to be given the armband when playing for the national team, and I must fulfil the responsibility as the team captain. Are team performance is getting better, so we hope to win our match against the USA.
MF #10 ABE Hiroki (FC Barcelona/Spain)
I focused on understanding the style of football carried out by this team and tried to be detail oriented when getting myself on the same page with my teammates. Mexico came out applying aggressive pressure, but when we responded by applying pressure from our frontline, they looked uncomfortable and we were able to pick up our pace from there on. However, I wasn't able to take any shots and couldn't create much opportunities today. I really wanted to score a goal for the team.
Schedule
Tue. 3 September
AM/PM
Training
Wed. 4 September
1-0
Training Match vs Celaya FC
Thu. 5 September
PM
Official Training
Fri. 6 September
0-0
International Friendly Match
vs U-22 Mexico National Team
(Estadio Miguel Aleman, Celaya)
Sun. 8 September
PM
Training
Mon. 9 September
16:00
International Friendly Match
vs U-22 USA National Team
*Local Time
*The schedule is subject to change due to the team condition, the weather, etc.
*Due to constraints with the venue, match vs USA will not be opened to the public.
International Friendly Match - North & Central America Tour
Dates: Mon. 2 - Wed. 11 September 2019
Match Information