NEWS
【Match Report】U-21 Japan National Team to face Korea Republic in Quarterfinals after finishing group stage in second place - AFC U23 Asian Cup Uzbekistan 2022™
10 June 2022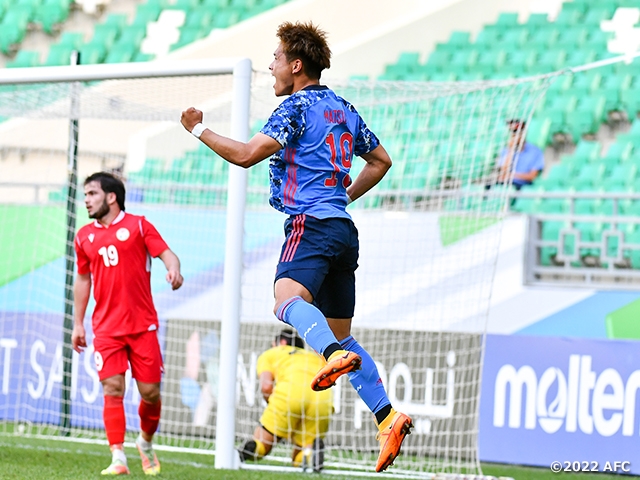 On Thursday 9 June, the U-21 Japan National Team played their third group stage fixture in the AFC U23 Asian Cup Uzbekistan 2022™ against the U-23 Tajikistan National Team at Milliy Stadium.
Tajikistan have already been eliminated from the tournament after two consecutive defeats, but because they consist of players with plenty of international experience, including several members who played in the final against Japan in the AFC U-16 Championship Malaysia 2018, coach OIWA Go was wary that they are "not a team to be underestimated."
With Japan needing a draw or better to progress through to the knockout stage, coach Oiwa rotated 10 starters from the second match and started players who have had limited opportunities to play on the pitch so far, as he had declared before the tournament that "we will fight the tournament with a total team effort."
KOKUBO Leobrian (SL Benfica) started in goal with UCHINO Takashi (Fortuna Dusseldorf), BABA Seiya (Tokyo Verdy), KIMURA Seiji (Montedio Yamagata), and HATA Taiga (Shonan Bellmare) forming the four-man defence line. MATSUOKA Daiki (Shimizu S-Pulse) was named as the defensive midfielder with YAMAMOTO Rihito (Tokyo Verdy) and MATSUKI Kuryu (FC Tokyo) placed as the attacking midfielders. SATO Kein (Meiji University) started as number nine with YAMADA Fuki (Kyoto Sanga FC) and MITO Shunsuke (Albirex Niigata) placed in the flanks.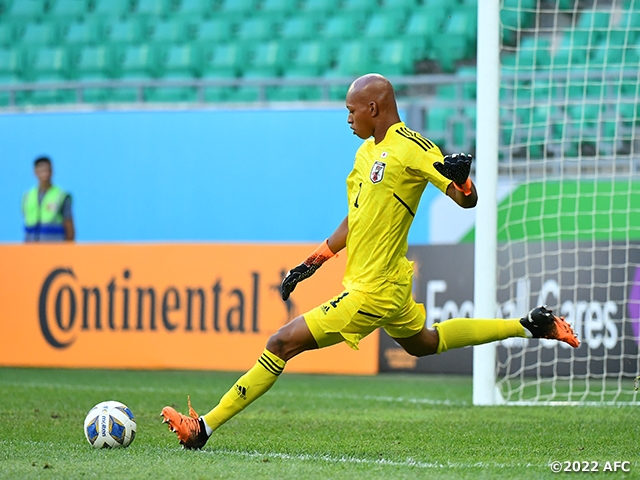 As Sato later reflected, "it was quite nerve-racking," Japan started off the match a bit stiff in the early stages but managed to find their groove from a set piece, which they had spent a lot of time heading into this tournament.
In the 11th minute, Baba collected the cleared ball following a Japanese corner kick and delivered the ball to Matsuki in the right side. The midfielder struck a superb volley shot that captured the back of the net, as he later reflected, "My shots were on target from the warmups, so I did not hesitate to take that shot."
With momentum on their side, Japan continued to threaten the opposing goal, as Yamada and Matsuki struck the woodwork in the 28th and 44th minutes respectively. However, despite creating number of chances, Japan failed to extend their lead during the first half, as coach Oiwa mentioned, "We managed to create many opportunities but couldn't capitalise on them in the first half."
Japan's long awaited second goal came in the 57th minute, when Sato forced a turnover deep in the opposing end and calmly slotted the ball into the net. Just as the home side was gaining traction, Mito was sent off following an on-field review by VAR, forcing coach Oiwa to make what he called a "realistic decision."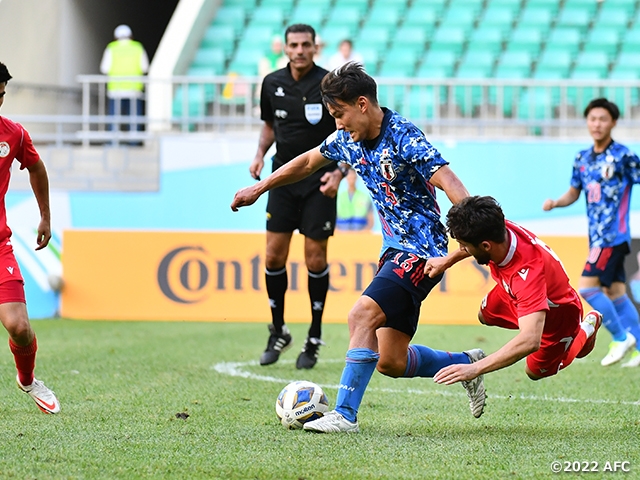 Playing a man down, Japan utilised their substitutes to recoup their formation and shifted their approach to a counterattacking style, where they anticipated to exploit the space behind the opponents who now gained numerical advantage. Coach Oiwa's decision to change their approach came to fruition in additional time, when NAKASHIMA Taika (Hokkaido Consadole Sapporo) responded to a pass delivered by HANDA Riku (Montedio Yamagata) to score with a well-executed lob shot that travelled over the head of the goalkeeper and into the net.
With the match coming to an end shortly afterwards, Japan defeated Tajikistan 3-0. As a result, Japan advanced through the group stage in second place, trailing Saudi Arabia in goal difference, and are now off to face the U-23 Korea Republic National Team in the quarterfinals, scheduled to be held on Sunday 12 June.
Coach and Players' Comments
OIWA Go, Head Coach of U-21 Japan National Team
Although we were able to take the lead in the early stages of the match, we failed to capitalise on the opportunities that followed. We were able to fulfil our minimum mission, despite having one of our players being sent off in the second half. Ahead of our match against Korea Republic, we will have to reanalyse the scouting reports, but our basic approach will remain the same regardless of who we face, so we will continue to prepare ourselves ahead of the next match.
MF #6 MATSUOKA Daiki (Shimizu S-Pulse)
This win keeps us in the tournament, so I am relieved that we were able to win today. However, there were plenty of chances we could have converted. We are all gathered here to win, so each and every one of us must be more detail oriented to achieve our goal. I am looking forward to facing my teammate OH Se-hun when we play Korea Republic, so I will prepare myself in the best way possible to win the match.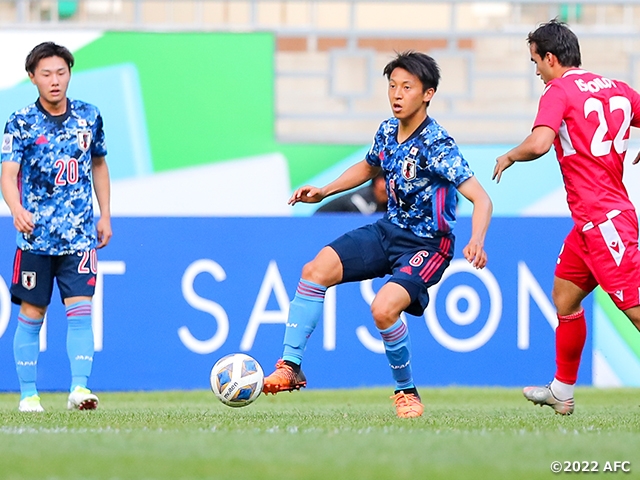 MF #13 SATO Kein (Meiji University)
As the only player called up from a university team, I made conscious efforts to express my colour as a university player. My job remains the same regardless of whether I play in the centre or in the flank, so I focused on delivering results and applying aggressive pressure from the front. I am glad I was able to score, but I still feel I could have scored more.
MF #19 MATSUKI Kuryu (FC Tokyo)
We entered the match in good shape and managed to take the lead in the early minutes. However, we failed to take advantage of the opportunities we created and couldn't dominate the match. When I scored the goal, Baba was very composed and responded to my request for the ball, so all I had to do was to convert it into the goal.
AFC U23 Asian Cup Uzbekistan 2022™
Tournament Dates: Wed. 1 - Sun. 19 June 202