NEWS
【Match Report】U-17 Japan National Team draw with U-17 Algeria National Team in their second match of the international friendly tournament
27 March 2023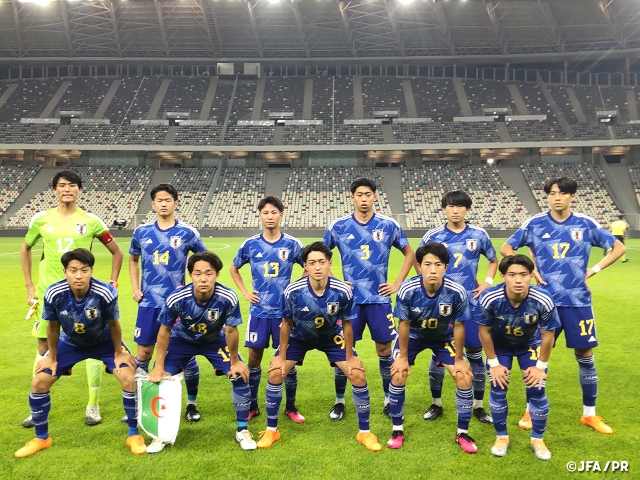 The U-17 Japan National Team, who are participating in a friendly tournament in Algeria, played the U-17 Algeria National Team on Saturday 25 March, a day after playing a training match against local club team Union Sportive de la Médina d'El Harrach U-19 on Friday 24 March.
With Japan having won their first match against Mali and Algeria having won their first match against Comoros, this was an important match for both teams to get closer to the tournament title. The match was held at Nelson Mandela Stadium, where the senior Algeria National Team also played a match two days earlier.
Japan dominated the ball possession from the outset but were unable to create any chances against the solid defence of their opponents. While Japan struggled to make anything out of their ball possession, it was Algeria who scored the opening goal, as the home side scored a goal from a play following a free kick in the 16th minute. Japan continued to control the pace of the match but conceded the second goal from a counterattack in the 36th minute, giving Algeria a two goal lead at halftime.
During the break, Japan's coach MORIYAMA Yoshiro gave a pep-talk to his players, saying, "Down 0-2 in an away match. We cannot ask for a better situation than this. We now have to challenge ourselves to see if we are capable of bouncing back from this deficit."
Trailing by two goals, Japan started the second half strong, using the width of the field to create chances and showed signs of a comeback. However, Algeria once against capitalised on their few chances, this time converting a corner kick to make it 0-3.
With their backs against the wall, Japan started to rally back following the hour mark. In the 65th minute, TAKAOKA Rento (Nissho Gakuen High School) forced a turnover deep in the opposing end before sending a pass to SATO Ryunosuke (FC Tokyo U-18), who delivered a cross that was converted by MICHIWAKI Yutaka (Roasso Kumamoto) to make it 1-3.
Japan utilised their substitutions to keep their legs fresh, and in the 81st minute, Sato struck a well-placed shot with his left foot to close down the gap to just one goal. With momentum on their side, the long-awaited moment arrived for Japan in the 87th minute, when the cross delivered by SHIBATA Shotaro (Kawasaki Frontale U-18) induced a handball inside the Algerian penalty area, and it was Michiwaki who stepped up to the ball and converted the spot kick to equalise the match.
After the match ended in a 3-3 tie, Mr. KONO Akira, Ambassador of Japan to Algeria, who attended the match, came to the pitch side to give his impressions of the match and words of encouragement to the players.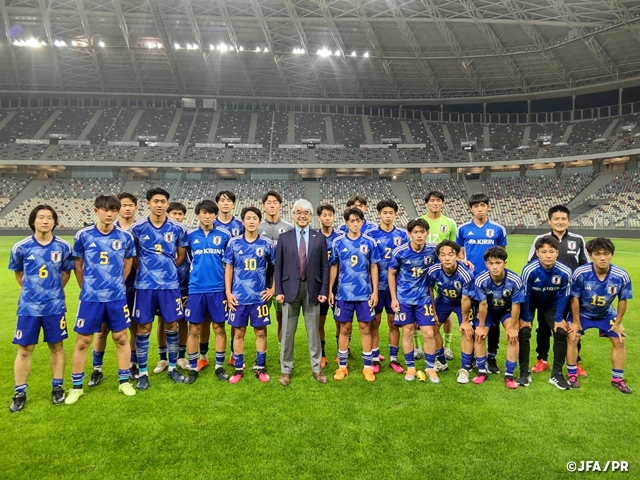 After two matches, Japan remains tied with Algeria for the lead with one win and one draw and will now face the Comoros in the final match of the tournament, with the championship on the line.
Players' Comments
GK #12 GOTO Wataru (FC Tokyo U-18)
Facing a team that laid a solid block in front of their goal, we made too many mistakes that led to counterattacks, and conceded goals from very few chances created by our opponents. In that sense, this match left us with a lot of work to be done in both offence and defence. As captain and as the starting goalkeeper, I regret that I was directly involved in one of the goals we conceded. Having conceded three goals, we have a lot to work on ahead of our next match. We appreciate being given the chance to play in such a wonderful setting.
DF #16 SHIBATA Shotaro (Kawasaki Frontale U-18)
With Algeria's defence set up the way it was in the first half, we found it difficult to create any chances and ultimately gave up goals on a set piece and a counterattack. We altered our formation in the second half, which helped us maintain possession of the ball and create opportunities on the flanks. I think it's great that we made up ground in the second half after falling behind by three goals. The fact that everyone on the team was looking in the same direction helped us make that comeback. However, we still need to reflect on the fact that we conceded three goals that could have been prevented. Although I was able to create some chances, I am disappointed that I wasn't able to lead the team to victory. I excel at getting myself involved in offence, so I want to make sure I play well against the Comoros and make a case for myself ahead of the Asian qualifiers.
MF #10 SATO Ryunosuke (FC Tokyo U-18)
Although we were able to take the initiative from the early minutes, we conceded the opening goal from a careless mistake. I am glad that I was able to demonstrate my strengths by assisting and scoring a goal, but it still frustrating that we couldn't win the match. We hope to showcase a strong performance to finish this tournament on a high note.
FW #17 MICHIWAKI Yutaka (Roasso Kumamoto)
I am glad that I was able to give our team a boost with my goal after we had fallen behind 0-3. The fact that we were able to come from behind to tie the game 3-3 gives us great confidence moving forward. Although we are disappointed that we couldn't win the match, this tie kept our tournament hopes alive. We will put forth our best effort to get ready for the final game so that we can finish the tournament as champions.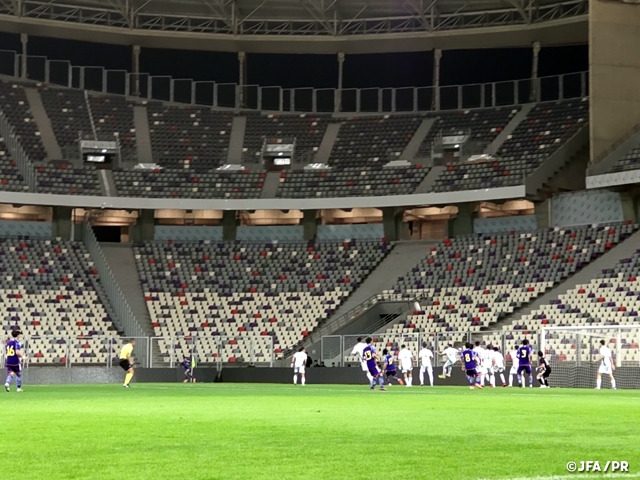 International Friendly Match
Wed. 22 March, 22:00 local time (Thu. 23 March, 6:00 Japan time)
vs U-17 Mali National Team
Venue: Stade Tchaker (Algeria)
Sat. 25 March, 22:00 local time (Sun. 26 March, 6:00 Japan time)
vs U-17 Algeria National Team
Venue: Stade 5 Juillet (Algeria)
Tue. 28 March, 22:00 local time (Wed. 29 March, 6:00 Japan time)
vs U-17 Comoros National Team
Venue: Stade Tchaker (Algeria)