NEWS
【Match Report】U-16 Japan National Team start off tournament with a draw against Portugal in the 50th Montaigu Tournament
03 April 2023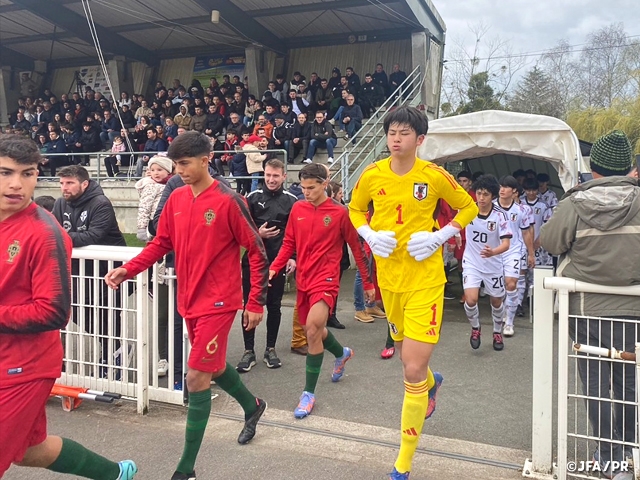 On Sunday 2 April, the U-16 Japan National Team played their first match of the 50th Montaigu Tournament against the U-16 Portugal National Team, who they lost to in the same tournament six years ago.
The match kicked off at 18:00 in a great atmosphere with a local crowd of nearly 1,300 in attendance. Japan started off by apply aggressive pressure to win the ball and create opportunities to take shots. Portugal on the other hand, focused their attacks on the right flank and delivered several crosses towards the Japanese goal, but led by the centre-backs OKAWA Yugo (Kashima Antlers Junior Youth) and KUROKI Yuya (Sagan Tosu U-18), Japan managed to repel the Portuguese attacks to end the first half 0-0.
In the second half, Japan kept up the pressure and produced more plays that resulted in shots. However, Portugal also created more opportunities by exploiting the mistakes made by their opponents to threaten the Japanese goal. Following a close opportunity created by Japan in the 60th minute, Portugal launched a counterattack that nearly broke the deadlock, but Japanese goalkeeper ARAKI Rui (Gamba Osaka Youth) was there to make a huge save to keep the clean sheet intact.
The match ended in a 0-0 draw. Although it was a scoreless draw, it was a spectacular game with many good plays by both sides, which the spectators seemed to appreciate.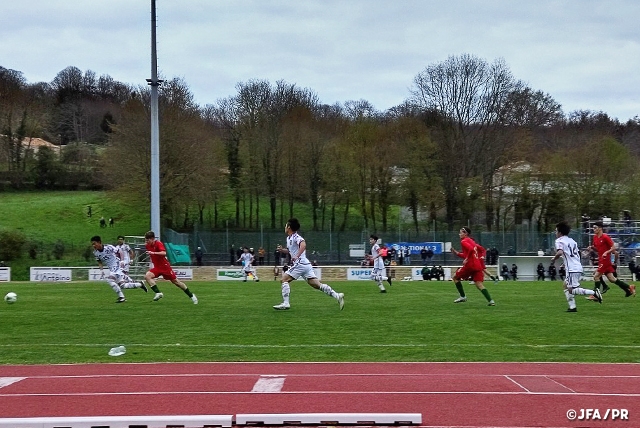 The U-16 Japan National Team will now face the U-16 Czech Republic National Team on Tuesday 4 April.
Players' Comments
GK #1 ARAKI Rui (Gamba Osaka Youth)
We are honoured to represent the U-16 Japan National Team at this prestigious Montaigu Tournament. Thinking back on the game, we focused on not making any foolish mistakes that could result in a goal being conceded because, like with any tournament, the first game is always crucial. The first game ended in a scoreless draw. Overall, I thought my performance was strong, but for our upcoming game, I'd like to strengthen my build-up plays. We had several opportunities as a team that we could have converted, so we want to elevate the quality of our performances throughout this competition and work to take home the trophy.
DF #5 OKAWA Yugo (Kashima Antlers Junior Youth)
I think the team played with great aggression to contain our opponents and battled valiantly to keep the score tied for the entire match. Individually, it felt like I was able to stay focused throughout the 80 minutes to help the team keep a clean sheet, but I also found a lot of flaws in my game such as my involvement in the team's build-up plays, so I will continue to work hard and improve myself during this period. In the remaining matches, we will focus on winning and will do our best to win the championship.
MF #8 OSADA Towa (Gamba Osaka Youth)
The fact that we were able to apply aggressive pressure and make quick transitions between offence and defence allowed us to keep our opponents scoreless for the entire 80 minutes. We also created many opportunities to threaten the opposing goal. Through the remaining four matches, we hope to improve our ability to capitalise on those opportunities. Individually, I hope to improve the quality of my passes and strive to score goals that would help our team win.
MF #20 YAMAGUCHI Gota (Shohei High School)
First of all, we are pleased to be able to take part in this prestigious tournament. I was nervous about playing in front of so many people, but it gradually became more and more exciting as I got used to the atmosphere. In the game against Portugal, the team, led by our captain Osada, was able to gain momentum defensively and create a number of close opportunities. However, we allowed our opponents to dictate the pace in the second half, so we want to be able to dominate our opponents throughout the entire match in the remaining four matches. Personally, I am glad I was able to showcase my ability to create chances from the flank. I was also able to work in tandem with Eguchi to win the ball in the right side. However, I am not totally satisfied with my overall performance, so I will continue to work hard to improve myself as a player. We will give our all in the remaining four matches to take home the title.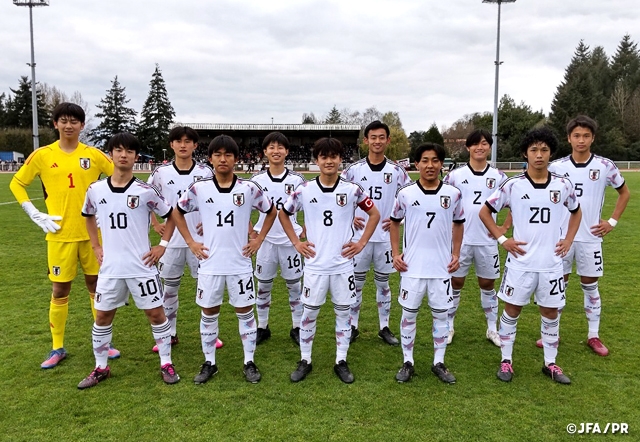 The 50th Montaigu Tournament
Tournament Dates: Tue. 28 March - Wed. 12 April 2023
Tournament Information