NEWS
【Match Report】U-15 Japan National Team lose back-to-back matches in the COSTA CALIDA U15 SUPERCUP 2023
29 April 2023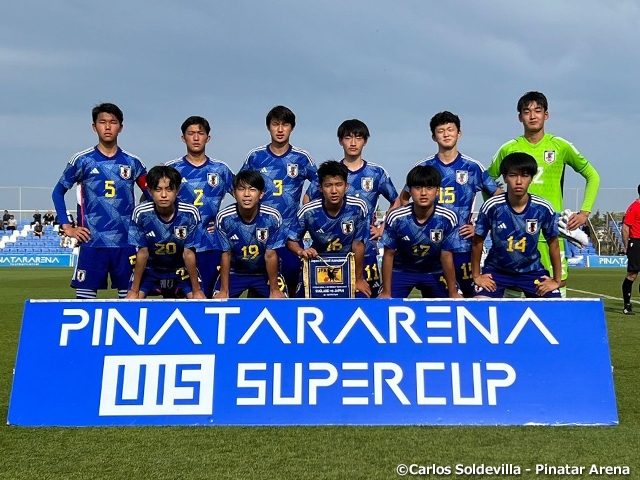 Following their 3-4 loss to the U-15 Spain National Team, the U-15 Japan National Team faced the U-15 England National Team in their second match of the COSTA CALIDA U15 SUPERCUP 2023 on Friday 28 April.
The match stared with England dominating the ball possession, as they scored back-to-back goals in the 19th and 22nd minutes to take the initiative of the match. Despite the efforts made by Japan to apply pressure from their frontline, the English players showed great skills to evade the pressure and suppress the opponents to create any opportunities. With momentum on their side, England scored another goal in the 38th minute to further extend their lead.
After conceding a three goal lead to England, Japan managed to get one back just before the break, when NOGUCHI Rento (Sorriso Kumamoto) delivered a long feed behind the opposing defence line. It was DOIGUCHI Ritsu (Vissel Kobe U-15) who responded to the delivery, as the midfielder carried the ball deep in the opposing end before sending a cross to setup the goal of SATOMI Tafuku (Vissel Kobe U-15), who struck the ball with his first touch.
Japan made adjustments during halftime, which allowed them to create more chances in the second half. In the 50th minute, a couple of long passes was enough for Japan to get the ball to TANAKA Hiei (Yokohama F.Marinos Junior Youth), who superbly controlled the ball inside the box before slotting the ball into the net to cut down the deficit to just one goal.
However, England converted a penalty in the 76th minute to regain a two goal lead, while Japan missed their opportunity from the spot soon afterwards. Despite the goal scored by KAMO Yuito (Kashiwa Reysol U-15) during additional time, Japan fell short from equalising, as they lost back-to-back matches with a score of 3-4.
The U-15 Japan National Team will now face the U-15 USA National Team in their final match of the tournament on Sunday 30 April.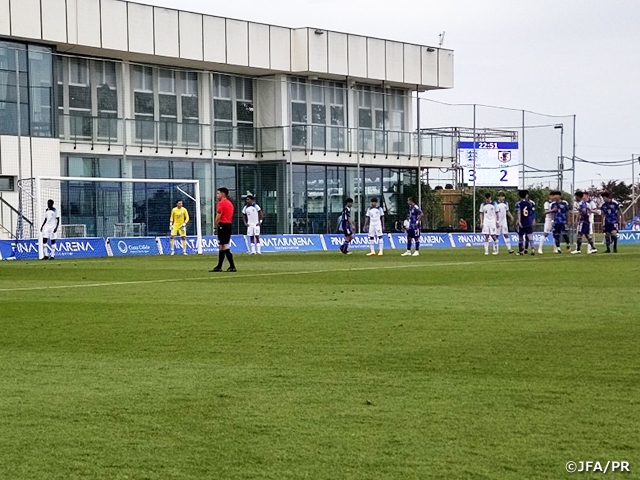 Players' Comments
MF #18 KAMO Yuito (Kashiwa Reysol U-15)
After losing to Spain, every one of us was determined to win today's game against England. However, we struggled to find our own rhythm and were forced into our own half for a long period of time, resulting in a succession of goals conceded. We managed to gain control of the game in the second half but failed to capitalise on our chances, which was the reason why we lost today and biggest difference between us and European teams. This game was a game we could have won, so we are very disappointed with this result. We still have one more game to play, so we will do our best to prepare ourselves in order to finish this tour on a high note.
FW #11 TANAKA Hiei (Yokohama F.Marinos Junior Youth)
With this being our second match of the tournament, we were able to enter with a more relaxed atmosphere compared to our first match. I am glad that I was able to score a goal in this match, but I am disappointed that I couldn't help the team win. We will do our best to finish this tournament with a win.
FW #17 SATOMI Tafuku (Vissel Kobe U-15)
After losing our opening match, this was a game that we had to win if we were competing in the group stage of a real tournament. As a forward, I entered this match determined to score and lead the team to victory, but we lost our composure after conceding three goals in the first half. This match really made us realise that we still have long ways to go before we can compete with European teams. We attempted to make adjustments at halftime, which allowed us to score a couple goals, but we once against lost 3-4 once. We hope to make the most of this experience to do better in our next match.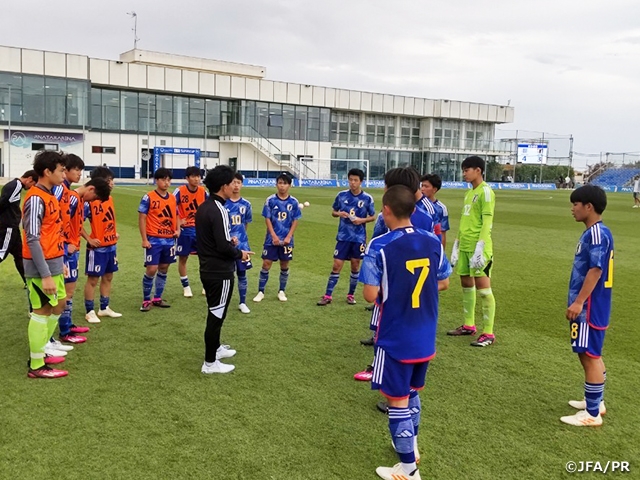 COSTA CALIDA U15 SUPERCUP 2023
Wed. 26 April 2023, 18:00 Local time (Thu. 27 April 1:00 Japan time)
vs U-15 Spain National Team
Venue: PINATAR ARENA STADIUM (Spain)
Fri. 28 April 2023, 18:00 Local time (Sat. 29 April 1:00 Japan time)
vs U-15 England National Team
Venue: PINATAR ARENA STADIUM (Spain)
Sun. 30 April 2023, 11:00 Local time (Sun. 30 April 18:00 Japan time)
vs U-15 USA National Team
Venue: PINATAR ARENA STADIUM (Spain)