NEWS
Participating national teams arrive in Japan one after the other - International Dream Cup 2023 JAPAN
30 May 2023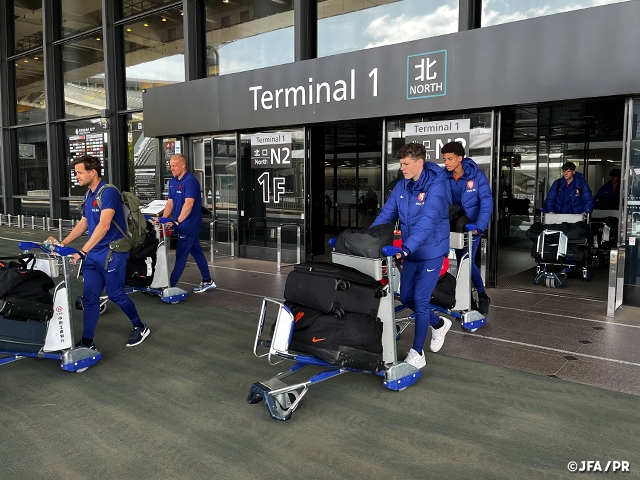 The U-16 national teams from the Netherlands, the United States, and Nigeria arrived in Japan on Saturday 27 May, Sunday 28 May, and Monday 29 May to compete in the International Dream Cup 2023 JAPAN, which gets underway on Wednesday 31 May at J-Village Stadium in Fukushima.
The teams arrived at J-Village to begin their tune up for the tournament.
The International Dream Cup 2023 JAPAN kicks off at J-Village Stadium on Wednesday 31 May. Countries play each other in a round-robin competition until the final day on Sunday 4 June. Day 1 of the tournament will feature matches between the Netherlands and Nigeria at 12:00 and Japan and the USA at 15:00. Admission to both matches is free of charge.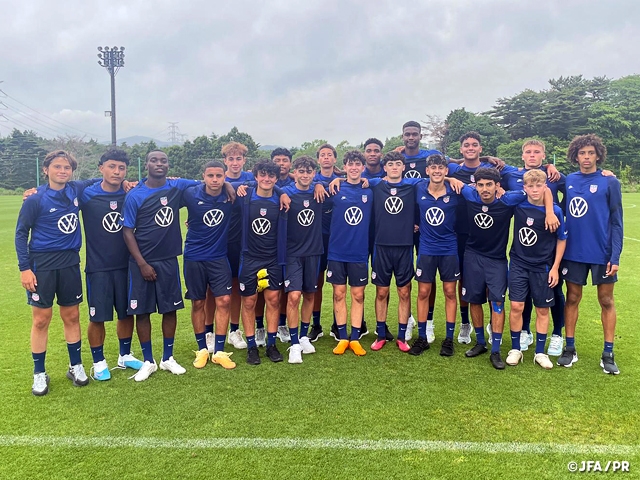 Coaches and Players' Comment
Alexander PALLAND, Head Coach (U-16 Netherlands National Team)
This is my first time visiting Japan and I have the impression that it is a very tidy and clean country. We consider this tournament to be a very important preparation for the European Championship in 2024. We hope to build on the experience gained during our tour of Portugal in February to further improve our team. We also look forward to interacting with the Japanese people and learning about their culture.
Thijs KRAAIJEVELD (U-16 Netherlands National Team)
Our goal for this tournament is to win the championship. We also want to make this a good preparation for the European Championships which are about to start. Each of the three countries we will be playing against is a team with distinctive characteristics. Nigeria plays physical and fast football, while the USA is a very well organised team. I have the impression that Japan is a strong team, with good skills and unity as a team. I look forward to every match.
Michael NSIEN, Head Coach (U-16 USA National Team)
First of all, I would like to thank everyone for organising such a great tournament. The accommodation and hospitality is excellent, and we are looking forward to the upcoming matches against strong nations. I think it will be a big test for the US national team to see where we are in the world at the moment.
Santiago MORALES (U-16 USA National Team)
Having arrived in Japan after a long flight, we are still adjusting to the time difference. I am looking forward to the opportunity to play against some of the best teams in the world with my teammates.
Haruna USMAN, Head Coach (U-16 Nigeria National Team)
Thank you for inviting the Nigeria National Team to participate in this competition. We look forward to playing in Fukushima from tomorrow. This is an important generation for the Nigeria National Team as they approach the U-17s and U-20s. We want to help the players develop both technically and mentally while enjoying the game.
Tomiwa OLADOKUN (U-16 Nigeria National Team)
Japan is a wonderful country, and we are grateful for this valuable opportunity. It will be a tough tournament with strong countries, but we hope to grow as a team through the games.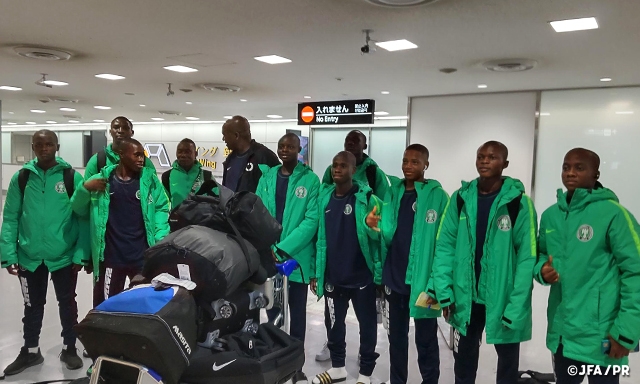 Tournament dates: Wed. 31 May - Sun. 4 June 2023
Participating teams: Japan/Netherlands/USA/Nigeria
Venue: [Free admission to all matches] J-Village Stadium (Fukushima)
Tournament Information