NEWS
Nadeshiko Japan shutout South Africa 2-0 to earn back to back victories in international matches - MS&AD Cup 2019 vs South Africa Women's National Team
11 November 2019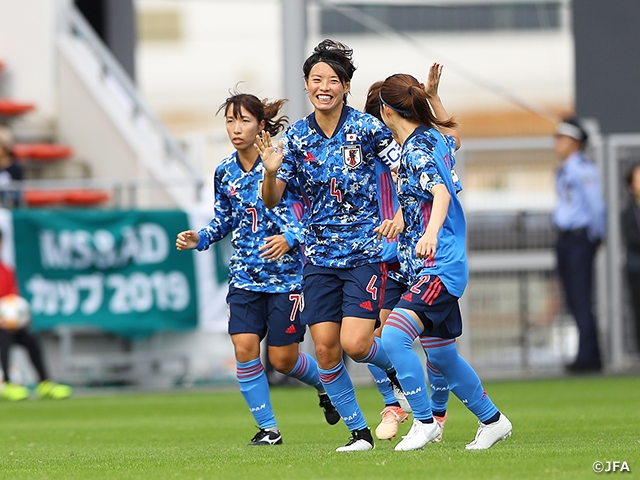 On Sunday 10 November, the Nadeshiko Japan (Japan Women's National Team) played in the MS&AD Cup 2019 against the South Africa Women's National Team at Kitakyushu Stadium. Ahead of this match, a ceremony was held to commemorate the 100th cap of the South African midfielder Leandra SMEDA.
In a match where the team's new jersey was introduced, the Nadeshiko Japan elected to take out MIYAGAWA Asato from her normal left fullback position and played her as their defensive midfielder, while placing ENDO Jun, who normally plays in an offensive position, as their left fullback. It was KUMAGAI Saki and DOKO Mayo who controlled the defence line at the centre.
While showing off their newly designed jerseys, the Nadeshiko Japan created numbers of opportunities from their side attacks, while South Africa collected the ball to their lone striker, Chretsinah Thembi KGATLANA, to seek for their chance to counter.
The opening goal came to Japan in the 20th minute, when Doko connected with a corner kick delivered by NAKAJIMA Emi. The shot taken by Doko was cleared by the opposing defender, but Kumagai was there to convert the deflection into the net. For Kumagai, this was her first goal in the 110 caps with the national team.
With momentum on their side, Japan continued to show their dominance, as they increased their pressure upfront. The second goal came in the 41st minute, where IWABUCHI Mana assisted SUGASAWA Yuika, who pierced the right hand corner of the South African goal, giving Japan a 2-0 lead at halftime.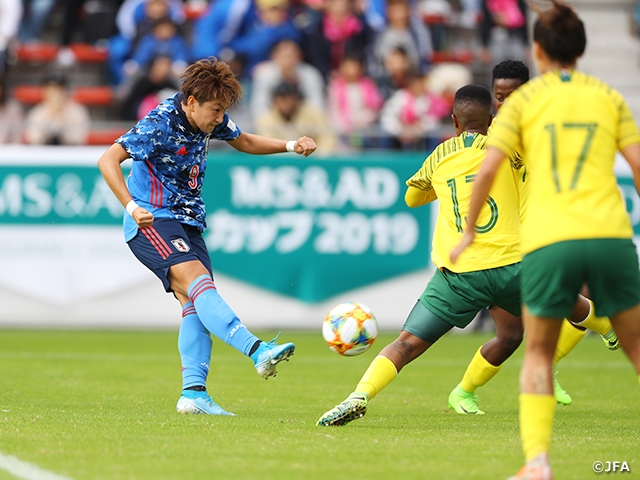 In efforts to level the match, South Africa started to rally back in the second half. A close opportunity was created when Kgatlana collected a Japanese clearance and broke through the right side before firing a shot that struck the goal post. The South African side utilised their substitutes to keep their legs fresh and continued to apply pressure upfront.
After being introduced to the match in the second half, MOMIKI Yuka played a key role for Japan, as she changed the dynamics of the Japanese offence. With NAOMOTO Hikaru and SUGITA Hina taking over the defensive midfield role in the second half, the duo also created chances to threaten the opposing goal.
Despite the efforts shown by both sides, the match ended with a final score of 2-0, giving the Nadeshiko Japan their second consecutive victory following their 4-0 victory over Canada.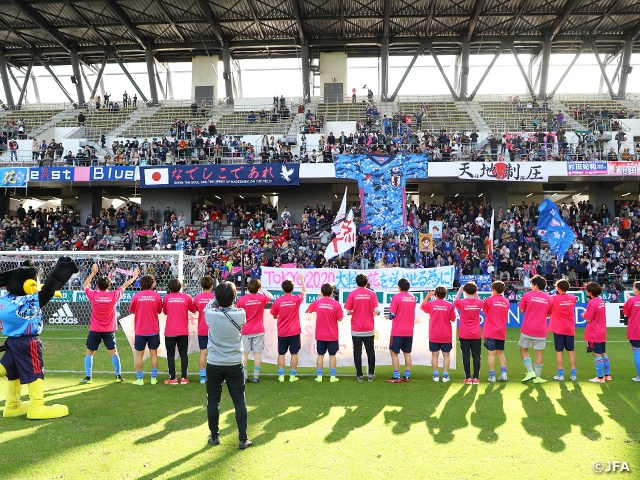 Coach and Players' Comments
TAKAKURA Asako, Coach of Nadeshiko Japan (Japan Women's National Team)
We are very grateful to be given this opportunity to play at a wonderful stadium with so many people supporting us. Despite the 2-0 victory, I feel that we were not able to play the match in our rhythm today. The South African players fought hard for the ball and showed great speed to give us a hard time controlling the ball. Facing such opponent, our players did a great job to stay positive and continued to make efforts towards the goal.
GK #21 ASANO Natsumi (Chifure AS Elfen Saitama)
With this being my first call-up to the national team, I was a little nervous at first, but I was able to experience in first-hand, what it's like to be at the highest level in Japan. During the warmups, I saw the stadium getting filled with our supporters, and I couldn't believe that I was part of this team. I might have been the third string goalkeeper on this squad, but the fact that I was with this team, gives me a sense that I have finally taken a step forward. I hope to make the most of this experience and work hard so that I can compete for the starting job in this team.
DF #4 KUMAGAI Saki (Olympique Lyonnais)
It took me a while, but I am relieved that I was able to score that goal. My teammates had been making jokes about it, but I personally was always looking for that opportunity. However, I am a defender, so it wasn't like I was feeling the pressure or anything. Coach Takakura told me on the day before that "it would be nice if you can score one," and I am just happy that it came true. It was my first career goal and it was also the teams first goal of this match, so I am happy for both reasons.
DF #22 DOKO Mayo (Nippon TV Beleza)
Although our opponent applied aggressive pressure from their frontline in the first half, we had more space to work with in the second half, so I wish I could have tried to carry the ball more to give our offence more opportunities to penetrate the space upfront. While the team initiated the offence through our build-up plays, we had to give our attackers more options by pressing up and adding layers to our offence. (Regarding her passing abilities) It's something I have been working on at my club and the coach told me that it's an aspect I can be confident about.
MF #19 ENDO Jun (Nippon TV Beleza)
(About the fullback position) I focused on the offensive aspect rather than the defensive aspect, as I adjusted my position based on where HASEGAWA (Yui) was positioned, which I feel like it worked out well today. I tried to create opportunities from the flank, and even though I wasn't always successful, what's important is that I continued to challenge in that new position. With Hasegawa making runs towards the centre, it opened up the space in the flank and allowed me to make runs upfront. Kumagai and Doko were pressing up the defence line in many occasions, so I focused on keeping up with them in this match.

Schedule
Tue. 5 November
15:00
Training (Honjo Athletic Stadium)
Wed. 6 November
15:30
Training (Honjo Athletic Stadium)
Thu. 7 November
15:30
Training (Honjo Athletic Stadium)
Fri. 8 November
11:00
Training (Honjo Athletic Stadium)
Sat. 9 November
AM/PM
Official Training/Press-conference
Sun. 10 November
2-0
※2
MS&AD Cup 2019
vs South Africa Women's National Team
(Kitakyushu Stadium)
Mon. 11 November
AM
Training Match vs South Africa Women's National Team
*1 The schedule is subject to change due to the team condition, the weather, etc.
*2 With the Emperor's enthronement ceremony (enthronement parade) taking place on the same day, the kick-off time has been changed to 12:45.
MS&AD Cup 2019
Nadeshiko Japan (Japan Women's National Team) vs South Africa Women's National Team
Date: Sun. 10 November 2019 Kick-off at 12:45
Venue: Kitakyushu Stadium, Fukuoka