NEWS
U-15 Japan National Team earns spot into the AFC U-16 Championship 2020 in dramatic fashion
23 September 2019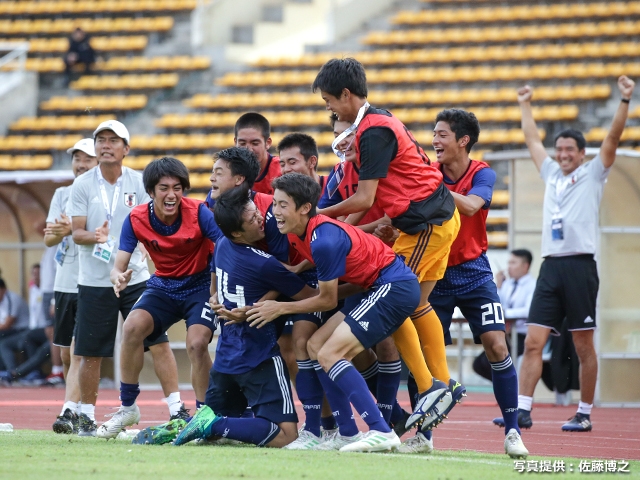 AFC U-16 Championship 2020 qualification Group J
3rd Match vs U-15 Malaysia National Team
Sun. 22 September 2019 15:00 (Local time) Match Duration 90mins (45mins×2)
New Laos National Stadium (Vientiane, Laos)
U-15 Japan National Team 2-2 (0-0, 2-2) U-15 Malaysia National Team
Scores
63' OSAKO Rui (U-15 Japan National Team)
73' goal against (U-15 Malaysia National Team)
82' goal against (U-15 Malaysia National Team)
90+3' NAITO Yamato (U-15 Japan National Team)
Starting Line-up
GK: MATSUBARA Kaisei
DF: SUGITA Hayato, IKEGAYA Ginjiro, UEDA Yuta, SAKAI Shunya
MF: FUKUI Taichi, OSAKO Rui, KITANO Sota, NARAHARA Yoshiki
FW: SUZUKI Hiroto, NAITO Yamato
Reserves
GK: MIYAMOTO Rui, SAGA Tessho
DF: MIZOGUCHI Shuhei, FUJITA Takahiro, TASHIRO Ko, HIGASHI Renta, SUZUKI Riku
MF: YAMAZAKI Taishin, MINAMINO Harumi
FW: MORIMOTO Sorato, OSAKA Sina
Substitutions
63' NARAHARA Yoshiki → MINAMINO Harumi
81' SUGITA Hayato → TASHIRO Ko
86' UEDA Yuta → YAMAZAKI Taishin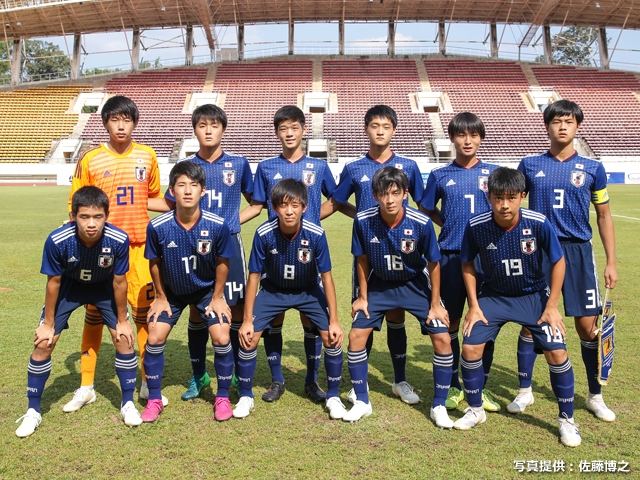 Match Report
On Sunday 22 September, the U-15 Japan National Team faced the U-15 Malaysia National Team in their third match of the AFC U-16 Championship 2020 qualification. The team needed a win or a draw to clinch the group lead and advance to the main tournament, but coach MORIYAMA Yoshiro made it clear to his players that their goal was to advance through the group stage with three wins.
With Malaysia needing a win to advance, the Malaysian players showed great intensity from the early minutes of the match. Facing the opponent's aggression, Japan struggled to connect the ball and couldn't pick up their pace. Malaysia effectively utilised long balls to exploit the space behind the Japanese defence, which led to a close opportunity created in the 23rd minute, but Japanese goalkeeper MATSUBARA Kaisei made a great effort to deny this opportunity. Despite their struggles, Japan managed to enter halftime scoreless.
In efforts to score a goal, Japan gradually picked up their offensive pressure in the second half. In the 54th minute, OSAKO Rui carried the ball upfront before sending the ball to NARAHARA Yoshiki, who delivered a pass to allow NAITO Yamato to take a shot, but his attempt was saved by the opposing goalkeeper. The long-awaited moment came when Narahara responded to a long ball delivered by Osako in the 63rd minute. As he entered the penalty area, Narahara was taken down by the goalkeeper to earn a penalty kick for Japan. The Malaysian goalkeeper was shown a red card for this foul, and Osako calmly converted the spot-kick to give Japan the lead. However, Narahara sustained an injury from this play and was forced to sub out from the match, as MINAMINO Harumi entered to take his spot.
Despite having the numerical advantage on the field, Japan conceded back to back goals in the 73rd and 82nd minute, as Malaysia rallied back with just 10 players. With Malaysia completely turning the tables, now Japan had their backs against the wall, as time ran out for them to equalise the match. However, the golden opportunity came during additional time when YAMAZAKI Taishin delivered a cross from the left flank. It was Naito who connected with this delivery to strike a header into the Malaysian goal to tie the game at the final seconds of the match. The final whistle blew with a score of 2-2, as Japan earned their ticket to the AFC U-16 Championship 2020 as the group leaders.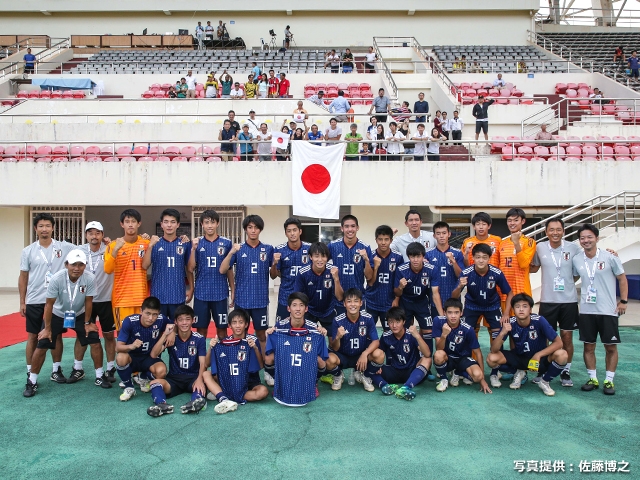 Coach and Players' Comments
MORIYAMA Yoshiro, Coach
Playing three matches under this hot weather with just one-day rest in between is not an easy task, as we were given the opportunity to experience in first-hand, what it takes to win through competitions in Asia. In our first match against Laos, we were overwhelmed by our opponents in the first 15 minutes, but we managed to find our rhythm with the help of consecutive goals scored in the 24th and 25th minute. With our group rival, Malaysia, winning their first match 7-0 against Cambodia, I told my players that we must score at least eight goals in our second match against Cambodia. Despite facing strong resistance from our opponent in the first half, we managed to win the match with a final score of 8-0.
Our third group stage match was against a Malaysian team who has won against Australia and Thailand to claim the title at the AFF (ASEAN) U-15 Championship. Needing a win to advance through, Malaysia elected to utilise many long balls to collect the ball to their players upfront. Although the penalty kick in the 65th minute gave us the lead and saw the opposing goalkeeper being ejected from the match, it was evident that our team was deeply affected by the hot weather and game schedule, as our players were running out of gas and getting cramps all over the field. We ended up giving up goals from a counterattack and a corner kick to concede the lead. It was certainly a situation we had to avoid. With our opponent dropping all of their players to defend their goal, we brought in a fullback to penetrate the flank, and the cross delivered by that substitute allowed us to score the equaliser and give us this draw in a dramatic fashion.
We were affected by the bad pitch condition and struggled to move the ball around. We couldn't keep our plays simple and kept losing the ball from our own mistakes. Our mistakes allowed the opponent to initiate counterattacks, which led to our midfielders and defenders to make more runs in defence. In contrast to our opponent who had their work divided by their positions, our players were involved in both offence and defence at all times, consequently creating the reason for us to run out of gas towards the end. The squad I have selected for this tour was mainly based on their attacking traits, and we didn't have many players who specialised in defence, so we struggled against our opponent's speedy forwards who stayed upfront at all times. Despite winning the group, we saw plenty of room for improvements, so we must work hard to become a better team before the next qualification round.
We must also address the fact that we didn't have sufficient preparation for this qualification round. It was our first tour abroad since we travelled to Italy in April, while this was our first tour in Asia. Most players did not have the experience to play in a 90-minute match. In terms of the environment, Laos is a very safe country, and despite being here in the midst of the rainy season, we were fortunate with the weather, and we had no issues going about our daily lives. I was getting the impression that the environments in South East Asia has become more acceptable for the Japanese people over the recent years.
Lastly, I am glad that we have earned our rights to compete in the qualifiers for this generation's World Cup. While we celebrate this feat, we will continue to push ourselves with a sense of urgency and strive to become a better team to achieve our goal.
GK #21 MATSUBARA Kaisei (Kamatamare Sanuki U-15)
With this being my first match at this tournament, I was worried that I would have a tough time adjusting to the match, but I was able to enter without being so nervous and managed to play with composure. We faced some tough stretches, but I am glad we were able to earn our spot into the main tournament. However, even with our opponent playing with a man down, we allowed them to create opportunities from our mistakes. This match made me realise that I need to do a better job in coaching the team from behind. Once I return to my club, I will implement what I've learned from this tour and continue to work hard to become a better player.
DF #4 SUGITA Hayato (Yokohama FC Youth)
I was given the start for the first time in this match against Malaysia, and although I was a little nervous at first, I was able to settle down as soon as I heard the starting whistle. We gave up the lead and faced some difficult stretches during this match, but I am glad that we managed to level the match at the end. We will learn from this experience and implement the experience to improve ourselves ahead of next year's AFC U-16 Championship.
MF #7 OSAKO Rui (Kamimura Gakuen Junior High School)
In today's match, with our opponent applying aggressive pressure from the start, we focused on making the necessary adjustments according to the flow of the game. In the first half, we were clearing the ball without putting much thoughts into it and allowed our opponent to collect the ball in many occasions. That is why we focused on providing more options to the ball holder in the second half, which allowed us to move the ball around and find our rhythm. We had many missed opportunities in offence, and if we were more critical at the final third, this match could've gone much easier for us. I personally gave up the ball many times in midfield today, so once I return to my club, I will work hard to improve myself as a player and strive for the tournament title at the AFC U-16 Championship 2020, as well as the FIFA U-17 World Cup 2021.
Schedule
AFC U-16 Championship 2020 qualification Group J
Wed. 18 September
4-0
1st Match vs U-15 Laos National Team
(New Laos National Stadium)
Thu. 19 September
PM
Training
Fri. 20 September
8-0
2nd Match vs U-15 Cambodia National Team
(New Laos National Stadium)
Sat. 21 September
PM
Training
Sun. 22 September
2-2
3rd Match vs U-15 Malaysia National Team
(New Laos National Stadium)
*Local Time
*The schedule is subject to change due to the team condition, the weather, etc.
AFC U-16 Championship 2020 qualification
Tournament Dates: Wed. 18 - Sun. 22 September 2019
Venue: New Laos National Stadium, Laos