NEWS
U-16 Japan National Team shares a point with Tajikistan at the AFC U-16 Championship Malaysia 2018
24 September 2018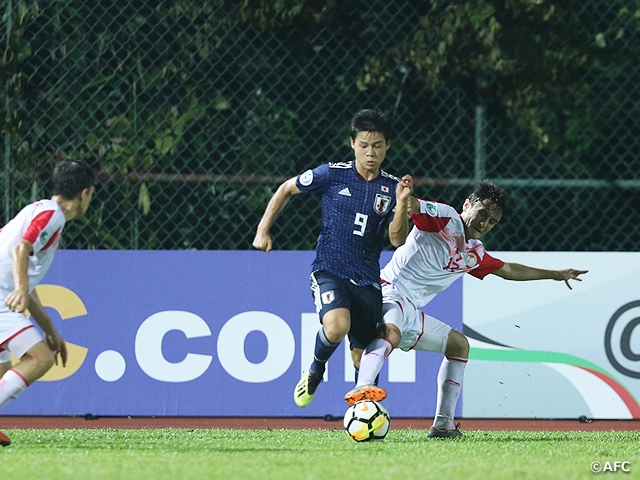 On Sunday 23 September, the U-16 Japan National Team drew against the U-16 Tajikistan National Team 0-0 in their second group stage match at the AFC U-16 Championship Malaysia 2018.
Japan entered the match with a different look from their first match as NOZAWA Taishi Brandon (FC Tokyo U-18) started in goal with the defence line consisting YAMADA Nao (Urawa Reds Youth), SAKO Maaya (Tokyo Verdy Youth), and ISHIDA Yusuke (Ichiritsu Funabashi High School). MITO Shunsuke (JFA Academy Fukushima U18) and NAKANO Keita (Kyoto Sanga F.C. U-18) were positioned in the midfield while AOKI Yusuke (FC Tokyo U-18) was named upfront to complete a starting line-up that featured seven different players from their previous match.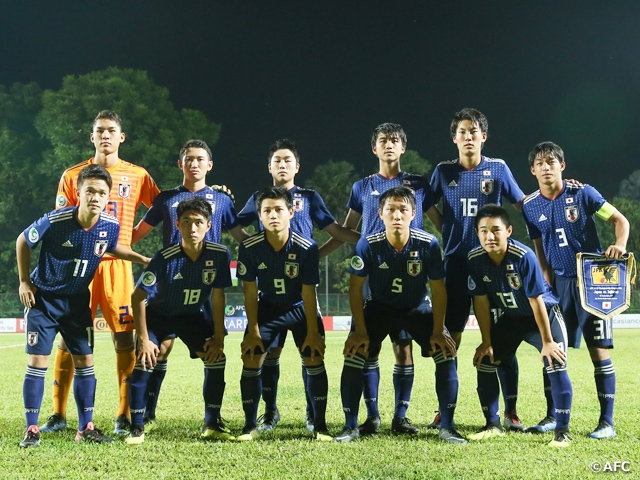 Regarding the dramatic change, Coach MORIYAMA Yoshiro mentioned, "With each player being sent out from various teams, I wanted to make sure they all get enough playing time. In addition, if the players who didn't start in the first match performs well in this match, it will create competition among the team." The players entered the match with a strong determination, as Aoki shared his intention, "I was going to give everything I've got, whatever it took."
The U-16 Tajikistan National Team on the other hand, entered the match with a different approach after losing to the U-16 Malaysia National Team 2-6 in their first match. Coach Moriyama later reflected on their opponent's new approach to the game, "They were only committing their defensive efforts when we crossed the half line." The Tajikistan side came out with a strong intention to defend against the Japanese side by defending deep in their territory, even if that came with a cost of sacrificing their offence. With their opponents committing themselves to defence, Japan dominated the ball possession, but struggled to find ways to create opportunities against the solid wall.
In efforts to change the dynamics of the match, Japan brought in defender SUMI Kohshiro (FC Tokyo U-18) in the second half. However, despite seeing an even aggressive approach towards the opposing goal, the team still couldn't crack open the persistent defence displayed by the Tajikistan players. In the closing minutes of the match, Japan came close to scoring a goal, as the late substitute NISHIKAWA Jun (Toko Gakuen High School) delivered a through ball to ARAKI Ryotaro (Higashi Fukuoka High School), but his shot fell short from finding the back of the net. Japan also created an opportunity from a set-play but failed to capitalise. The match ended scoreless, giving each teams a point apiece, as Japan kept their group lead with four points.
After the match, Coach Moriyama showed his disappointment, "We really wanted to win this match," and continued to share his aspiration ahead of their next match, "We can still win out of the group in first place if we win our next match, so we just have to reset our minds. Today's result gives us a good amount of tension ahead of our next match."
Japan can advance to the next round as group leaders if they win against Malaysia in their third group stage match, while a draw will also clinch second place or higher to allow them to advance through. Their third group stage match will be held on Wednesday 26 September, with a kick-off time of 17:30 Japan time.
Coach and Players' Comments
MORIYAMA Yoshiro, Coach (U-16 Japan National Team)
Our opponents retreated deep in their territory to defend from the first half and made it difficult for us to get inside to create opportunities. We changed our formation in the second half to initiate attacks from the flanks. However, even though we managed to get close to the penalty area, the tenacious efforts showcased by the Tajikistan defence line denied us from getting past that zone. That pretty much sums up this match. We will be fighting with our survival at stake in the next match. The same thing can be said for Malaysia as well, so I am expecting the match to be a very intense battle.
DF #16 SAKO Maaya (Tokyo Verdy Youth)
I kept my emphasis on playing simple and moving the ball with composure. In the second half, I focused on delivering diagonal passes from the left side to switch the field, which allows us to utilise the strengths of Sumi at the right flank. The long balls are part of my strong points as well. In terms of defence, we managed to stay focused and vocal to respond well against the opponents' counter attacks.
MF #9 NAKANO Keita (Kyoto Sanga F.C. U-18)
The coach has given us words of encouragement to fire up those players who didn't play in the first match, and I entered the match with a strong sense of commitment. We weren't nervous or anything, but Tajikistan did well to execute their game plan. Facing a team that are deep in their half, we had to show more aggression. If I could have attacked more aggressively, it may have opened up more space for the other players to penetrate.
FW #19 AOKI Yusuke (FC Tokyo U-18)
Our opponents were defending really deep in their territory. Even though we have played against teams like that in the past, it was nonetheless a difficult match. We tried to be creative in adding layers to our offence, but it was hard to receive the ball in the space behind the defence line. I was anticipating taking shots at all times, but I couldn't convert the opportunities I was given.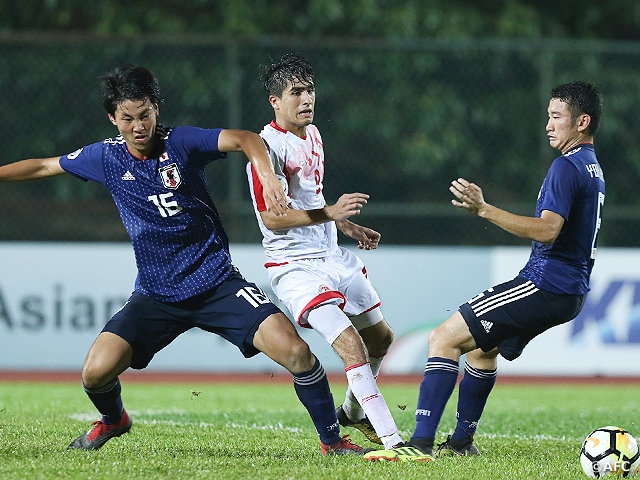 Schedule
AFC U-16 Championship Malaysia 2018
Thu. 20 September
5-2
1st Group stage match vs U-16 Thailand
(UM Arena Stadium)
Fri. 21 September
AM
Training
Sat. 22 September
PM
Training
Sun. 23 September
0-0
2nd Group stage match vs U-16 Tajikistan
(UM Arena Stadium)
Mon. 24 September
AM
Training
Tue. 25 September
PM
Training
Wed. 26 September
16:30
3rd Group stage match vs U-16 Malaysia
(National Stadium Bukit Jalil)
Thu. 27 September
AM
Training
Fri. 28 September
PM
Training
Sat. 29 September
PM
Training
Sun. 30 September
TBC
Quarterfinals
Mon. 1 October
AM
Training
Tue. 2 October
AM
Training
Wed. 3 October
PM
Training
Thu. 4 October
TBC
Semi-finals
Fri. 5 October
AM
Training
Sat. 6 October
PM
Training
Sun. 7 October
20:45
Final (National Stadium Bukit Jalil)
*Local Time
*The schedule is subject to change due to the team condition, the weather, etc.
AFC U-16 Championship Malaysia 2018
Tournament Dates: Thu. 20 September - Sun. 7 October
2nd Group Stage Match vs U-16 Tajikistan National Team
Sun. 23 September 2018 Kick-off time 21:45 (Japan time)
Live broadcast at tv asahi CS ch2
Tournament Information