NEWS
KIRIN CHALLENGE CUP 2017: Syria National Team arrive in Japan
06 June 2017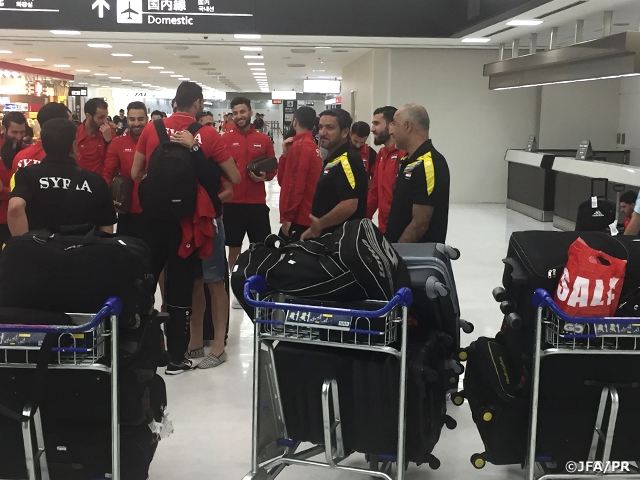 Syria National Team arrived at Narita Airport on Monday 5 June. They will participate in the KIRIN CHALLENGE CUP 2017 and face SAMURAI BLUE (Japan National Team) on Wednesday 7.
The Syrian squad flew directly from their training camp site in Oman, yet both the players and the staff did not seem fatigued from the long travel. After arriving at their hotel, the team went through stretching and running at a nearby park to get their physical conditioning ready for the coming game.
Syria National Team will hold an official practice on the Tuesday 6 and square off against SAMURAI BLUE at Tokyo Stadium on Wednesday 7.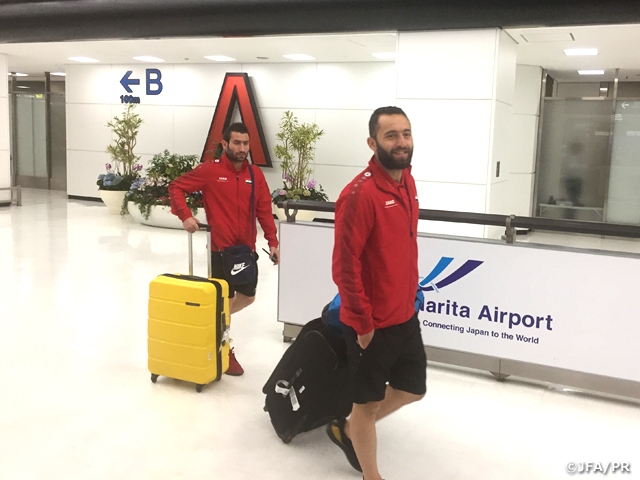 Coach
MAHMOUD ALYOUSSEF
Squad
GK
AHMAD MADANIEH (VICTORY SC/MDV)
IBRAHIM ALMA (ALJAISH)
AHMAD DEEB (ALITTIHAD)
DF
ALAA AL SHBBLI (ALMUHRAQ/BHR)
ALAA AL SHBBLI (NAFT AL WASAT SC/IRQ)
AHMAD ALSALEH (HENAN JIANYE/CHN)
HUSSEIN ALJWAYED (AL ZAWARAA SC/IRQ)
MOUAIAD ALAJAAN (NAFT AL WASAT SC/IRQ)
AMRO JENIAT (ALSHABAB/OMA)
OMRO AL MIDANI (ALWAHDA)
MF
MHD. ZAHIR ALGUNAMI ALMEDANI (AIR FORCE/IRQ)
FAHAD YOUSSEF (AL JAZEERA/JOR)
TAMER HAG MOHAMAD (DHOFAR/OMA)
OUDAY ABDUL JAFFAL (NAJAF FC/IRQ)
MOHAMAD WAEL ALREFAI (AL JAZEERA/JOR)
MAHMOUD AL MAWAS (UMM SALAL SC/QAT)
KHALED ALMBAYED (ALWAHDA)
YOUSEF KALFA (ALJAISH)
FW
AHMAD ALDOUNI (NAJAF FC/IRQ)
MARDEK MARDKIAN (AL JAZEERA/JOR)
NASSOUH NAKKDAHLI (ALITTIHAD)
Schedule
Tue. 6 June
18:30
19:00
Official Conference (Tokyo Stadium)
Official Training (Tokyo Stadium)
Wed. 7 June
19:25
KIRIN CHALLENGE CUP 2017
vs SAMURAI BLUE (Tokyo Stadium)
KIRIN CHALLENGE CUP 2017
7 June 2017 (Wed.) Kick-off at 19:25 (estimated time)
SAMURAI BLUE (Japan National Team) vs Syria National Team
Tokyo / Tokyo Stadium