NEWS
U-23 Japan Women's National Team beat Sweden 2-0 in La Manga International Women's U-23 Tournament (3/4)
05 March 2016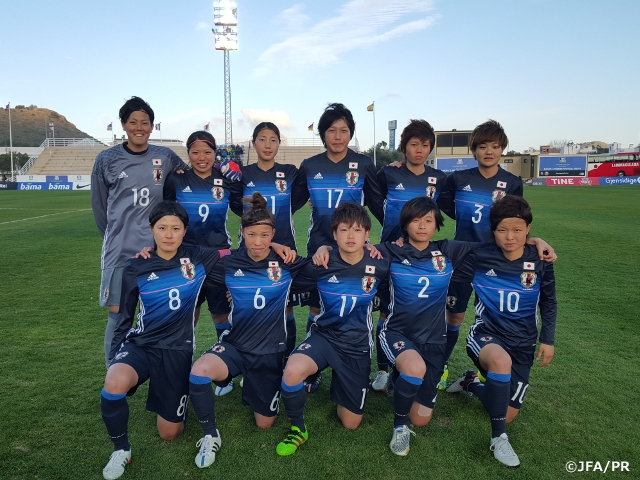 La Manga International Women's U-23 Tournament vs U-23 Sweden Women's National Team
2016-3-4 (Fri.) - 18:00 Playing Time: 45min.×2
La Manga PitchA (Spain/La Manga)
U-23 Japan Women's National Team 2-0 (1-0, 1-0) U-23 Sweden Women's National Team
Scores
36' INOUE Ayaka (U-23 Japan Women's National Team)
68' CHIBA Sonoko (U-23 Japan Women's National Team)
Line-ups
GK: INOUE Nene
DF: YOSHIMI Natsuki, MURAMATSU Tomoko, HATANAKA Miyuka, MIYAKE Shiori
MF: MIHASHI Mana, NAOMOTO Hikaru, MASUYA Rika, CHIBA Sonoko, ODA KANNA
FW: INOUE Ayaka
Substitutes
GK: HAYASHIZAKI Mei
DF: SASAKI Mayu, OSHIMA Mizuki, TAKAGI Hikari
MF: MIURA Momo, TANAKA Yoko, KATSURAMA Fumina, NAKASATO Yu
FW: TAKAHASHI Miyuki, OYA Ayumi
HT ODA KANNA → TANAKA Yoko
HT INOUE Ayaka → OYA Ayumi
66' MIHASHI Mana → SASAKI Mayu
69' CHIBA Sonoko → TAKAHASHI Miyuki
78' MASUYA Rika → NAKASATO Yu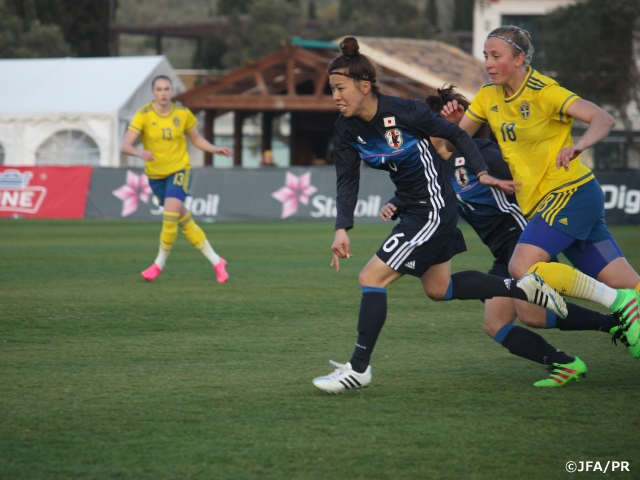 Match Report
U-23 Japan Women's National Team, who were on trip in Spain, participated in the La Manga International Women's U-23 Tournament and played against the U-23 Sweden Women's National Team.
The game kicked off at 18:00. Japan took the initiative from the beginning against an opponent, who was physically bigger and stronger. After 13 minutes, although the midfielder NAOMOTO Hikaru ran towards a through ball from the defender YOSHIMI Natsuki, it was ruled offside. Japan struggled to take shots against the opponent's solid defence.
In the 36th minute, NAOMOTO passed the ball to the defender MIYAKE Shiori on the left side, where she dribbled up to send a cross in front of the goal. The forward INOUE Ayaka, who reacted to the ball, finally struck the opener.
In the second half, after the midfielder TANAKA Yoko and the midfielder OYA Ayumi came off the bench, Japan started to attack aggressively from both sides. After 68 minutes, the midfielder CHIBA Sonoko reacted to a return ball from OYA, and built a two-goal lead. During injury time, although TANAKA ran towards a pass from Oya, who had intercepted the ball, and faced the goalkeeper 1-on-1, the shot was stopped by a superb save. Japan won the game 2-0.
Schedule
La Manga International Women's U-23 Tournament
Wed. 2 March
AM
4-0
Training
vs U-23 Norway Women's National Team
Thu. 3 March
AM/PM
Training
Fri. 4 March
AM
2-0
Training
vs U-23 Sweden Women's National Team
Sat. 5 March
AM/PM
Training
Sun. 6 March
AM
18:00
Training
vs U-20 Germany Women's National Team
*The schedule is subject to change due to the team condition, the weather, etc.
*Local Time