NEWS
Sawa boosts Nadeshiko Japan to victory over New Zealand
25 May 2015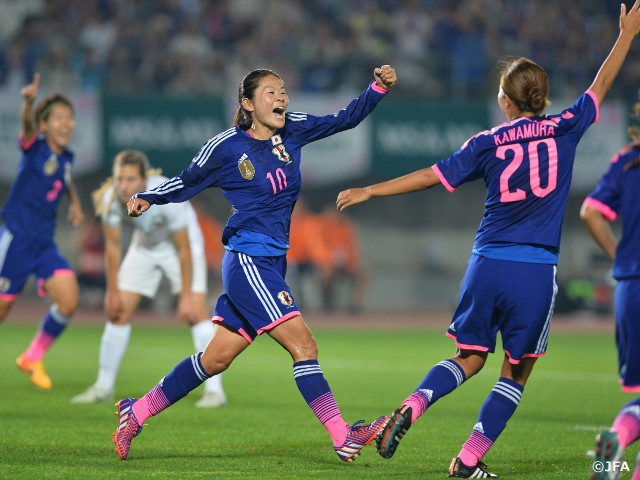 Nadeshiko Japan took on New Zealand in their first game of the 2015 MS & AD Nadeshiko Cup as a warm-up game towards the FIFA Women's World Cup in Canada on 24 May (Sunday). The match at Kagawa Prefectural Marugame Stadium drew 14,154 fans, the highest number of all time at the venue for a football contest. Ahead of the kickoff, Japan Football Association president DAINI Kuniya presented flower bouquets to a chief referee YAMAGISHI Sachiko and a sub referee TESHIROGI Naomi.
Earlier in the game, Japan was forced to be on defence as New Zealand got off to a smooth start, but eventually countered around SAWA Homare, who returned to the national team for the first time in a year. Nadeshiko gradually grabbed their own pace, and Sawa put a corner kick from MIYAMA Aya into the goal to give Japan a lead. Japan had a few more chances afterwards but weren't able to extend the lead and entered halftime up by one.
In the second half, OHNO Shinobu was sent onto the pitch, substituting with KAWASUMI Nahomi. But on 48th minute, Japan fouled a New Zealand player in the box. Yet before Japan goalkeeper YAMANE Erina, who looked to stand on the goal line with spirit, Hannah Wilkinson fired a penalty kick way off the goalmouth.
Japan kept having to play defensively against New Zealand's attacks, and attempted to get out of the situation by sending SUGASAWA Yuika and UTSUGI Rumi onto the field. Japan head coach SASAKI Norio made a system change, being conscious about maintaining a lead in the final 10 minutes of games in the World Cup, and his team firmly posted a win against the team that was hypothetical of Switzerland.
Meanwhile, Sawa set a new Japanese record for the number of games played in international A matches for the women's national team, while she also renewed her own record for being the oldest player to score a goal. Sawa is actually the oldest Japanese national team scorer, man or woman.
Nadeshiko Japan will enter the 2015 Kirin Challenge Cup against Italy on 28 May (Thursday) at Minami Nagano Sports Park Stadium in Nagano Prefecture.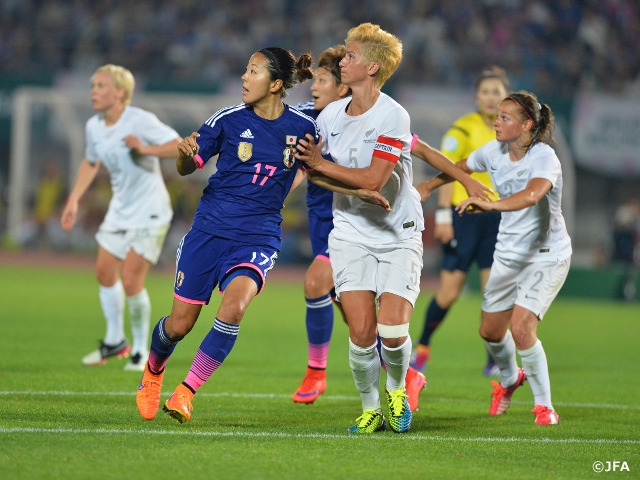 Head Coach and Players' Comments
SASAKI Norio, Head Coach, Nadeshiko Japan (Japan Women's National Team)
Though we scored three points, it was a content that there was a lot of aspects that we need to reflect on. In fact, our god, Sawa, who started for the first time in a while for us, saved us with her game-winning goal. New Zealand have impressively been improving and they gave us a good, tense atmosphere.
In our Kagawa training camp, we focused on defensive training, which is our basement of our game. By putting defence together, it gives our team balance and raise the bar for our performance. Going forward, we would like to raise our awareness of our other things including our possessing. Regarding the Italy game, we are not going to change on our core parts, but we are considering to make some changes on our sides, and the personnel on our defensive midfielders at the moment.
The supporters in Kagawa clapped their hands even at the players introductions for New Zealand, and enjoyed the contest with fair attitudes. I would like to express our gratitude to those 14,000 fans who came today.
MF #8 MIYAMA Aya (Okayama Yunogo Belle)
Towards the World Cup, we are going to have to elaborate our game more than in today's match, and we are going to develop our strengths even more. I played in the left side and it has had a better balance, but I think it's going to get even better if we understand our strengths with each other in our practices. We still lack some accuracies and make some mistakes, but we've begun to feel the main event is approaching.
MF #10 SAWA Homare (INAC Kobe)
While you are asked for putting up a good performance as a national team player, I was pleased that I could leave some positive result by scoring a goal. Also, it was huge that our team didn't lose. It's important to earn three points, so we want to channel this into our confidence. I was originally scheduled to be substituted in the middle of the second half, but wound up playing for the entire 90 minutes. It gave me confidence for me to be able to play for 90 minutes in an international game like this.
GK #21 YAMANE Erina (JEF United Ichihara Chiba Ladies)
I was a little more settled than I usually am today. There were high crosses that you don't get to see in the Nadeshiko League, but it will have to be my strength in dealing with it, and in fact, I was determined to show how much I could challenge getting out for those crosses as I was entering the game. Regarding the penalty kick situation, I had a mind-set to stop no matter what if a shot was coming inside the goalmouth.
Tony Readings, Head Coach (New Zealand Women's National Team)
I'm satisfied with our players' performance. Because it was an away game surrounded by a huge crowd, we knew that it was going to be a tough game to play. It's New Zealand's style of game to firmly keep the ball and relay it, and as far as in today's game I think we were able to do that better than Japan. I think we did a good job in creating scoring opportunities and attacking. Yet however many times you have scoring chances, if you can't connect them for goals, you are not going to win games.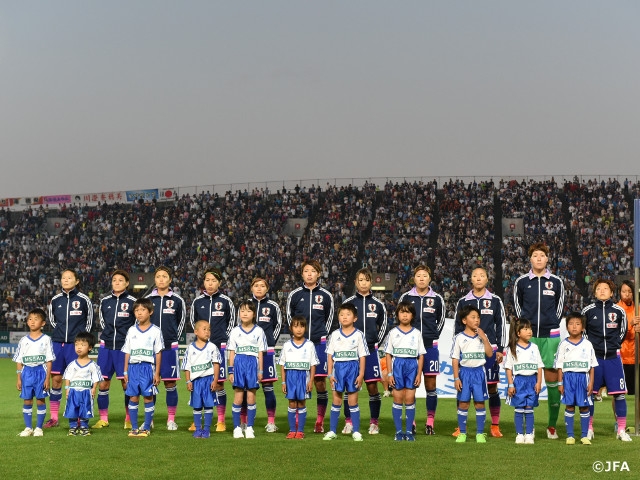 JFA-TV (Japanese version only)
Interview - SASAKI Norio, head coach

Interview - SAWA Homare (INAC Kobe)

Interview - IWASHIMIZU Azusa (Nippon TV Beleza)
KIRIN CHALLENGE CUP 2015
Nadeshiko Japan(Japan Women's National Team) vs. Italy Women's National Football Team
Thu. 28 May 19:20 Kick Off (Estimated Time)
Nagano / MINAMI NAGANO SPORTSPARK
Ticket Information (Japanese version only)
FIFA Women's World Cup Canada 2015