NEWS
Nadeshiko Japan rout Hong Kong 9-0 for semifinal berth - 17th Asian Games Incheon 2014
27 September 2014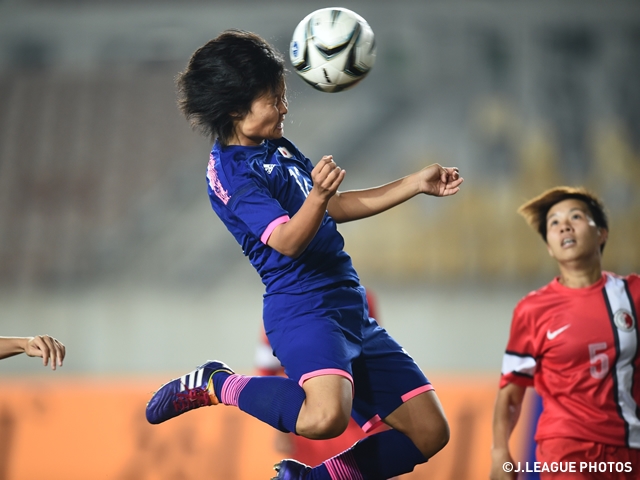 The 17th Asian Games (2014/Incheon) Knockout Stage
Fri. 26 September 2014 Kickoff at 20:00 90minutes
Hwaseong Sports Complex Main Stadium (Hwaseong /Korea Republic)
Nadeshiko Japan (Japan Women's National Team) 9-0 (1st 4-0, 2nd 5-0) Hong Kong Women's National Team
Scores
3min  MASUYA Rika (Nadeshiko Japan)
10min  Own goal (Nadeshiko Japan)
14min  NAKAJIMA Emi (Nadeshiko Japan)
26min  MASUYA Rika(Nadeshiko Japan)
49min  IWASHIMIZU Azusa(Nadeshiko Japan)
60min  KIRYU Nanase (Nadeshiko Japan)
66min  TAKASE Megumi (Nadeshiko Japan)
76min  SUGASAWA Yuika (Nadeshiko Japan)
81min  KIRYU Nanase (Nadeshiko Japan)
Starters
GK KAIHORI Ayumi
DF IWASHIMIZU Azusa, OSAFUNE Kana, USUI Rie, HAZA Hisui
MF NAKAJIMA Emi, KAWASUMI Nahomi, KIRYU Nanase, NAOMOTO Hikaru
FW KIRA Chinatsu, MASUYA Rika
Substitutes
GK YAMANE Erina
DF ARIYOSHI Saori, KITAHARA Kana,
MF SAKAGUCHI Mizuho, MIYAMA Aya,
FW TAKASE Megumi, SUGASAWA Yuika
HT  KAWASUMI Nahomi → TAKASE Megumi,
66min MASUYA Rika → SUGASAWA Yuika
78min  NAKAJIMA Emi → SAKAGUCHI Mizuho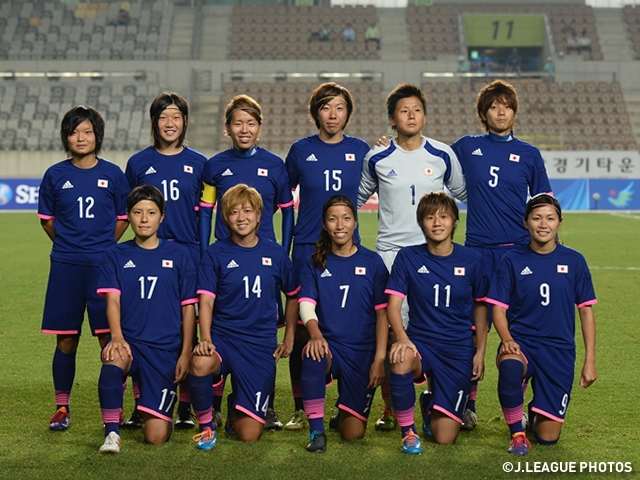 Match Report
With the group stage is over, the women's football went into knockout stage. In quarter-final match, Nadeshiko Japan took on Hong Kong women's national team who finished third place in Group C.
Head coach Sasaki started the game by changing starting members from previous matches with Haza and Naomoto, starter for first time in this competition. As early as three minutes into the game, Kira tried to goal by header off the cross ball from right flank Kawasumi and Masuya headed home the opener for deflected ball. In the 10th minute soon after, Haza's cross from right triggered the other side's own goal for additional score. Streak of goals continued as Nakajima' free kick found the net in 16th minute. Masuya was on target again for scoring cross for 4-0 in the 26th minute adding her tallies. Went on to the second half with that score.
Head coach Sasaki replaced Kawasumi with Takase who has been sidelined and adjusting in the different training program due to her injury. Following goals of Nadeshiko Japan in 49th and 60th minute, Takase's header found the target for Kira's cross in the 66th minute. Another goal of header was taken from corner kick by substitute Sugasawa in the 75th minute. Finally, Kiryu concluded Nadeshiko Japan's goal scoring spree with middle shoot which pressured goalkeeper to humble the ball for 9-0. Nadeshiko Japan kept dominating the game for 34 shoots and zero for Hong Kong and confidently advanced to semifinal.
At other venues, Korea DPR, Korea Republic and Vietnam won the game for last four and Nadeshiko Japan will be facing Vietnam in semifinal.
The game for clinching the berth for final will be at 17:00 on Monday 29 July.
Comments
SASAKI Norio, Head Coach
In spite of pressure for kicking out of the tournament once we lose, I appreciate young players showed stable performance on the pitch, better than expected, for generating a good result. The squad has been picking up their speed as injured players come back. I felt something not right of team's foundation in group stage and I tried to improve them in two days of training. Hoping to raise quality of play for the final, I was satisfied with each player kept their concentration for quickly switching offense and defense during the period following scoring goals. It won't be easy to beat Vietnam, the opponent at semi-final, as they know how to win the match. Keeping good team condition, I want to proceed to the final.
TAKASE Megumi (INAC Kobe)
Wanted to score the goal. I became confident for getting goal securely for receiving good pass. I wasn't up to the speed at the beginning of training but I felt I am recovering a lot as I played on the pitch. Really enjoyed playing and I wish I could have played longer. It was a good preparation for semifinal and final games. Both I and the team have a clear goal of this tournament and I want to hold good preparation for the next game.
KIRYU Nanase (Sky Blue FC/America)
I thought I kicked wrongly but I was glad to score both of two goals. Happy to win the game but it would have been better if we could have played for the next game in our mind.
MASUYA Rika (INAC Kobe)
For scoring scene, it was good as it was situation where all I should do was just to score it. I should have made more space and enhance interactions with other forward players. The defense would not work without good interactions. I get used to the interactions as I play more games but still lot to improve.
HAZA Hisui (Nittaidai)
Starter for the first time, I came to realize so many people have been supporting me to this date. I didn't get that nervous for other players giving me a voice. I was going to get involved in offense aggressively as side back player and be a part of scoring. I believe I could have done better and found something I need to improve. Reviewing the other side's own goal, my team mate could have scored the goal if I had sent the cross accurately and I want to improve that point. My strengths are long feed and direct cross and I want to send pinpoint cross. I think a good player is the one who can play in multiple positions. I want to improve the skills as side back and center back.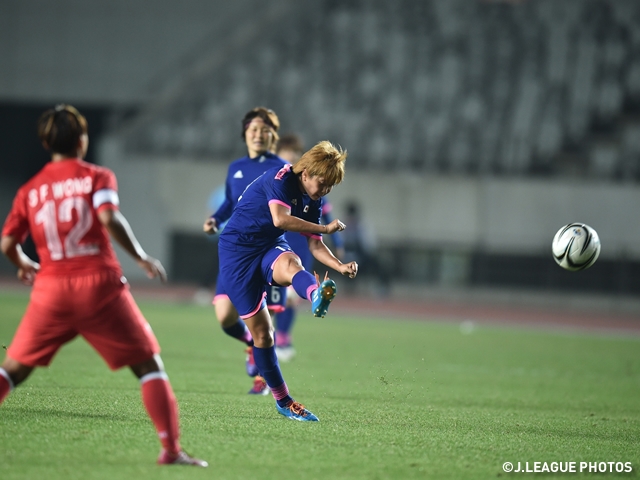 Match Schedule
Mon, 15 September

0 - 0

vs. China

Namdong Asiad Rugby Field

Thu, 18 September

12 - 0

vs. Jordan

Namdong Asiad Rugby Field

Mon, 22 September

3 - 0

vs. Chinese Taipei

Munhak Stadium

Fri, 26 September

9 - 0
vs. Hong Kong
Hwaseong Sports Complex Main Stadium


Mon, 29 September

17:00

Semi Final
vs. Vietnam

Incheon Football Stadium/Munhak Stadium

Wed, 1 October

20:00

Final

Munhak Stadium