NEWS
Japan Futsal National Team defeats Korea Republic in close match to earn ticket to the AFC Futsal Championship 2020
25 October 2019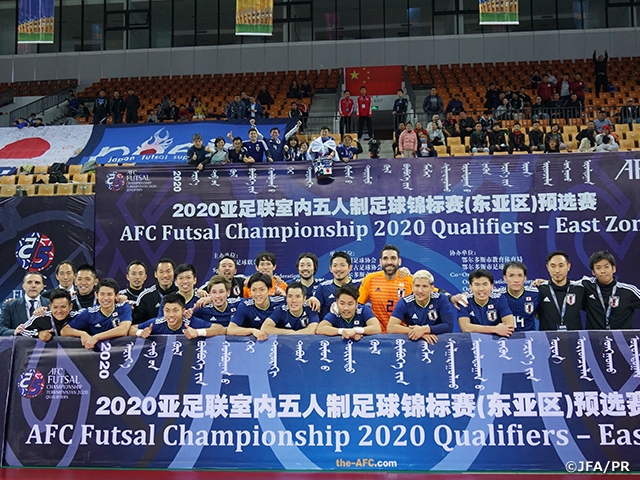 AFC Futsal Championship Turkmenistan 2020 Qualifiers - Eastern Division
2nd Match vs Korea Republic Futsal National Team
Thu. 24 October 2019 13:00 (Local time) Match Duration 40mins (20mins x2)
Ordos Sports Centre Gymnasium (Ordos City, China PR)
Japan Futsal National Team 4-2 (1-1, 3-1) Korea Republic Futsal National Team
Scores
7' MUROTA Yuki (Japan Futsal National Team)
10' goal against (Korea Republic Futsal National Team)
22' KATO Minami (Japan Futsal National Team)
26' KATO Minami (Japan Futsal National Team)
32' KATO Minami (Japan Futsal National Team)
39' goal against (Korea Republic Futsal National Team)
Starting Line-up
GK: SEKIGUCHI Yushi
FP: HOSHI Shota, NISHITANI Ryosuke, ANDO Ryohei, YOSHIKAWA Tomoki
Reserves
GK: PIRES Higor
FP: MUROTA Yuki, SHIMIZU Kazuya, MINAMOTO Akira, TAKITA Manabu, MORIOKA Kaoru, MORIMURA Takashi, KATO Minami, NIBUYA Kazuhiro
Match Report
The Japan Futsal National Team defeated the Korea Republic Futsal National Team 4-2 in their second qualification match of the AFC Futsal Championship Turkmenistan 2020 to take the group lead and earn their spot into the championship which will take place in February.
With both teams earning a win over the Macau Futsal National Team, Japan and Korea Republic played the match with the ticket to the AFC Futsal Championship at stake. Ahead of the match, Japan's coach Bruno GARCIA gave a pep talk to his players, "In order to win our ticket to the championship, let's play with the highest intensity, concentration, communication, and showcase our best performance. We will take control of the game from the very first second. Let's go back to Japan with a victory!" In their second match of the qualifier, coach Garcia sent off SEKIGUCHI Yushi, HOSHI Shota, NISHITANI Ryosuke, ANDO Ryohei, and YOSHIKAWA Tomoki onto the pitch to start the match.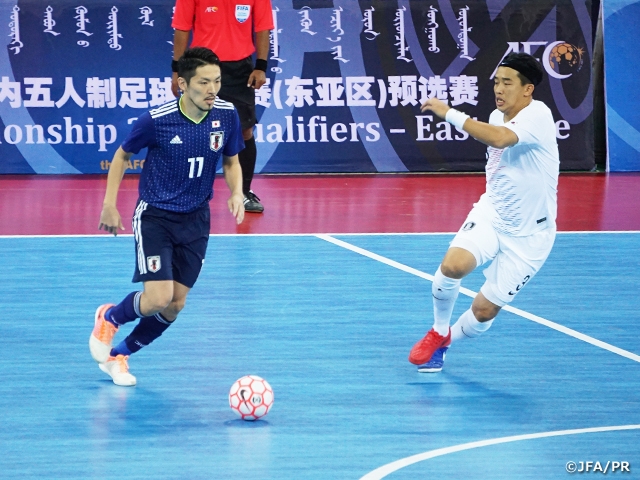 The match kicked-off with both sides showcasing great intensity, but it was Korea Republic who created the first opportunity, when they struck the cross bar from a shot taken from the left side. MORIOKA Kaoru responded shortly after, when his shot came close to capturing the target, but the shot missed wide of the goal. Japan gradually picked up their pace to take control of the match, as MUROTA Yuki scored the opening goal in the sixth minute. However, Korea Republic came right back to equalise the match, when they converted a penalty kick in the 10th minute. Despite seeing Japan creating numbers of close opportunities, the Korean goalkeeper showcased a superb performance to keep the score intact, as the match entered halftime with a score of 1-1.
Japan showed great aggression to start the second half, as they created chances from the early minutes. In the 22nd minute, KATO Minami scored from a free kick to regain the lead for Japan. Kato followed up with another goal in the 26th minute to make it 3-1. With their backs against the wall, Korea Republic initiated their power-play in the 29th minute, but Japan played with great persistency to keep the Korean side from scoring a goal. Conversely, Japan earned their fourth goal from a penalty kick in the 32nd minute, as Kato converted the spot kick to complete a hat trick in back to back matches. Despite giving up a goal in the 39th minute from a penalty kick, Japan managed to hold their lead, as the match ended with a final score of 4-2. With this win, Japan has earned their spot into the AFC Futsal Championship Turkmenistan 2020.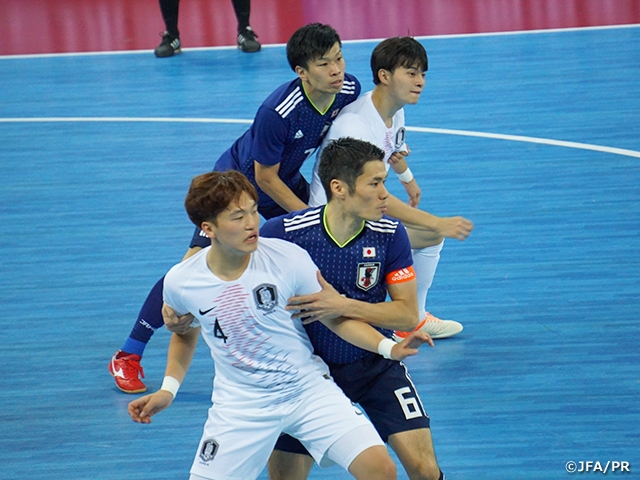 At the press conference following the match, coach Garcia expressed his gratitude towards the fans, "Many fans have travelled long ways to support us and I would like to take this moment to thank them once again."
Coach and Players' Comments
Bruno GARCIA, Coach
We were able to showcase a very intelligent match against Korea Republic today. We knew our opponent was going to keep their plays simple and play very solidly, so even though it was a physically tough match, we were still able to make the adjustments and gradually take control of the match. I believe we could have scored more goals during the opponent's power-play, but instead, we gave up a goal to make it 4-2. I wanted to accomplish three goals at this qualifier. To earn our spot into the AFC Futsal Championship, to win our spot with the fewest matches, and to heighten the team quality over the matches. We have accomplished all three goals and I am very satisfied. The international friendly matches played prior to this qualifier in Nagaoka and Nagoya has also given us great insights to help improve the team. With this result, the championship in Turkmenistan will be our next target. That tournament will then lead to the World Cup in Lithuania, which gives us even more motivation to do well. In order to achieve all of our goals, it is essential to have a detailed plan. We have always had a plan to reach the World Cup in Lithuania, but we must not reassess the plans and make sure to prepare ourselves in the best way possible.
GK #1 SEKIGUCHI Yushi (Nagoya Oceans)
I am glad that we were able to accomplish our mission of winning the qualifiers in the shortest number of matches. Although we went undefeated, we still saw plenty of room for improvements, so we hope to better ourselves ahead of the championship in February. Today was my birthday and I am thankful for all the birthday wishes from my teammates and fans.
FP #8 TAKITA Manabu (Pescadola Machida)
I am truly relieved that we were able to accomplish our minimum goal. I personally was not able to showcase my best performance, but I am feeling blessed to be a part of a team that is making a forward progress one step at a time. We will keep working hard so that we can continue to celebrate this joy with many others. Thankyou so much for your support!
FP #10 NIBUYA Kazuhiro (Vasagey Oita)
I am so glad that we were able to win against Korea Republic today. Our goal was to secure our spot into the AFC Futsal Championship with two consecutive wins, and we were able to do just that. It was a very tough match, but we managed to play with great patience. At a personally level, I needed to score goals in a match like this. Through the two matches, I was able to find new areas I must improve on. I will continue to work hard at my club and strive to become a better player. Today, we saw many of our fans at the match venue. We heard their cheers throughout the match, and they gave us great energy. We are very grateful for their support. I would also like to thank everyone who was supporting us from Japan. Thank you very much.
FP #13 KATO Minami (Shriker Osaka)
I am very happy that I was able to score a hat trick in back to back matches to help the team win. We will certainly face tougher matches at the championship next year. There will be less and less opportunities to take shots, so once I return to my club, I will focus on my shots and work to improve my skills before the championship. I am glad that we were able to celebrate this victory with the fans who came all the way from Japan to support us today.
Schedule
AFC Futsal Championship Turkmenistan 2020 Qualifiers
Tue. 22 October
17-2
1st Match vs Macau Futsal National Team
(Ordos Sports Centre Gymnasium)
Wed. 23 October
AM
Training (TBC)
Thu. 24 October
4-2
2nd Match vs Korea Republic Futsal National Team
(Ordos Sports Centre Gymnasium)
Fri. 25 October
TBC
TBC
Sat. 26 October
18:00
3rd Place Play-off
(Ordos Sports Centre Gymnasium)
*Local time
*The schedule is subject to change due to the team condition, the weather, etc.
AFC Futsal Championship Turkmenistan 2020 Qualifiers
Tournament Dates: Tue. 22 - Sat. 26 October 2019