NEWS
Japan Futsal National Team earns win in second international friendly match vs Thailand Futsal National Team
26 September 2019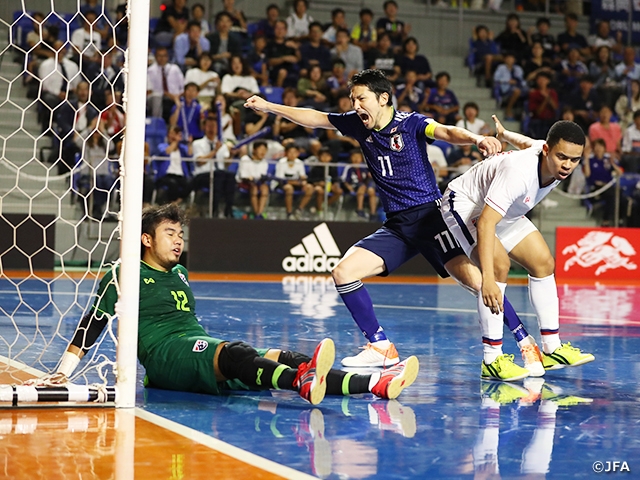 On Wednesday 25 September, the Japan Futsal National Team played their second international friendly match against the Thailand Futsal National Team at Takeda Teva Ocean Arena, Aichi.
After suffering a 1-2 loss in their first match played at City Hall Plaza Aore Nagaoka, Niigata, on Monday 23, the Japanese squad made two changes to their starting line-up, as YOSHIKAWA Tomoki was kept on the bench due to an injury he sustained during the first match, while PIRES Higor started at goal in place of SEKIGUCHI Yushi.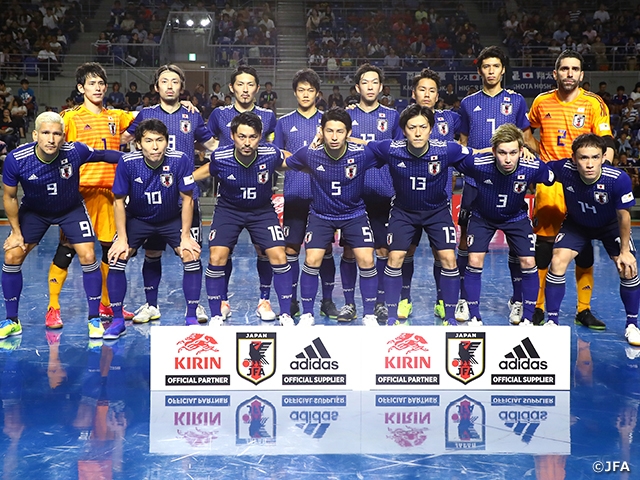 The match started off with Thailand taking the initiative, as they applied aggressive pressure to threaten the Japanese goal. However, Japan showcased great persistency to keep the Thai players from scoring a goal. After holding off the Thai attackers in the early minutes, Japan capitalised on a free kick to score the opening goal in the fifth minute, as MORIOKA Kaoru pierced a shot after KATO Minami delivered the setup pass.
In efforts to level the match, Thailand continued to apply pressure upfront, but the Japanese goalkeeper Pires displayed a superb performance at goal to keep the Japanese lead intact. With Thailand committing five fouls by the 15th minute mark, Japan utilised their dribblers to apply more pressure. Despite seeing the tide shifting towards the home side, Thailand capitalised on an error committed by Japan and scored a goal in the 18th minute, sending the match into halftime with a tied score of 1-1.
Japan changed their goalkeeper in the second half, as Sekiguchi stepped onto the court. Sekiguchi showcased great throws to initiate the Japanese offence, but the team struggled to convert their opportunities. However, the go-ahead goal was created in the 36th minute, when the shot taken by MUROTA Yuki was blocked by the opposing goalkeeper, allowing HOSHI Shota to convert the loose ball to regain the lead for Japan.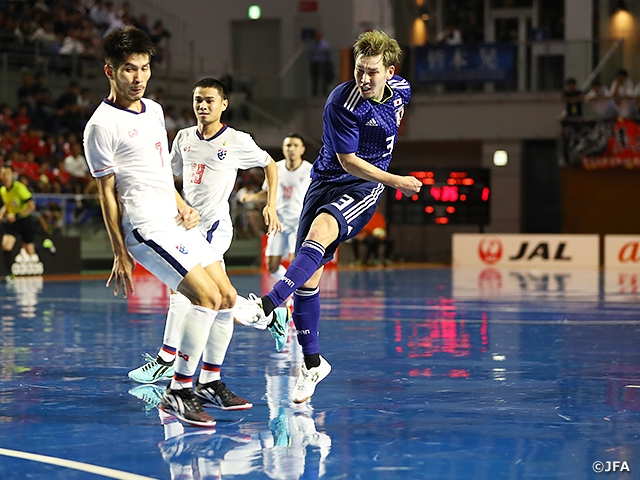 With time running out, Thailand initiated their power-play in search for the equaliser, but Japan took advantage of the situation to score their third goal, as Hoshi captured his second goal of the match from a counterattack. As a result, Japan took down the second match with a score of 3-1, finishing the pair of international friendly matches with a record of one win and one loss.
The Japan Futsal National Team will now enter the Eastern Asia qualifiers for the AFC Futsal Championship Turkmenistan 2020, which will take place in October at China PR. The team will compete against Macao and Korea Republic at the qualifiers. The Eastern Asia qualifiers will be Japan's first step towards the World Cup, as the AFC Futsal Championship Turkmenistan 2020 will serve as the qualification round for the FIFA Futsal World Cup Lithuania 2020.
Coaches and Players' Comments
Bruno GARCIA, Coach (Japan Futsal National Team)
Today we saw a game between two equally matched teams. I feel like we were able to showcase a spectacular and entertaining match. The goals scored in the first half came from an unfortunate run of plays for both sides. Although we managed to take control of the game in the second half, we struggled to convert our opportunities. However, our players did a great job to keep their composure, which led us to score the goals that gave us the victory.
GK #1 SEKIGUCHI Yushi (Nagoya Oceans)
After losing the first match, we were facing a match we couldn't afford to lose. In that sense, I am glad that we were able to win this match today. I personally felt like I was able to play the way I always do. I don't think I have made any changes from the first match to the second. I am confident that as long as I can showcase my usual performance, I can help the team win matches, so I will continue to play with confidence and give my best efforts to help the team.
FP #8 TAKITA Manabu (Pescadola Machida)
The first match left us thinking, "we must feed off of this loss and move forward." I have been playing with a sense that this could be my last match with the Japan National Team, so I have been giving everything I've got to leave no regrets. Fortunately, we had another match to redeem ourselves, so we entered today's match with a commitment to earn results. The two matches have made us realise the importance of commitment and the necessity to do whatever it takes to win a match.
FP #9 MORIOKA Kaoru (Pescadola Machida)
After being kept scoreless in the first match, I was feeling responsible for our loss, especially with the opportunities I was given. That is why I felt so relieved after scoring a goal today. I have been told that I am too old and need to step down, but I just have to keep producing on the court to prove that I still belong here. If we play like we did in our first match, we will certainly get criticised. However, if we continue to showcase a performance like today, we can make people believe that we can still strive for higher levels. It would have been better if we have shown a more dominating performance though.
FP #10 NIBUYA Kazuhiro (Vasagey Oita)
Our overall performance was not so bad throughout the two matches, however, we lacked quality to finish our shots in the first match. We managed to make the adjustments and stayed keen to score goals in our second match, which led to us to this result. Once I return to my club, I will work hard to become more critical in front of the goal and strive to become a better player.
FP #11 HOSHI Shota (Nagoya Oceans)
Our prides were hurt after suffering a loss in the first match. The fact that the team got together to find our identity helped us earn this result in the second match. Japan is a very organised team who has won Asian titles in the past and that does not change regardless of the coach. Strategies are implemented by the coach to help us win matches, and we were able to discuss the strategies as a team in our second match.
Jose Maria PAZOS MENDEZ, Coach (Thailand Futsal National Team)
Today we faced a very close and tough match, similar to the first match. Both teams showcased great aggression and intensity throughout the match. It was unfortunate that we gave up the opening goal from a play we did not expect to be a dangerous play. Although we lost control of the game in the last five, six minutes of the first half, we managed to equalise the match before entering halftime. Our team showed a great performance to start the second half, and we created numbers of opportunities, but failed to convert them. On the other hand, Japan was able to capitalise on their chances and that was the difference in this match.
Schedule
Mon. 16 September
18:30
Training (Mishima Gymnasium)
Tue. 17 September
10:00
Training (Kariwamura General Gymnasium)
17:00
Training (Mishima Gymnasium)
Wed. 18 September
10:00/17:00
Training (Mishima Gymnasium)
Thu. 19 September
10:00/17:00
Training (Mishima Gymnasium)
Fri. 20 September
10:00/17:00
Training (Mishima Gymnasium)
Sat. 21 September
16:00
Training (City Hall Plaza Aore Nagaoka)
Sun. 22 September
TBC
Official Training Session
Mon. 23 September
1-2
International Friendly Match
vs Thailand Futsal National Team
(City Hall Plaza Aore Nagaoka)
Tue. 24 September
TBC
Official Training Session
Wed. 25 September
3-1
International Friendly Match
vs Thailand Futsal National Team
(Takeda Teva Ocean Arena)
*The schedule is subject to change due to the team condition, the weather, etc.
International Friendly Match
[1st Match] Mon. 23 September 2019 14:00
vs Thailand Futsal National Team (City Hall Plaza Aore Nagaoka, Niigata)
[2nd Match] Wed. 25 September 2019 19:30
vs Thailand Futsal National Team (Takeda Teva Ocean Arena, Aichi)