NEWS
Referees in charge holds training session at the match venue - International Friendly Match vs Thailand Futsal National Team
23 September 2019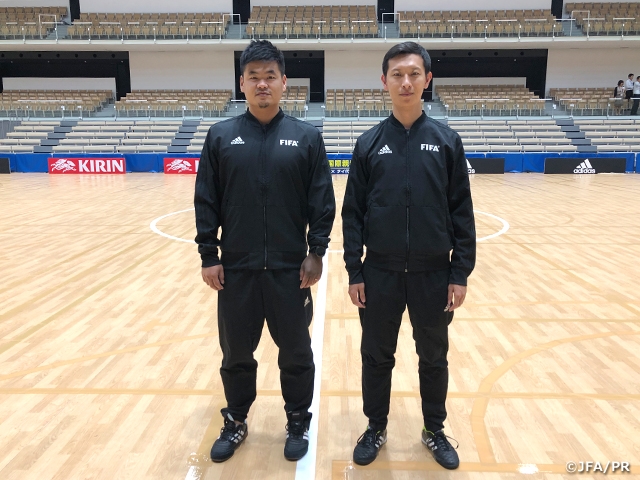 One day ahead of the international friendly match between the Japan Futsal National Team and the Thailand Futsal National Team, the referees in charge of the match held a practice session at the match venue, City Hall Plaza Aore Nagaoka in Niigata, on Sunday 22 September.
Referees in charge
Referee: LIU Jianqiao (China PR)
2nd Referee: LEE Po Fu (Taiwan)
3rd Referee: KOZAKI Tomohiro (Japan)
Timekeeper: FUJITA Takeshi (Japan
Referee Crew's Comment
We are supported by Japan's wonderful hospitality and professional management. With the match being played between Asia's top teams, Japan and Thailand, the match will certainly be a spectacular match. For both the players and referees, this match will serve as an important test match ahead of next year's AFC Futsal Championship held at Turkmenistan, so we are hoping for a fair and wonderful match.
International Friendly Match
[1st Match] Mon. 23 September 2019 14:00
vs Thailand Futsal National Team (City Hall Plaza Aore Nagaoka, Niigata)
[2nd Match] Wed. 25 September 2019 19:30
vs Thailand Futsal National Team (Takeda Teva Ocean Arena, Aichi)