NEWS
Japan Football Museum holds talk event "Pass to the future" on final day
01 March 2023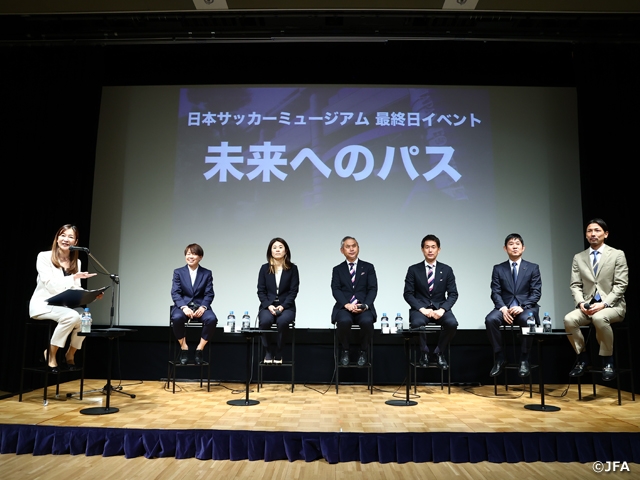 On Sunday 26 February, the Japan Football Museum's final day of operation, a talk event was held with the theme, "Pass to the Future."
The event featured appearances by Head Coach MORIYASU Hajime of SAMURAI BLUE (Japan National Team), Head Coach IKEDA Futoshi of Nadeshiko Japan (Japan Women's National Team), former Japan National Team player Mr. SUZUKI Takayuki, former Nadeshiko Japan Head Coach and current Chairman of JFA Women's Committee SASAKI Norio, and former Nadeshiko Japan players Ms. SAWA Homare and Ms. MIYAMA Aya. A talk session was held following the opening remarks by Museum Director DAINI Kuniya, "Opened in December 2003, the museum has been visited by approximately 710,000 people up to yesterday (25 February). We will discuss the significance of the facility's existence and consider where to relocate it, as it houses valuable records and the history of Japanese football."
The first topic was about the FIFA World Cup Qatar 2022™. Coach Moriyasu started the section by commenting, "Even the strongest teams were working hard to win the ball and the overall athleticism of the players had improved, allowing for a greater emphasis on tactics and strategy," while coach Ikeda mentioned, "We were deeply moved by the performance displayed by the SAMURAI BLUE. We want to demonstrate that kind of unity with the Nadeshiko Japan."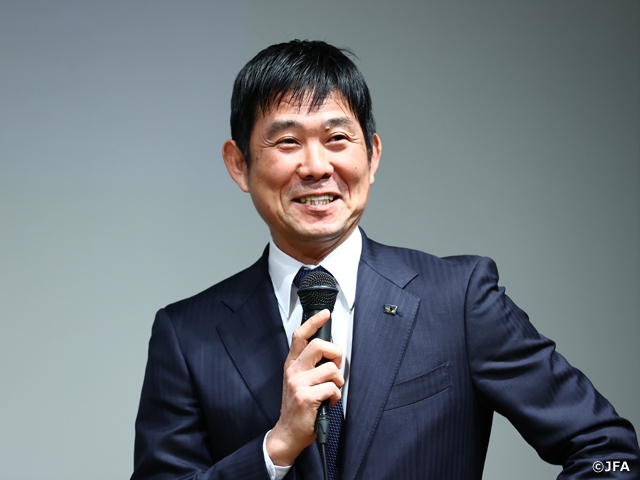 According to Ms. Sawa, the Nadeshiko Japan carried the same sense of togetherness when they won the FIFA Women's World Cup Germany 2011™, as she mentioned, "When it came down to a penalty shoot-out in the final, everyone had a smile on their faces even under so much pressure. There was such a good atmosphere." Ms. Miyama also reflected on that time, saying, "We had a group of players with many different personalities, but we all came together as one," and added, "We want to pass on our experiences from that time to the current players."
Asked about his feelings towards the museum, which closed its doors on that day, Mr. Suzuki shared an episode in which he was told by a parent of the football school he represents that a photo of himself from his primary school days was on display. "I had no idea, but I just checked, and it was really there. I am very happy that they found it and put it on display."
Chairman Sasaki, who was inducted into the Japan Football Hall of Fame in 2019 and whose relief is on display in the museum, said, "The relief is more handsome" and added, "I am here because of the players. That's why I want to continue contributing to the development of women's football."
The 90-minute event was a great success, attended by around 100 spectators selected from more than 2,000 applicants.
Before closing at 17:00, Museum Director Daini, former directors KAWABUCHI Saburo and OGURA Junji, JFA President TASHIMA Kohzo, and Mayor NARISAWA Hironobu of Bunkyo Ward, where the museum is located, attended the closing ceremony, bringing the museum's 19-year run to an end.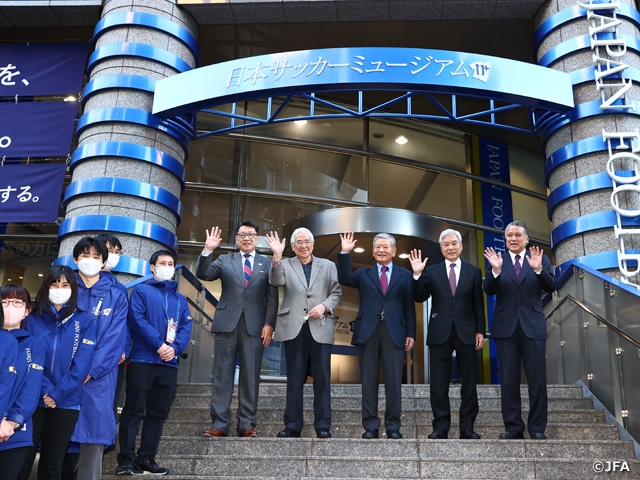 Comments
Mr. SUZUKI Takayuki (Former player of Japan National Team)
I am active as a coach in hopes of raising the overall level of Japanese football and helping the national team to win the World Cup in the future. I would like to invite you all to support the Japanese football community. Let's share the dream of being the world champions together. I look forward to your continued support.
MORIYASU Hajime, Head Coach of SAMURAI BLUE
We are where we are today because of our predecessors, including fans, supporters, and the media, who have weaved our history. I will continue to make every effort to improve the level of the national team and the development of Japanese football and pass on the baton to those who will lead the future.
IKEDA Futoshi, Head Coach of Nadeshiko Japan
It is deeply moving to see our own wins displayed amongst the panels of the matches I watched as child, and we would like to display more of these panels in the future. I want to fulfil my mission to share the greatness of women's football and the power of sport.
SASAKI Norio, Chairman of JFA Women's Committee
The theme of this event is "Pass to the Future," and as a member of the past Nadeshiko Japan, I would like to support the future Nadeshiko Japan, bring excitement to everyone, and pass on the wonderful pass received from the SAMURAI BLUE to the current Ikeda Japan.