NEWS
Nadeshiko Japan's Coach IKEDA Futoshi "Looking forward to seeing the team's achievements and tasks" in match against Iceland
25 November 2021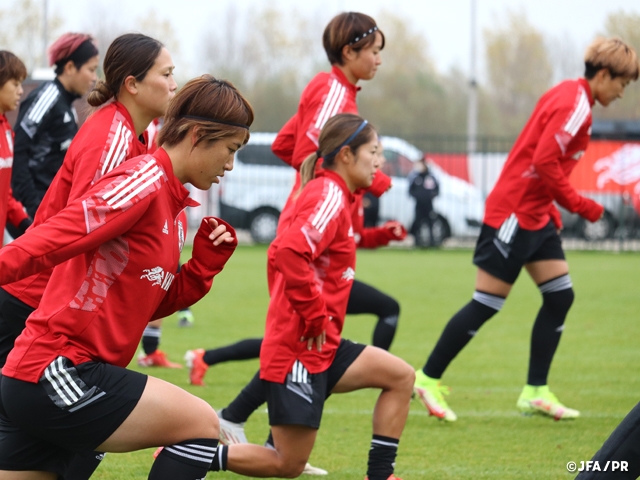 On Wednesday 24 November, the Nadeshiko Japan (Japan Women's National Team), who are currently in Almere, Netherlands, held an official training session before the international friendly match against the Iceland Women's National Team scheduled on Thursday 25.
The players were seen going through their warmup routine before conducting drills using the ball. The team then went over their set-pieces and played a game to cover the themes they have been sharing over the past two days. Despite the cloudy weather of Almere, the players showed great intensity to work up a sweat before their match. Following the training session, the players visited the match venue, Yanmar Stadion, which is a well-equipped stadium with a capacity of around 4,500, where they checked the pitch to visualise their first match under the new regime.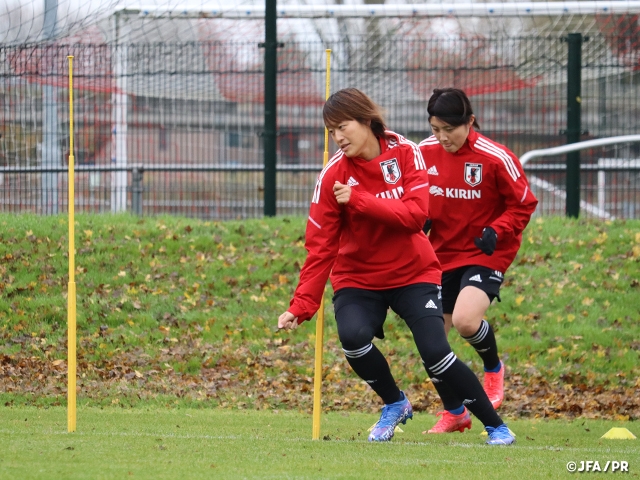 Coach IKEDA Futoshi made an appearance in the official press conference for the first time as the coach of Nadeshiko Japan, where he mentioned "I am really looking forward to this match." With the concept of "winning the ball" in mind, which the team has been working on since their training camp in October, the coach mentioned that he wants to prepare the team in all aspects before the AFC Women's Asian Cup India 2022™, which is scheduled to take place in January 2022. In addition, KUMAGAI Saki (FC Bayern Munich) was interviewed online after the training session, where she commented, "We will make mistakes, but we want to challenge with a purpose," as the team captain saw the international friendly match as an opportunity to make challenges and identify the team's issues.
The match between the Nadeshiko Japan and the Iceland Women's National Team is scheduled to kick-off at 19:40 on Thursday 25 (3:40 on Friday 26 Japan time). The match will be broadcasted live on BS Fuji.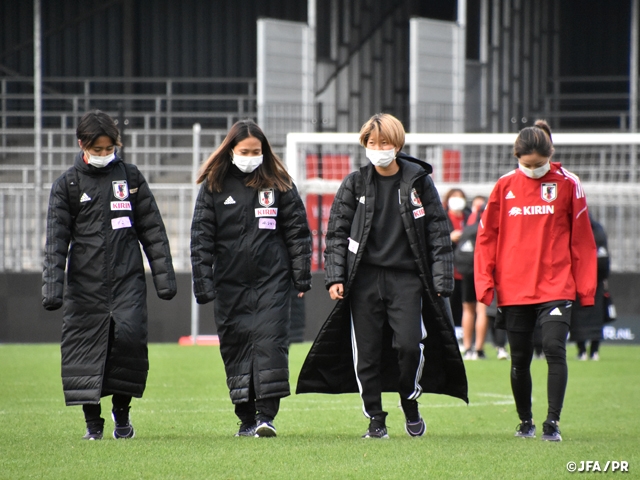 Coach and players' Comments
IKEDA Futoshi, Coach of Nadeshiko Japan (Japan Women's National Team)
I'm really looking forward to our first match. We have been going over the team goals since starting the training camp in October, and with new players helping to develop the team, quite frankly, I am really excited for this team. This international friendly match provides us with a valuable opportunity to build on what we have been working on while also analysing our opponent. We are also thinking about building a training menu that takes into account of our opponents for the AFC Women's Asian Cup. In our last training camp, we emphasised on "winning the ball" in our defensive part of our game. This time we are trying to take the next step in our offence, while mixing trainings that are aimed towards a specific opponent and higher intensity level.
The players have been showing great energy on the pitch and they are actively searching ways to contribute for the team. They are also showing a very positive attitude, which makes me feel that the team is making a forward progress, one step at a time. We don't know if Iceland will change anything tomorrow, but they have strong and fast players in the flanks. The more we try to stay compact, the more we will have to deal with their speed down the line and crosses from the flanks. That is one of the aspects we have been sharing as a team to make the most of our strong points. As we work on different concepts in both offence and defence, I feel that the players are more focused on "winning the ball." We are asking the players to get closer to the ball and to stay with the ball even when the opponents are moving the ball around. In the past, I think we've given the opponents too much space to work with, so I have been telling my players that we need to close down the gap a step closer. While going over films of our past matches, we also talked about how we need to take a collective approach to press and cover to win the ball. If we can win the ball in the opponent's territory, we are much closer to the goal. We have been emphasising the importance to win the ball, so that we can increase the number of our attacks.
As mentioned earlier, this will be the first match for the new Nadeshiko Japan. I'm looking forward to seeing how this team performs against European teams, as well as to seeing what we can achieve and what we need to do to improve as a team.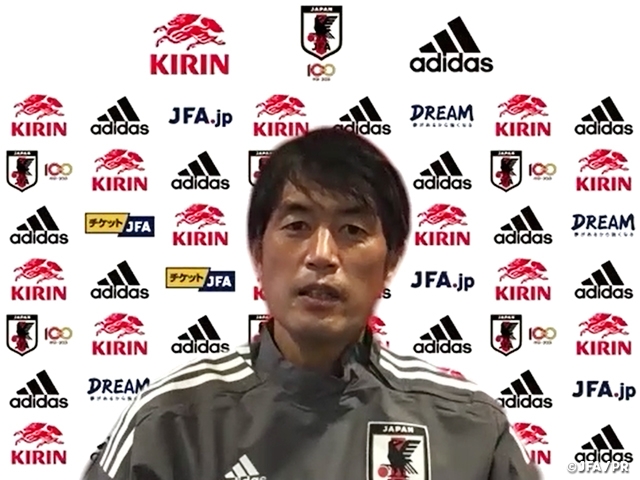 DF #4 KUMAGAI Saki (FC Bayern Munich/Germany)
We have a new coach and a new team. With a different approach, style, and vibe, I'm really looking forward to this match. We've trained for only two days, but they were held under a positive atmosphere, and I think we're off to a good start as a new team with new goals. With the AFC Women's Asian Cup fast approaching, we feel very fortunate to be given this opportunity to play against two European teams, and we are very grateful to be here despite the current situation. We still have lots to improve as a team, so we hope to push ourselves and make challenges to raise the overall level of the team. I don't think we'll get it right the first time, and we will make mistakes, but we're going to try to challenge ourselves individually and as a team with a purpose. We have been holding meetings every day before training, and I think it is very important to keep the team on the same page in terms of the direction we are heading and how we are going to achieve our goal together. I think we have been able to challenge the points that coach Ikeda has been stressing, such as "defending to win the ball" and "being aggressive from the frontline," and we hope to showcase that on the pitch tomorrow.
DF #22 TAKARADA Saori (Washington Spirit/USA)
This is the first international match since coach Ikeda took over, so I want to communicate with my teammates and try to make the most of each match. I have been allowed to play several positions at my club, so I hope I can showcase my usual performance regardless of where I play. As a team, we are striving to play aggressively with a total football approach, and with strong determination to win the ball. I was given limited playing time in the Tokyo Olympics, and it made me feel that I had to do more in order to earn more minutes. The overall level of the sport has gone up, and it made us realise that we need to develop both technically and physically to win the World Cup. In order to reach a higher level, we need to change the way we approach the game. I am more eager to earn results even from my daily trainings with my club, and I think it's important to always think about what we have to do to win.
MF #7 SUMIDA Rin (Mynavi Sendai Ladies)
This will be our first international match under the new regime, and although we will be playing with a lot of changes, I will focus on staying aggressive to challenge new things. I am sure that it will be difficult to keep everyone on the same page, but we will actively communicate with each other to make the adjustments on the pitch. We have been holding meetings to share ideas and plays before entering each training session. In the past matches, Japan has always possessed the ball, but couldn't find ways to score goals, so we need to play more aggressively and become more eager to score goals. It is not just the forwards who need to be aggressive, but the defenders must also make runs from behind to create chances. We know from the start that we have a disadvantage in physicality when playing against foreign teams, so we must not let that be an issue, and try to overwhelm our opponents by showcasing a strong and aggressive football style. I know that the style of football is a bit different in Asia and Europe, but this is a very rare and valuable opportunity for us to play against foreign teams, nonetheless. It is not that we want issues, but we hope to challenge ourselves both as a team and as individuals, so that we can find what we need to do to improve ourselves.
MF #8 NAOMOTO Hikaru (Mitsubishi Heavy Industries Urawa Reds Ladies)
Through the training camp held in October and the training sessions we had over the past two days, we were able to understand what the team is striving for. We will now try to execute the game plan on the pitch and find out what we need to do in order to showcase the football style we are aiming for at the AFC Women's Asian Cup. If I am given the opportunity to play as a defensive midfielder, I will try to win the battles in the midfield, while also adding layer to our offence. I must focus on winning the ball, providing coverage to win the loose balls, and dropping back to apply pressure to the opposing attackers. As a team, we will try to increase our chances of scoring goals by increasing the number of times we enter the box and try to score goals from a closer range. We have been holding meetings to go over different scenarios and trying to incorporate them during the training sessions, so if we can keep ourselves on the same page, I think our chances of scoring will increase.
International Friendly Match
Nadeshiko Japan vs Iceland Women's National Team
Date: Thu. 25 November 2021, 19:40 (Fri. 26 November 3:40 Japan time)
Venue: Yanmar Stadion (Almere, Netherlands)
TV Broadcast: Live on BS Fuji