NEWS
Coach Takakura of Nadeshiko Japan announces squad for Paraguay and Panama matches
02 April 2021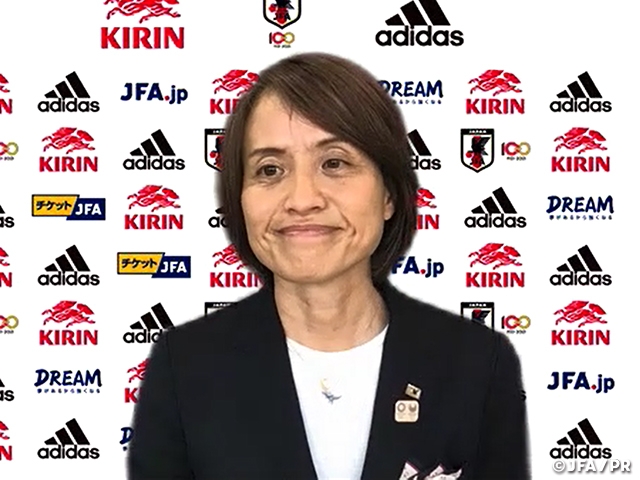 On Thursday 1 April, coach TAKAKURA Asako of the Nadeshiko Japan (Japan Women's National Team) held an online press conference to announce the team squad for their match against Paraguay Women's National Team at Yurtec Stadium Sendai (Miyagi) on Thursday 8th and Panama Women's National Team at Japan National Stadium (Tokyo) on Sunday 11th.
Last season's Nadeshiko League MVP and top scorer SUGASAWA Yuika (Mitsubishi Heavy Industries Urawa Reds Ladies) was named in the squad, along with familiar faces, such as SAMESHIMA Aya (Omiya Ardija VENTUS) and SHIMIZU Risa (Nippon TV Tokyo Verdy Beleza).
18 year-old KINOSHITA Momoka (Nippon TV Tokyo Verdy Beleza), who was called-up for the team's recent training camp at Kagoshima, was also included into the squad, as well as HAMADA Haruka (Mynavi Sendai Ladies), who was only second to Sugasawa in the Nadeshiko League scorer ranking. When asked about these two players, coach Takakura mentioned, "They share great technique and speed, which will allow them to contribute for the team in both offence and defence. However, we will have to assess their compatibility with the team within the limited time frame, but they are still young, so I want them to give their best efforts in these matches."
Players like IWABUCHI Mana (Aston Villa/England), HASEGAWA Yui (AC Milan/Italy), and TAKARADA Saori (Washington Spirit/USA), who recently transferred to clubs overseas were also selected into the squad, as the coach commented, "I'm interested to hear about their experiences overseas. I hope they can share their new perspectives on Japanese football and the difference they noticed after playing overseas.
The team's defensive leader, KUMAGAI Saki (Olympique Lyonnais/France), was left out from the squad due to travel restrictions caused by the ongoing pandemic. The Japanese coach is hoping that someone will step up to fill her shoes, "We have plenty of team depth, where we don't have to depend on a single player. So this should an opportunity for other players. It will be great for the team if someone can step up in one of these matches."
Regarding their two opponents, the coach mentioned, "They may be ranked lower in the FIFA ranking, but it doesn't mean that these matches are going to be easy for us. The longer we can keep the ball, the more we can check on our offensive combinations and individual efforts. Also, good offence comes from good defence, so this will be a great opportunity to assess the overall balance of this team."
To conclude the online press conference, coach Takakura shared her aspiration towards the match, "Although many restrictions still apply to prevent the spread of COVID-19, we will try to communicate with each other as much as possible. Our team strength lies on our ability to work together as a team under any circumstance, so we will continue to fight as a team."
Comment
TAKAKURA Asako, Coach of Nadeshiko Japan
We were looking forward for this international friendly match, which will be our first official match in nearly a year. I am grateful to the healthcare workers for their efforts to combat the virus on the frontline, which is allowing us to hold these matches under the current situation in Japan, where various activities are restricted, and the future is still uncertain. We have carefully conducted our activities since October and held our training camp in Kagoshima in March. The players are now more appreciative of their opportunities to play football, and while the young players brought energy, the veterans brought power to this team. We went over our fundamentals, polished the details, and communicated with each other to get ourselves on the same page. I feel that this squad gives us the best opportunity to prepare ourselves for the Tokyo Olympics. The players were selected comprehensively, assessing their skills, speed, power, understanding of football, and their ability to express themselves. Of course the final roster is yet to be determined but knowing how much effort was put in to assemble this many players, including those traveling from overseas, we have the obligation to make the most of this opportunity. We are also grateful to both teams from Paraguay and Panama for making the arrangements to travel all the way under this current situation. We are hoping to showcase an improved version of Nadeshiko Japan and deliver positive vibes to our fans and supporters through these matches.