NEWS
Interview Part 1: New Nadeshiko Japan coach TAKAKURA Asako sure about Japan's emergence long time ago
29 May 2016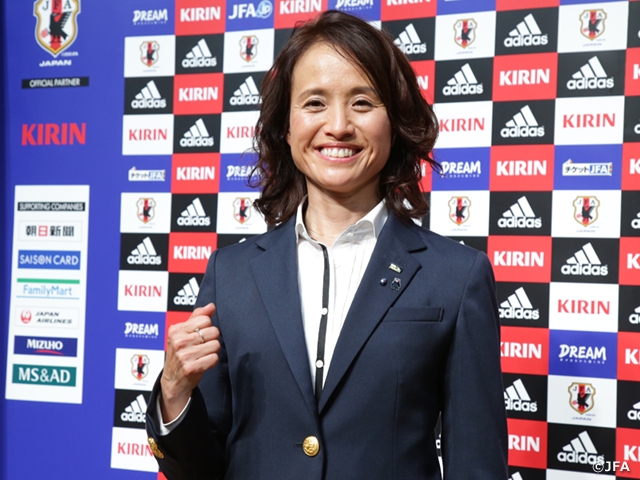 Nadeshiko Japan (Japan Women's National Team) took a new start under new coach TAKAKURA Asako in April. The new coach competed in 79 games for Japan in two FIFA World Cups and an Olympics, scoring 30 goals, while she played for clubs, both domestic and foreign, to build the foundation of Japan's women's game. As a coach, she's in charge of the development and underage categories and guided the national team to the championship in the 2014 FIFA Women's U-17 World Cup in Costa Rica.
We asked coach Takakura about her thought for her own career as a player, current trends in Japan and the rest of the world, and how she intends to build her own team. We are going to have a two-part interview with her, who debuts with Nadeshiko Japan in a trip to the United States in June.
Q: The domestic circumstances have drastically changed since you were a player, but what kind of motivations did you have as you were playing?
The Japan women's football league was formed back in 1989 when I was 21 years old. Before that, there were regional cup tournaments in Shizuoka and Kariya, Aichi Prefecture, but the all-Japan women's football championship (now dubbed as the Empress' Cup) was the only national tournament and we would prepare for that taking a whole year. Nobody really cared about the game played by women, but I don't think that no other countries had a legitimate domestic league in the world, so our league was a league that people who were involved in women's football and they courageously created, and I believe it was the biggest element that had eventually developed the women's game in Japan.
We were just playing thinking that we wanted to get better, wanted to win next, we wanted to play with good teammates. The basic mind-set for football wasn't any different from those who play today. What is different is the environments surrounding it.
I had a thought that I wanted to be able to play against the world when we would have a chance. I played for BELEZA (predecessor of NIPPON TV BELEZA) and the team was conscious of the rest of the world at that time, and I naturally came to think that way, too. We weren't at the same level to play on par against Norway or the United States, who were at the highest level then, but Japan was barely made it to the Olympics and World Cup and managed to make the final eight. We weren't able to break the barrier from there up.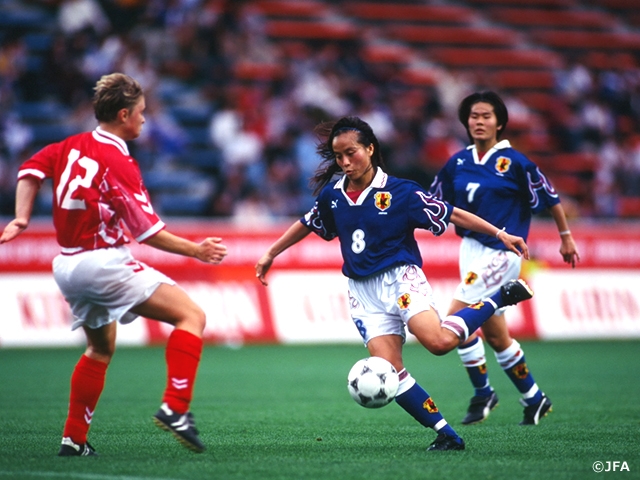 Q: That time, how did you feel about the distance between Japan and the rest of the world?
I felt that you can't play with just your techniques with your legs against their athleticism, speed and power. They were one step above us in terms of their physicality as athletes and it was like were junior high students and they were high school students. Now we have developed our techniques, strategies and collectiveness while our physicality has also improved, so we can now compete with them a little better. But at that time, we didn't have the collectiveness and ability to play as a team like we show today. Yet I thought that I was developing and then could compete on par even when I played against the United States.
Q: On what part in particular, did you feel that way?
When we were doing really well regarding our techniques and combinations, even if we were a little behind physically, we could manage to overcome that. Because you don't have to bang your body with your opponent, if you develop those areas, I was sure that you can do it, do it better, that's how I felt.
I and Japan as a whole weren't mature enough to catch up with them that much yet, but SAWA Homare and other players after her picked up experience both in the domestic and foreign leagues, and polished those. As the J. League was formed and it created more opportunities for people to watch football and the demands for training and other stuff have changed, the base that are required in Japanese football was raised and I thought it was big as well. I feel the players now are doing what I thought we would be able to capitalize on 20 years ago. But I didn't expect we would catch up this quick.
Q: It was quicker than you thought?
It was. Japan's championship-winning feat in the FIFA Women's World Cup came in 2011. However you were believing, because other countries were improving as well, you can't have the results you want unless you keep developing as the whole Japan. It was possible for us because this is Japan. Of course we had very good players on that championship team, but so many foreign-born players used to play in the Japanese league and it was all about the effort that the league and federation compiled. Going forward, because as I said we have compiled things, when you lose a fragment of it, you could fall down all of a sudden. We have some good young players, too. But other nations have put a lot of effort as well, so it won't be easy.
As the coach for Nadeshiko Japan, I have the responsibility to send my players to the pitch, drawing the best out of them. I am thinking of how I can get the best out of them so we will have some extra power. But you can't do this alone, so I will get help from outside and hopefully we will form a good team.
Q: Because you thought Japan would have things they can capitalize on to compete with the world, you played for a long time and then sought after an opportunity to be a coach afterward?
Being a player, I kept thinking I could be better and I continued to play until I was 36 years old. I was 28 at the Atlanta Olympics and I was left out of the national team after the Games because the then-coach attempted to bring in some younger players, but I got to understand football better and improved from that point on, so I think I was at my peak from the point until when I got hurt at age 32. It left me a little disappointment because I could not try out for the national team once again. But I wasn't thinking of becoming a coach yet.
Q: So what made you become a coach then?
About two years after I retired as a player, UEDA Eiji, the ex-director for the women, asked me to support the developmental generation and I accepted it. That was the beginning. I saw kids playing with serious looks. It was when I didn't know much about how to coach, but I thought I wanted to teach what I'd learned. From the point on, I was involved for the U-16 and U-17 generations and with the utmost effort by the players, our team captured the title in the U-17 Women's World Cup.
Q: Now you have moved from the younger categories to the top category. Do you find it fun to coach the different category or difficult?
When I led the younger teams, I was often told that it would be hard to coach the players in their sensitive time of their life, but I didn't think that way all that much. After all, they are all football players, and they all wanted to get better in football.
The U-20 players can say what they think and understand what they are good at, but at the U-16, U-17 generations, they are like, "Maybe I'm good at this and that, but I'm not sure I'm right." So you have to clearly tell them what they have to do. For the adults, they have their own traits, so when you think differently, you have got to talk with them.
For works like FIFA's Technical Study Group, I talk to coaches from so many different countries, but Japan is really well respected. Japanese are technical, small built but do their best, clever, everybody devotes to the team and they don't give up until the end - I think those attitudes impress everybody.
Japan advanced to the championship game in last year's Women's World Cup in Canada, and people were surprised why they made it possible. But the players had piled up experiences and learned how to win, and played smartly. I have high expectations for those with the experience and younger players have to threaten them, so I intend to urge them.
(Continued to Part 2)