NEWS
Nadeshiko Japan's new coach TAKAKURA Asako "We aim to play football that can lead the world"
28 April 2016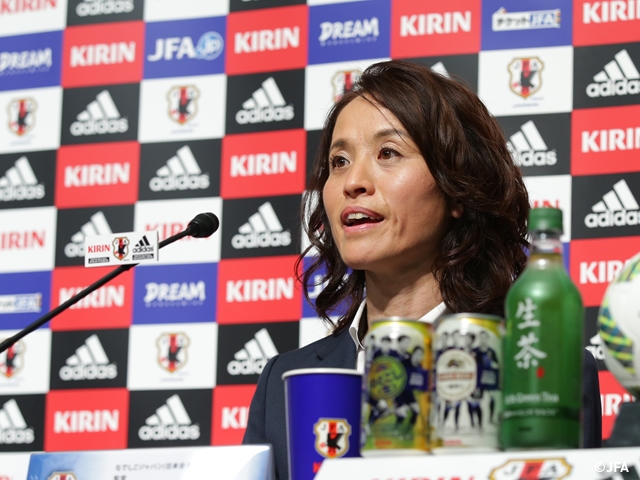 The Japan Football Association announced on Wednesday 27 April that the current coach of the U-20 Japan Women's National Team, TAKAKURA Asako, also took the new coach position of Nadeshiko Japan (Japan Women's National Team). Takakura, the first-ever female coach to lead Japan's top category team, spoke of her aspiration at the press conference at JFA House in Tokyo. "Not only performing well at the World Cups and Olympics, we aim to play football that can lead women's football in the world."
As a player, Takakura, 48, played for YOMIURI SOCCER CLUB BELEZA, currently known as NIPPON TV BELEZA, and also in USA. Making her national team debut at age 16, she appeared in 79 international matches including two FIFA Women's World Cups (1991, 1995) and the Olympics (1996) and scoring 30 goals. She is undoubtedly one of the pioneers who laid the foundation of present women's football.
Since 2008, she taught a few different age categories of national teams before taking the coaching position of the U-16 Japan Women's National Team. She immediately won the AFC U-16 Women's Championship in the same year. The next year she brought the first FIFA U-17 Women's World Cup title back to Japan and now is the coach of the U-20 Japan Women's National Team. The team are already destined to play in the FIFA U-20 Women's World Cup starting in November as the Asian champions, where Takakura also leads the team as the coach.
The Japan Football Association president TASHIMA Kohzo said of his great expectation, "there was nobody else. I am happy that she accepted our offer. We want the team to get started for the FIFA Women's World Cup in 2019 and the Tokyo Olympics in 2020. Nadeshiko Japan's victories can help greatly the development of women's football."
Coach Takakura said of her new challenge with Nadeshiko Japan, "the players who followed my generation accomplished such a great feat. I was thinking that I would take it if the baton would come back around to me. It's an honour." "I want to incorporate the players who accomplished so much already with younger players and build new and stronger Nadeshiko Japan. I want to pursue the football only Japan can embody," added the new coach assuredly.
Speaking of her standards to select players, she said "the standard is to select the players who are showing their best performance at the time of selection to the national team. I don't want to cut off any player just because of her age. I want to build the team as I have players compete against each other."
Her first opportunity as the coach to lead Nadeshiko Japan is the two matches against the USA Women's National Team during Japan's trip to USA in June.
As for those upcoming matches, Takakura said "Our big goal is to get a medal at the Tokyo Olympics in 2020. We want to get started for that as soon as possible. We can't get any better opponents for that than the #1-ranked USA. I want to see what we can do with what we have right then and what we are missing."
JFA Women's Committee chairperson IMAI Junko added "We need to take more advantage of the international match calendar and increase the amount of national team activities." She indicated that they would cooperate with the Nadeshiko League in planning the national team schedule.
Comments
TAKAKURA Asako, coach of Nadeshiko Japan (Japan Women's National Team)
It was frustrating and disappointing that Nadeshiko Japan lost in the Olympic qualifiers the other day. But it doesn't degrade countless achievements that coach Sasaki and his players had piled up. They are still impressive achievements. I think my role is to polish what has already been built and take the players to an even higher place.
Japanese are good at working on details, hard-working and clever as well as willing to work for others and for more than the sum of its parts. Those were the driving forces for the FIFA Women's World Cup 2011 won by Nadeshiko Japan. As we keep taking advantage those characteristics, I want to pursue with my players the football only Japan can embody.
Recently, countries play against each other well equipped with knowledge of what each country can do. Without compromising our own style, we need to better our aggressiveness toward goal and combinations in the penalty box. We also need to get better on defence both as a team and individually. In order to polish our aggressive football both offensively and defensively, we want to have players keep thinking and making their own judgements on the pitch and play football in which everybody on the team works collectively.
TASHIMA Kohzo, President of the Japan Football Association
I am very happy that coach Takakura accepted the position of Nadeshiko Japan. It could have been a foreigner or a male coach, but coach Takakura just had the biggest potential to help Nadeshiko Japan win and she has had a wonderful career already. They resulted in this appointment. We want the team to get started for the FIFA Women's World Cup in 2019 and the Tokyo Olympics in 2020, and we also will support them in all facets of the activities to help both Nadeshiko Japan and the U-20 National Team perform well.
I think we should have women take a bigger part of our future. The number of registered female players increased 150% thanks to the World Cup in 2011, but it is still the 5% of all the registered players. While I already talked with Women's Committee Chairperson Imai about designing a long-term master plan to make the figure go up to 30%, Nadeshiko Japan's victories can help more than anything else the development of women's football. I have a great expectation that coach Takakura and her players will do well.
IMAI Junko, Chairperson, Japan Football Association's Women's Committee
Nadeshiko Japan missed the spot in this year's Olympics, but we would like to use this as our steppingstone and make a dramatic improvement without stopping here. Our women's committee has had multiple discussions on reflections on our past and our future direction. Based on them, we reached this conclusion on the new coach for Nadeshiko Japan.
Coach Takakura has experiences in playing in the Olympics and the World Cup as a player and also as a coach she has made outstanding achievements including winning the AFC U-16 Women's Championship, the FIFA U-17 Women's World Cup and the AFC U-19 Women's Championship.
In addition, with her coaching experiences among young generations, she has a wide knowledge of standards of not only Japan's but also the world's elite young players. Also with visiting and analysing many international tournaments as a member of FIFA's and AFC's technical study group, she possesses her own vision of the stages she is about to step onto. She is strongly passionate about Japan's women's football and capable of taking Nadeshiko's football to the next level. We as the women's committee will support her and her challenge as much as we possibly can.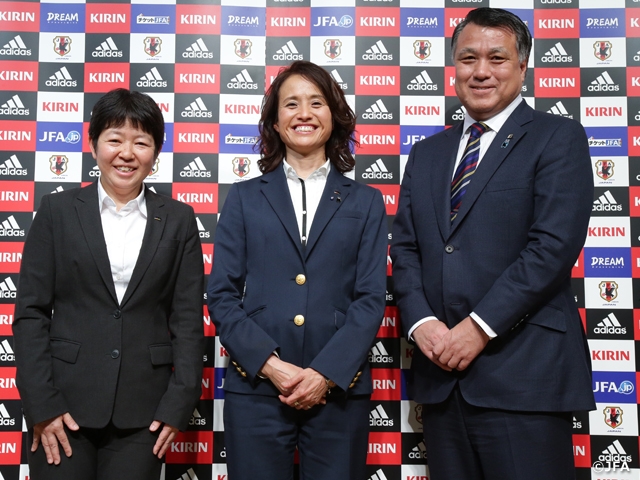 JFA-TV (Japanese version only)