NEWS
Nadeshiko Japan announce roster for FIFA Women's World Cup, aiming to keep their style for back-to-back title
02 May 2015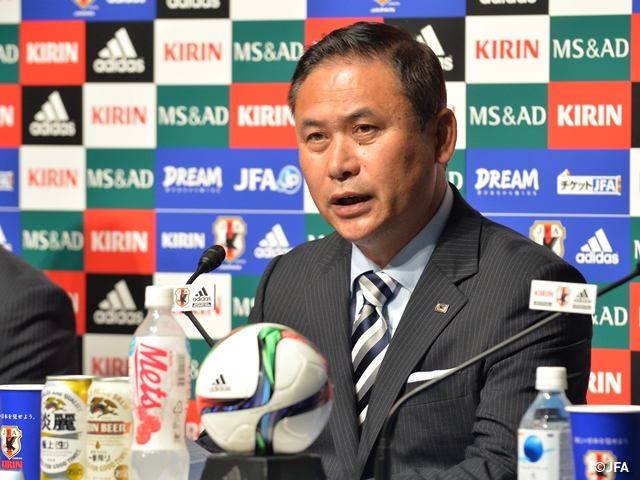 At JFA House in Tokyo, Sasaki Norio, the head coach of Nadeshiko Japan (Japan National Women's Team) announced the roster for the FIFA Women's World Cup Canada 2015. He explained his selection, saying "Playing for a consecutive title is the privilege only we Nadeshiko Japan can have. We selected these players because these players are able to play our Nadeshiko style until the very end without ever giving up."
The 23-women line-up lists 17 players who were on the world champions squad at the last World Cup in 2011 including midfielders Sawa Homare (INAC Kobe Leonessa) and Miyama Aya (Okayama Yunogo Belle) and defender Kumagai Saki (Olympique Lyonnais) while the rest of the six players includes defender Kawamura Yuri (Vegalta Sendai Ladies), midfielder Nagasato Asano (1.FFC Turbine Potsdam) and forward Sugasawa Yuika (Jef United Ichihara Chiba Ladies).
For Sawa, the last tournament's Most Valuable Player with the most goals scored, it was the first time to put on the national team kit since the AFC Asian Cup in last May. Her appearance in the six consecutive World Cups will be the most among all male and female players in the world.
According to coach Sasaki, the team consist of players who "think highly of playing all-round game and possess well-balanced quality on and off the pitch", and it is designed to challenge for the back-to-back championship. Speaking of Sawa, he said she "concentrates throughout the 90 minutes and dedicates everything in her body, not just her skills and craftiness, without any hesitation. With her on the roster, the team can be stronger and support captain Miyama."
He also pointed out that the emergence of the six players who did not experience either last World Cup or the London Olympics in 2012 will be essential for the success of the entire squad. "There is no doubt that these six players improving will energise the entire team," added Sasaki.
The experienced bench boss said with confidence "we haven't played so long with this group of players, but we have many experienced veterans. So I think it will not take long for us to jell and share the basic understanding. These players are great in adjusting themselves and they also have fundamental fighter's mindset."
For the big tournament, the squad will start a training camp in Japan from 18 May and play the MS&AD Nadeshiko Cup 2015 against New Zealand in Kagawa on 24 May and the KIRIN Challenge Cup 2015 against Italy in Nagano on 28 before heading for Canada where the World Cup takes place.
The World Cup begins in Edmonton on 6 June. This time the number of participating countries increases to 24, and those teams will first play through the group round where each one of six groups has four teams. Every group's top two teams and the four best third-placed teams advance to the knock-out round.
Japan in Group C will face Switzerland in Vancouver on 8 May, Cameroon in Vancouver again on 12 and lastly Ecuador in Winnipeg on 16.
Sasaki said of the upcoming matches "Switzerland we play in the first match are a very good team. That match will be an indicator for us in the tournament. We will make use of every minute and every second we have for preparing for the tournament."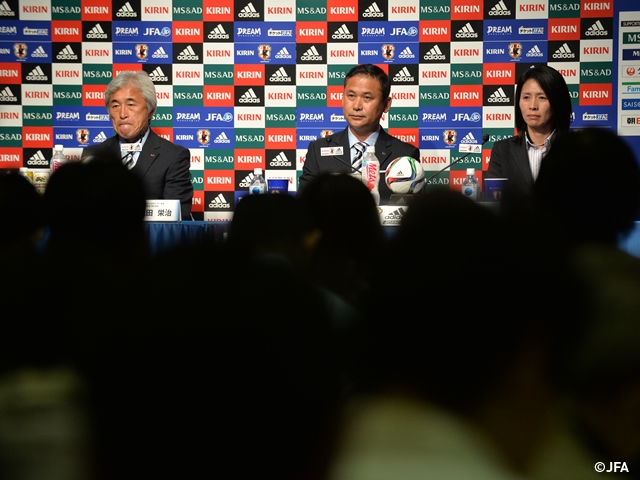 Comments
SASAKI Norio, Head Coach, Nadeshiko Japan
We want to keep playing in Canada without losing the challenger's mentality. Playing for a consecutive title is the privilege only we Nadeshiko Japan can have. All the 23 players and team staff together will play to provide energy, courage and hope to people in Japan one more time. We selected these players because we think these 23 players are able to play our Nadeshiko style even in tough situations without ever giving up until the very end. Young players have improved their skill level and we have tried to incorporate a few more new players into the roster, but at the same time experienced players show consistency. Considering that we want to win a back-to-back title, we thought their strength would be important.
Every country has improved, and individual skill levels have gotten better. Defending the title in such an environment will not be easy, but I think all we can do is work hard one more time to play our style of football. We will make sure that we will elevate ourselves through a camp in Japan. New Zealand who we will play against in Japan before the World Cup are very good team, and similar to Switzerland. Italy have high individual skills and in them we see our second (against Cameroon) and third matches (against Ecuador). We will try to get ourselves ready and be in good shape for the first match.
NODA Akemi, JFA Women's Committee Chairman
Japan head for such a big goal as defending the title, but ever since the first World Cup, Japan National Women's Team have always played against teams in the world with the motto "Never give up playing until the end. Always be challengers." We think all we need to do is to maintain this mentality and play against teams in the world just as Nadeshiko Japan have done. Having more first-time countries in the tournament can change each country's strategy, and also traveling and playing on artificial turf can sometimes disguise the scouting data we already have. So we need to prepare ourselves very well. We all will work together as one team and get ready for the tournament in order to play well and leave good results both for our future.
UEDA Eiji, JFA Women's Committee Vice Chairman
I personally think Nadeshiko Japan already lost the title of No.1 in the world when we lost to the United States at the London Olympics in 2012. Also in the Algarve Cup, we realized there is no opponents that we can easily defeat. We think we will go out for the World Cup with the mindset to challenge for the championship, not defend it. European and American teams have incorporated what we once were the best at. It is the skillful, collective and speedy plays. The key will be staying active at a high level both offensively and defensively which head coach Sasaki has been working on.
JFA-TV
MS&AD NADESHIKO CUP 2015
Nadeshiko Japan(Japan Women's National Team) vs New Zealand Women's National Team
Sun. 24 May 19:10 Kick Off(Estimated Time)
Kagawa / Kagawa Pref. Marugame Stadium
KIRIN CHALLENGE CUP 2015
Nadeshiko Japan(Japan Women's National Team) vs Italy Women's National Football Team
Thu. 28 May 19:20 Kick Off(Estimated Time)
Nagano / MINAMI NAGANO SPORTSPARK
FIFA Women's World Cup Canada 2015