NEWS
Tokyo Beleza claim 16th Empress's Cup title with dominant win over INAC Kobe - Empress's Cup JFA 44th Japan Women's Football Championship
29 January 2023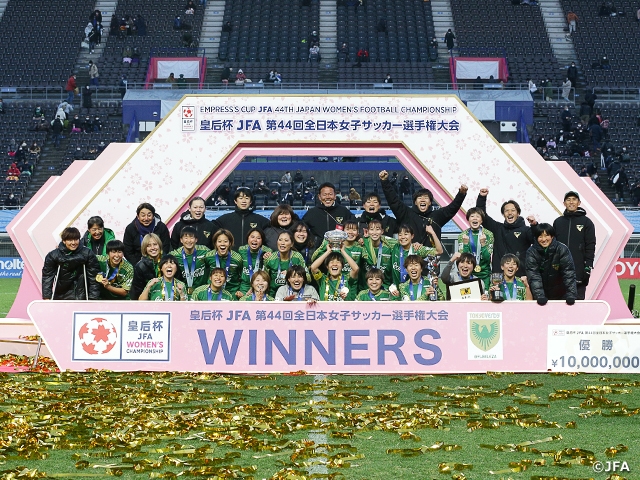 The Empress's Cup JFA 44th Japan Women's Football Championship final took place at Yodoko Sakura Stadium on Saturday 28 January.
Final
Nippon TV Tokyo Verdy Beleza 4-0 (1-0, 3-0) INAC Kobe Leonessa
The match between Nippon TV Tokyo Verdy Beleza (WE/Tokyo), currently ranked fourth in the WE League, and INAC Kobe Leonessa (WE/Hyogo), who are leading the WE League, kicked-off with the whistle of YAMASHITA Yoshimi.
Under a tense atmosphere, INAC Kobe created the first opportunity, with 19-year-old AIKAWA Haruna firing a shot that stuck the crossbar in the sixth minute. TAKASE Megumi also made an attempt in the 27th minute, but her shott was saved by Tokyo Beleza goalkeeper TANAKA Momoko.
Tokyo Beleza had a sluggish start to the match, but as it went on, they picked up the pace and scored the opening goal in the 39th minute. The goal was scored after MIYAGAWA Asato and FUJINO Aoba exchanged passes before UEKI Riko, who has now scored in four straight matches at this Empress' Cup, converted the cross delivered by Miyagawa.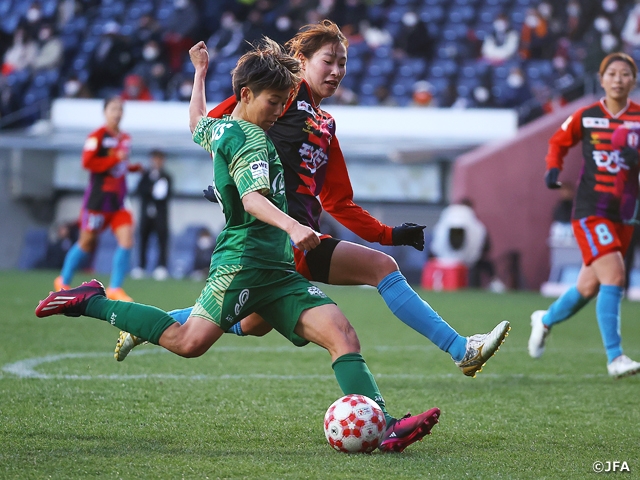 In an effort to fight back, INAC Kobe brought on YAMAMOTO Maya from the bench, but Tokyo Beleza scored the following goal, with Ueki converting KINOSHITA Momoka's corner kick in the 49th minute to score her eighth goal of the competition.
INAC Kobe sent TANAKA Mina off the bench in an attempt to rally back, but Tokyo Beleza displayed great composure to keep the Kobe offence at bay, as IWASHIMIZU Azusa demonstrated great coverage to intercept the pass of SAKAGUCHI Moeno in the midfield. After KOBAYASHI Rikako and Fujino added a goal apiece in the 81st and 90th minutes respectively, Tokyo Beleza won the match 4-0.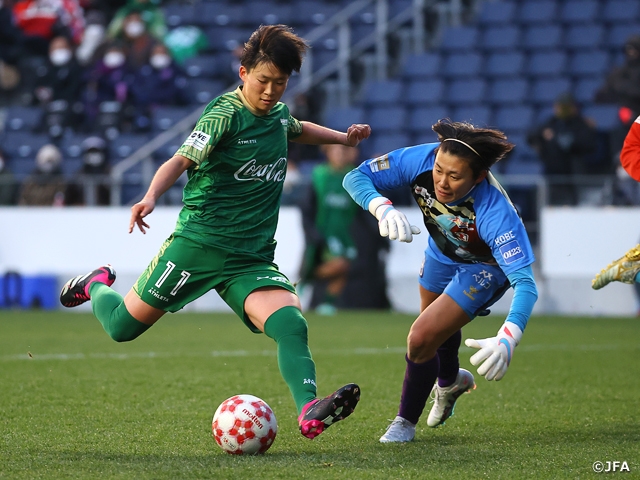 When team captain MURAMATSU Tomoko raised the cup at the awards ceremony, golden confetti flew through the air, as Tokyo Beleza claimed their 16th title, breaking its own record for the most Empress's Cup titles won by a club.
On this day, the JFA Magical Field Inspired by Disney Family Football Festival "First Touch" was held at Yodoko Sakura Stadium before the final. A total of 102 participants, 51 pairs of children ranging from first to third grade and their parents, took part in the event. The participants were then invited to the championship match, where they got a close-up look at Tokyo Beleza and INAC Kobe's fierce duel.
Coaches and Players' Comments
TAKEMOTO Kazuhiko, Coach (Nippon TV Tokyo Verdy Beleza)
I am very happy to have won the championship. It has been a long time since we won a title. The fact that we were able to defeat INAC Kobe, last season's WE League champions, at the final to win the Empress's Cup gives us a lot of confidence moving forward. I've repeatedly mentioned that we've improved as a team, but I'm very pleased that the players and our excellent coaching staff have come together as a team to prove that. It was great to score the first goal and the players did well to keep the opposing wingers at bay. We will continue to work hard so that we will be ready when the WE League resumes in March.
DF #3 MURAMATSU Tomoko (Nippon TV Tokyo Verdy Beleza)
The team was carrying a lot of momentum, and everyone was confident that we could take control of the game if we scored the first goal. The fact that we manged to score four goals while keeping a clean sheet gives us a great boost to our confidence. I strongly believe that the defeat we suffered in the League Cup final has led to our current growth and we would like to carry this momentum into the WE League.
FW #9 UEKI Riko (Nippon TV Tokyo Verdy Beleza)
This could be the happiest moment of my football career. The three attackers, including myself, made conscious efforts to keep the pressure on in the attacking third and despite going through some rough patches, we were able to prevail thanks to our defence. As the team got younger, there were times when we struggled to win matches. Although this is just another win for Tokyo Beleza, it was a significant win that represents a new start for us.
PARK Kang-Jo, Coach (INAC Kobe Leonessa)
We were completely outplayed. Although we were able to showcase our colour in the early minutes, we lost our composure after conceding the first goal. Once we were down 0-2, we couldn't possess the ball in the midfield and faced a lot of counterattacks. We are a little disappointed that we couldn't play our own style of football, but I am really proud of how far we have come, and I am grateful to the players for their efforts, even though it has been difficult to field a full team due to injuries and Covid-19. I told the players not to forget this disappointment and to return the favour in the league.
DF #5 MIYAKE Shiori (INAC Kobe Leonessa)
The result speaks for itself. We knew we were up against an offensive team, but we were totally outmatched today. We managed to hold off the opposing attackers with three in the back, but our opponents really did well to create and capitalise on the numerical advantages in the midfield. This match served as a timely reminder that we still have a lot of work to do. We need to step it up in all aspects in order to defend our league title.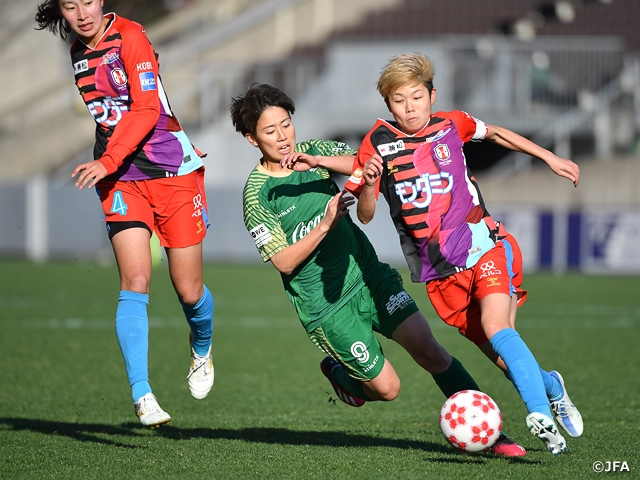 【Highlights】Nippon TV Tokyo Verdy Beleza vs INAC Kobe Leonessa
Empress's Cup JFA 44th Japan Women's Football Championship
Tournament Duration: Sat. 26 November 2022 - Sat. 28 January 2023
【1st Round】Sat. 26, Sun. 27 November
【2nd Round】Sat. 3, Sun. 4 December
【3rd Round】Sat. 10, Sun. 11 December
【4th Round】Sat. 17, Sun. 18 December
【Quarterfinals】Sun. 15 January 2023
【Semi-Finals】Sun. 22 January 2023
【Final】Sun. 28 January 2023