NEWS
Coach TEGURAMORI says prior to Sweden match, "winning world-level competition leads us to the final round"
10 August 2016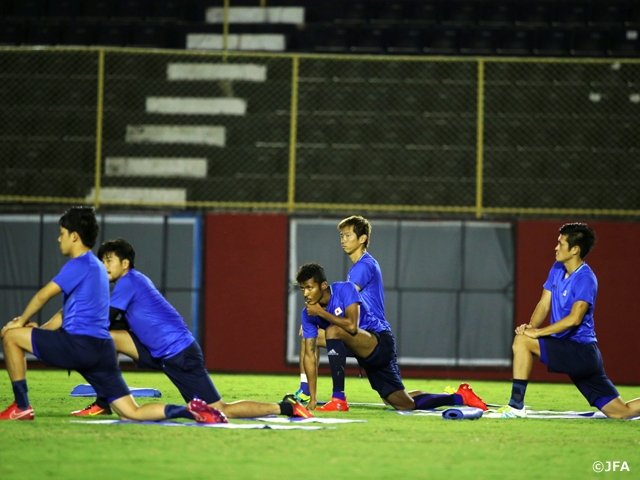 TEGURAMORI Makoto, coach of the Japan's Olympic squad in Rio de Janeiro, attended an official press conference on Tuesday 9 August at Fonte Nova Arena in Salvador prior to the last match of Group B to be played on the following day. He expressed his optimism: "winning the world-level competition tomorrow will lead us to the knockout round of the tournament. We want to play well collaborating between offence and defence united as a team."
After the first two matches, we currently stand with 1 draw and 1 defeat. Both Japan and Sweden share a single point, but Japan rank higher in third place due to total goals scored, chasing the second-placed Colombia with one-point difference.
Japan will go through if they beat Sweden and Colombia draw or lose in their last group-stage match. They also have a chance of advancing with a draw against Sweden, dependent on the score, if Colombia lose the next match.
Sweden, who are currently in fourth place, drew with Colombia 2-2 in the first match, and lost the second one against Nigeria 0-1. However, they still have the possibility of advancing to the final round.
Unlike Nigeria and Colombia that have individual players with high skills, Sweden play with excellent team organisation. They usually build-up offence by moving the ball around slowly. Their set plays utilising their height differential must be dealt with extra care.
Japan's coach Teguramori commented: "we want to keep our own pace in offence, not going along with their pace. If we can score the opener, we can make things happen. We'll play trying to score the opening goal."
Furthermore, he stated that he was encouraged by the fact that we played persistently even after conceding goals in the previous two matches. Then, he expressed his perspective on the deciding match: "it's vital that we keep up our passion to play and battle until the end. We want to make use of all we have in the next match."
Japan arrived in much cooler Salvador from Manaus, where it was hot and humid, in the early morning of the 9th. They had training session for one hour in the evening at the home stadium of EC Vitoria in Salvador. In this unique stadium that has a distinctive cone-shaped design, resembling even like a fortress, the players were divided into 2 groups and had passing drills. Overall, they looked relaxed at practice.
The starters of the previous match against Colombia had recovery sessions including stretching, while other players had agility training under the supervision of coach Teguramori. Goalkeepers practiced separately, which included saving drills against shots from middle range.
Meanwhile, forward ASANO Takuma (Arsenal FC) and midfielder MINAMINO Takumi (Salzburg) underwent different menu due to minor foot injuries, but they should be ready to play for the next match.
Asano commented: "the team's mood is good. I want to score and contribute to our victory." And, midfielder ENDO Wataru (Urawa Reds) added: "we should be aware of the importance of the opener and we need to score first to win the match."
The match against Sweden will kick off at 7pm on Wednesday 10 August (7:00 am on 11 August Japan Time.)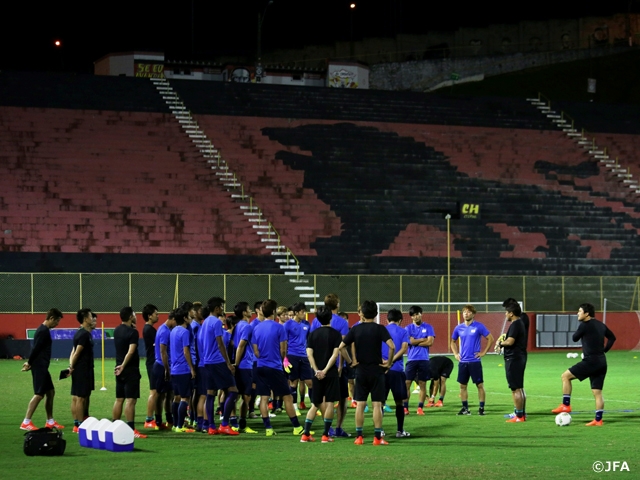 Coach and Players' Comments
TEGURAMORI Makoto, Coach
In the first match, the players were nervous in defence. In the second game, we conceded 2 goals, but we had a good match, playing with resilience. I feel that the players are getting familiar with each other's playing style. In the next match against Sweden, we have to be aggressive and make quick transition from defence to offence to attack effectively. But, at the same time, we cannot concede frivolous free kicks and allow them to score from set plays utilising their height advantage.
Sweden is a well-organised team. In the previous match against Nigeria, they played at a slower pace, building defensive blocks. We want to avoid playing at this pace and break through their defence with speedy attack. We can play patiently, when we are well-united. Since I am feeling that our team has been improving, I want to compete more matches with them.
In order for us to win the next match, it's vital that we keep up our passion to play and battle until the end. Furthermore, we should be reminded about all the support we receive from Japan and aspire to take home a win for our country. We need to refocus and remember why we are here again and show 'our spirit' in the next match.
MF #7 HARAKAWA Riki (Kawasaki Frontale)
In the previous two matches, we conceded the opening goals. Considering that we were able to score back, if we did not allow them to score first, the result may have been different. We all know the significance of the opener in an international match, so it is also important that we try our best to keep a clean sheet. We need to observe our opponents, finding those moments when we are in control of the game and turning them into actual score.
I feel that we have been getting stronger with each match. A win is a must for us to advance in the tournament. Thus, winning will be important for our team and every teammate's individual growth.
MF #3 ENDO Wataru (Urawa Reds)
In the previous match against Colombia, each one of us took initiative and defended aggressively. We want to keep our good efforts there. Pressing from the front line, stealing the ball in advanced positions and transferring them into quick counter-attacks will be significant.
It is important to keep our plays simple, including in one-on-ones, during when the opponents are in control of the game. In offence, we have got through on goal in many occasions, and we will keep doing so and increase the number of scoring opportunities.
DF #17 IWANAMI Takuya (Vissel Kobe)
Although we haven't won yet, we been playing resiliently. We still have the possibility to go through to the next round, so we need to win the next match. We haven't performed yet at our potential.
Prior to the next match, I will be well-prepared and ready to enter at any moment in the game. Given the opportunity to play, I will give my best effort on the pitch.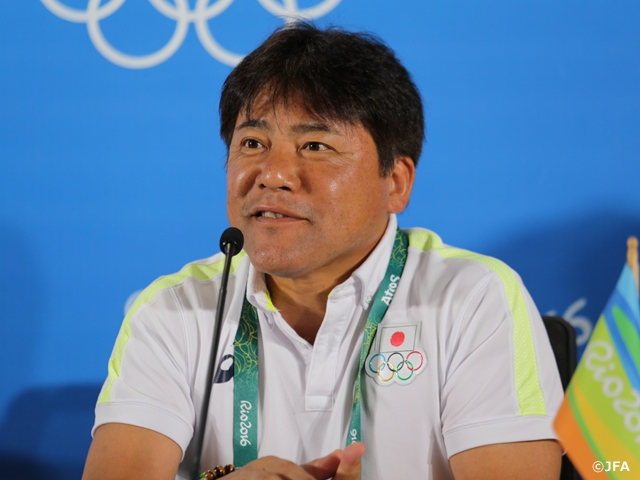 Schedule
Olympic Football Tournament Rio 2016
Thu. 4 August
4-5
Group B 1st Match
vs Nigeria (@Amazonia Arena)
[Japan Time: Fri. 5 August 10:00]

Fri. 5 August
TBC
Training
Sat. 6 August
TBC
Training
Sun. 7 August
2-2
Group B 2nd Match
vs Colombia (@Amazonia Arena)
[Japan Time: Mon. 8 August 10:00]

Tue. 9 August
PM
Official Training
Wed. 10 August
19:00
Group B 3rd Match
vs Sweden (@Fonte Nova Arena)
[Japan Time: Thu. 11 August 7:00]

*The following schedule determines to win and advance to the next round
Sat. 13 August
16:00
22:00
Quarter-Final (If Japan top the Group)
vs Group A 2nd (@Fonte Nova Arena)
Quarter-Final (If Japan 2nd the Group)
vs Group A 1st (@Corinthians Arena)
Sun. 14 August
TBC
Training
Mon. 15 August
TBC
Training
Tue. 16 August
TBC
Training
Wed. 17 August
13:00
16:00
Semi-Final (@Maracana/Rio de Janeiro)
Semi-Final (@Corinthians Arena/Sao Paulo)
Thu. 18 August
TBC
Training
Fri. 19 August
TBC
Training
Sat. 20 August
13:00
17:30
3/4-Place Playoff (@Mineirao/Belo Horizonte)
Final (@Maracana/Rio de Janeiro)
*Local Time
*The schedule is subject to change due to the team condition, the weather, etc.