NEWS
Japan's Olympic squad have light workout day after first match
06 August 2016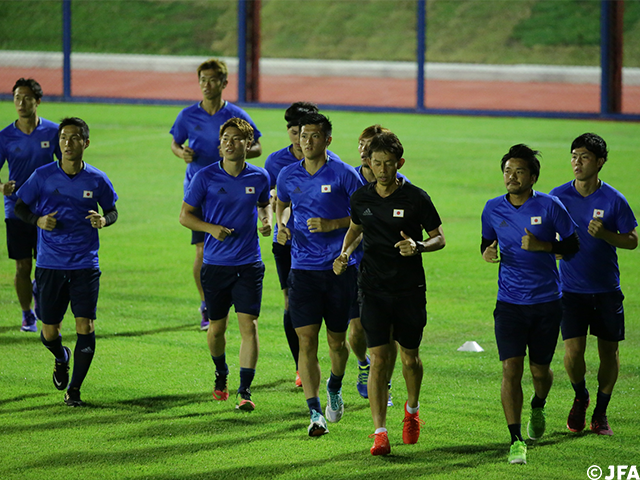 The Japan's Olympic squad had a training session in Manaus on Friday 5 August after their first Group B contest against Nigeria in the Rio de Janeiro Olympics.
With the hot daytime weather relieved by an evening squall, the players worked out in two groups. The starting squad in the Nigeria match spent their time for recovery with walking and stretching.
Meanwhile, the other players had a passing practice in a group of three before working on 3-on-3 drills. As they change the size of an area they play in, they focused on passing speed and swift transition between offence and defence as well as accuracy. They also had stretching and trunk training.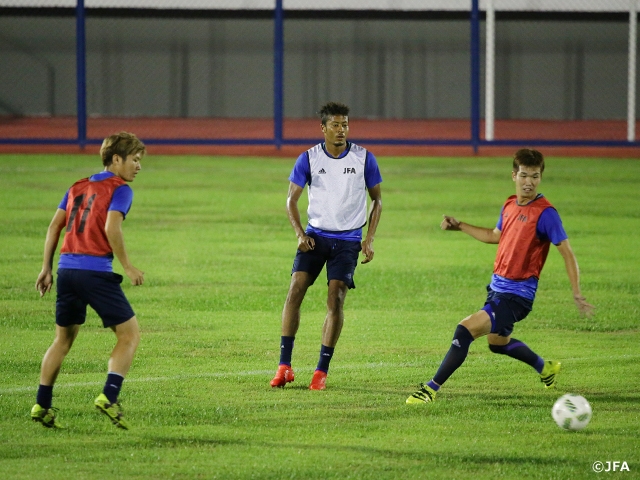 As back-up forward SUZUKI Musashi (Albirex Niigata) joined up with the team, forward ONAIWU Ado (JEF United Chiba) also showed up and participated in the team practice after arriving in Brazil yesterday afternoon to fill the vacant back-up member spot.
In the daytime, the squad had a meeting at hotel to deliberately review the positive and negative sides on both offence and defence in the last night's 4-5 defeat against Nigeria with video footage showing goal-scoring scenes from Japan and the opponents.
Defender IWANAMI Takuya (Vissel Kobe) says, "at the world level, you can't stay back and withstand every attack. You end up allowing them to break down with their individual skills. We realised that in the Brazil match as well. We've got to put pressure from the front."
Japan, standing in the fourth place in Group B after the first match, will face Colombia in their second match on Sunday 7 August at Amazonia Arena. The top two teams can qualify out of the group stage and advance to the quarterfinals.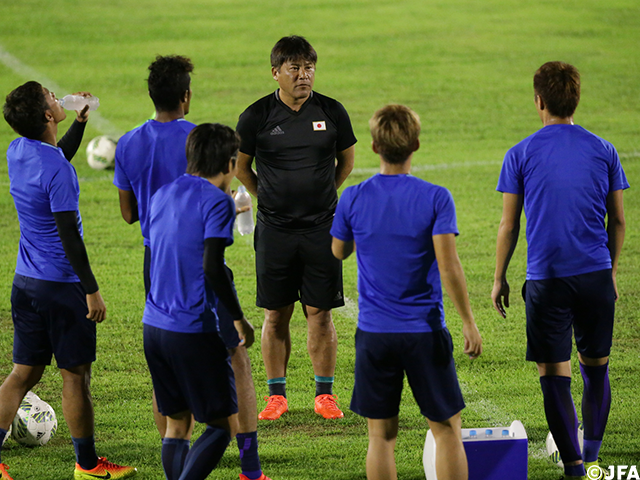 Players' Comments
DF #2 MUROYA Sei (F.C. Tokyo)
In the yesterday's match, we got rattled with an early conceded goal and allowed more goals through mistakes that we don't usually make. It was difficult as it was the first match, but we couldn't win battles for the ball most of the times, which forced us to play in a reactive way. We need to be more aggressive in the next match. Colombia got players with talent, so we should think about the defence first and lead it to our offence. We still have a possibility to advance out of the group stage. We will look forward and do our best.
FW #16 ASANO Takuma (Sanfrecce Hiroshima)
The goals we gave up yesterday weren't just one player's fault. We've got to start with defence as a team and lessen the number of goals scored against us. Yesterday, we didn't allow them to break down the defence most of the times, so we should've stopped their play beforehand. Whenever we have a chance to close down, we will try to do it a little more. We need to build a common understanding amongst teammates.
Our attacking was good, so we will try to keep it up. I'm on the pitch with a determination to make things happen. So if we can hold the opponents within a goal difference, I can go up and do my job (scoring goals). That's also my strength, I think.
MF #7 HARAKAWA Riki (Kawasaki Frontale)
As I felt on the pitch and also from the video footage at today's meeting, we allowed the opponents to keep possession of the ball for too long. I was feeling like it's hard to try winning the ball, but I should not have cared about the back and should have gone more aggressively. We couldn't make good use of what we learned in the Brazil match. Now that the issues are made clear, we need to sort them out by the next match.
My impression on Colombia is that they try to come and steal square and forward passes aggressively. Their speed after winning the ball is something unique to South Americans. We need to observe the opponents carefully and play accordingly.
DF #17 IWANAMI Takuya (Vissel Kobe)
Watching the Nigeria match from the bench, I felt that we would be able to calm the match down after we levelled the score soon after the opponents' goal. But they beat us with the first play after that. It was a match we could've won, and they were not the opponents that we normally would lose to. The five goals we gave up really came from our errors. I think our offensive players are feeling frustrated, and we should reflect on the five goals we conceded as a team. We could've put more pressure from the front. If we win the remaining two matches, there is a possibility of advancing. We have another match day after tomorrow so we need to refresh our mind for it. It was a poorly played match, and we will regret if we did nothing to improve it. We will prepare ourselves well to get results on the pitch.
GK #12 NAKAMURA Kosuke (Kashiwa Reysol)
Nigeria were capitalising on their strength. We made a string of mistakes, so we've got to improve on that. The only way to assure a spot in the final round is winning the remaining two matches. We need to take one match at a time.
Schedule
Olympic Football Tournament Rio 2016
Thu. 4 August
4-5
Group B 1st Match
vs Nigeria (@Amazonia Arena)
[Japan Time: Fri. 5 August 10:00]

Fri. 5 August
TBC
Training
Sat. 6 August
TBC
Training
Sun. 7 August
21:00
Group B 2nd Match
vs Colombia (@Amazonia Arena)
[Japan Time: Mon. 8 August 10:00]

Tue. 9 August
PM
Official Training
Wed. 10 August
19:00
Group B 3rd Match
vs Sweden (@Fonte Nova Arena)
[Japan Time: Thu. 11 August 7:00]

*The following schedule determines to win and advance to the next round
Sat. 13 August
16:00
22:00
Quarter-Final (If Japan top the Group)
vs Group A 2nd (@Fonte Nova Arena)
Quarter-Final (If Japan 2nd the Group)
vs Group A 1st (@Corinthians Arena)
Sun. 14 August
TBC
Training
Mon. 15 August
TBC
Training
Tue. 16 August
TBC
Training
Wed. 17 August
13:00
16:00
Semi-Final (@Maracana/Rio de Janeiro)
Semi-Final (@Corinthians Arena/Sao Paulo)
Thu. 18 August
TBC
Training
Fri. 19 August
TBC
Training
Sat. 20 August
13:00
17:30
3/4-Place Playoff (@Mineirao/Belo Horizonte)
Final (@Maracana/Rio de Janeiro)
*Local Time
*The schedule is subject to change due to the team condition, the weather, etc.