NEWS
Japan's Olympic squad hold final practice session in Manaus day after match against Colombia
09 August 2016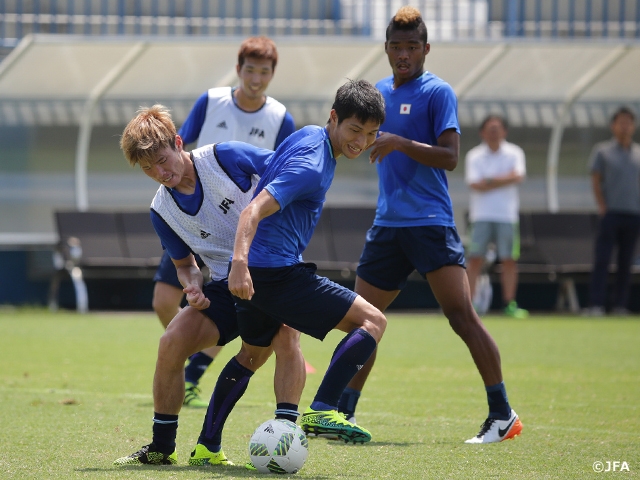 The Japan's Olympic squad, who are participating in the Rio de Janeiro Olympics, held the last practice session in Manaus on Monday 8 August, the day after their second game against Colombia.
Under the blazing sun, the players started their practice session with coach TEGURAMORI Makoto's encouragement: "we managed to keep our hope alive of reaching the quarterfinals. We can get stronger only by experiencing adversity. Let's practice hard today, believing that we can do something dramatic, and that's what we came for!"
Those, who had played against Colombia, did some walking and stretching to recover. ASANO Takuma (Arsenal FC) practiced separately due to fatigue. Other players did passing and controlling in a group of seven. Followed by possession training in 5-on-2 groups and getting through different formations, they finished by checking the details of combinations in 3-on-3 with one neutral player.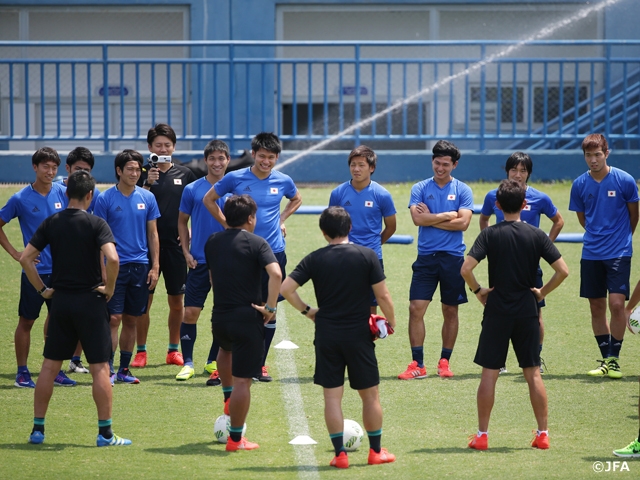 In the evening, the team flew from Manaus Airport to Salvador, the site for their third match, with the journey taking five and a half hours. It was less humid in Salvador with wind from the sea compared to Manaus. The players finished their day quietly, getting ready for the last practice session the following day in preparation for the game against Sweden.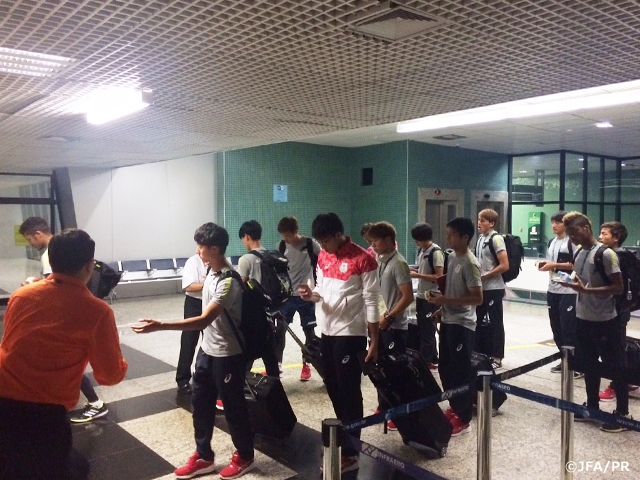 Players' Comments
DF #4 FUJIHARU Hiroki (Gamba Osaka)
Although we started our first game with some nerves, we created opportunities in the second one. However, I scored an own goal, giving away our victory. We were two goals behind, but managed to level the game and keep our hope alive. Personally, I'd like to shift my focus to the next match and be ready to perform at my best. In terms of attacks, we passed the ball around effectively in the second game with better communication. I believe that our offence is internationally competitive and we can play well against any opponents. We must win the coming match. So we're determined to win, giving our best in every play to score goals, attacking and defending united as a team. We'll play hard to advance to the next stage of the tournament. Your support will be much appreciated.
FW #13 KOHROGI Shinzoh (Urawa Reds)
We successfully broke through the opponents several times in the second half of the match against Colombia. Having said that, we couldn't find the tie-breaker, which must be improved. As we would have had to go home if we had lost, we played desperately to keep our hope alive for the third game. We've are refreshed. We'd like to prepare ourselves well to compete against Sweden. In offence, I believe each individual is capable of displaying his strength. As we allowed to score the first goal in both games, I hope we'll find our first to build up momentum.
MF #18 MINAMINO Takumi (Salzburg)
I came off the bench in the middle of the match against Colombia. Although we were two goals behind, we weren't worried and knew that all we needed was to score two goals. We built up momentum in the previous game, feeling that we could level the match. We learned how to play tenaciously in the last game. Despite our difficult situation, we were persistent and it was good that we managed to draw the game. The opponents threw everything into not conceding a third goal, but I believe we did have several scoring opportunities. We still need to brush up our final touch.
GK #12 NAKAMURA Kosuke (Kashiwa Reysol)
Although the match against Columbia was my first time to start a game in the tournament, I think I was able to play as normally I do. I was told to start in the team meeting on that day and felt really motivated, thinking "I can do it." I believe I contributed to the team a little bit. Having said that, the second goal we conceded was led by my mistake in clearing. So I'd like to prepare myself to perform better in the next one, if I have an opportunity to do so. I'll stay positive about the fact we still have a chance to advance to the final stage of the tournament, even though it depends on the result of the other match.
MF #10 NAKAJIMA Shoya (F.C. Tokyo)
As Colombia were stronger in defence than Nigeria, we stayed vocal so as not to become demoralised when we were two goals behind. I was determined not to give up. It's vital never to give up in this tournament. I was hoping to encourage the team mentally by keeping up my performance. We have to win the next game. So I'd like to lead the team as much as possible to victory. I want us to become the kind of team that could win tough, competitive matches.
DF #5 UEDA Naomichi (Kashima Antlers)
We've been conceding goals, which is a problem we need to fix. I regret that I might have been able to save the second goal in the game against Colombia, if I had judged the situation a little earlier. We found many areas to work on in the last two matches. So we'd like to improve on them, so that we can earn a victory in the final game of the group stage. If we keep a clean sheet, I believe our attackers will strike a goal. That's what we need to try. No one knows what may happen next. If we win the coming game, we still have a good chance of advancing.
Schedule
Olympic Football Tournament Rio 2016
Thu. 4 August
4-5
Group B 1st Match
vs Nigeria (@Amazonia Arena)
[Japan Time: Fri. 5 August 10:00]

Fri. 5 August
TBC
Training
Sat. 6 August
TBC
Training
Sun. 7 August
2-2
Group B 2nd Match
vs Colombia (@Amazonia Arena)
[Japan Time: Mon. 8 August 10:00]

Tue. 9 August
PM
Official Training
Wed. 10 August
19:00
Group B 3rd Match
vs Sweden (@Fonte Nova Arena)
[Japan Time: Thu. 11 August 7:00]

*The following schedule determines to win and advance to the next round
Sat. 13 August
16:00
22:00
Quarter-Final (If Japan top the Group)
vs Group A 2nd (@Fonte Nova Arena)
Quarter-Final (If Japan 2nd the Group)
vs Group A 1st (@Corinthians Arena)
Sun. 14 August
TBC
Training
Mon. 15 August
TBC
Training
Tue. 16 August
TBC
Training
Wed. 17 August
13:00
16:00
Semi-Final (@Maracana/Rio de Janeiro)
Semi-Final (@Corinthians Arena/Sao Paulo)
Thu. 18 August
TBC
Training
Fri. 19 August
TBC
Training
Sat. 20 August
13:00
17:30
3/4-Place Playoff (@Mineirao/Belo Horizonte)
Final (@Maracana/Rio de Janeiro)
*Local Time
*The schedule is subject to change due to the team condition, the weather, etc.