NEWS
Japan's Olympic squad drew 2-2 against Colombia
08 August 2016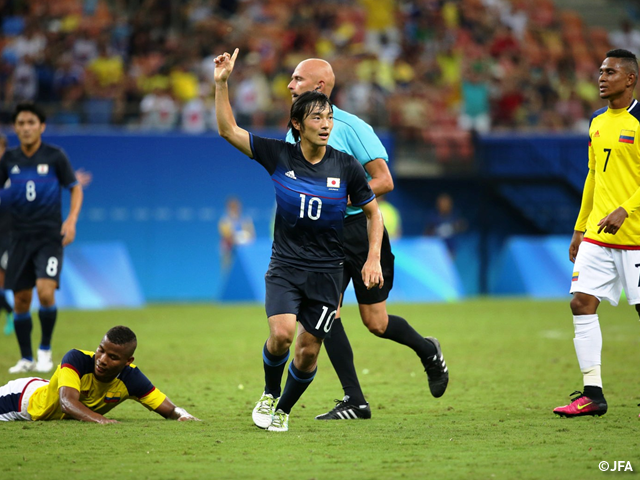 The Japan's Olympic squad had their second match of the Group stage of the Rio de Janeiro Olympics against Colombia on Sunday 7 August at Amazonia Arena in Manaus, Brazil. Japan earned one point by equalising from 2 goals behind.
As a result, Nigeria, who got their second win by beating Sweden 1-0, will go through to the knockout stage as the top team. Colombia with 2 points and Japan and Sweden with 1 point are trying to win the other spot. Japan will advance if they can beat Sweden and Colombia draw or lose in the final match of the group B on 10 August. If Japan draw with Sweden and Colombia lose, it will depend on the results of these 3 teams against each other.
"I want the players to get their confidence back", said Japan's coach TEGURAMORI Makoto. He selected the same defenders as the first match against Nigeria who beat Japan 5-4. He used a 4-4-2 formation, choosing 4 new players as the starters 11: Goalkeeper NAKAMURA Kosuke (Kashiwa Reysol), midfielder IDEGUCHI Yosuke (Gamba Osaka), midfielder YAJIMA Shinya (Fagiano Okayama), and forward ASANO Takuma (Arsenal FC/England).
Japan got the rhythm of play by stealing the ball putting aggressive pressure from the front line. Moving the ball well, Japan tried to score by Yajima's shot in the 11th minute. Furthermore, in the 34th minute, defender FUJIHARU Hiroki (Gamba Osaka) headed the crossed ball from forward KOHROGI Shinzoh (Urawa Reds), but both shots didn't hit the net.
In defence, Japan calmly responded to some of Colombian attackers including over-aged forward GUTIERREZ Teofilo, who was the member of the national team squad in the FIFA World Cup 2014, and forward PABON Dorlan, who can carry the ball to the front very quickly. In the 18th minute, Japan's goalkeeper Nakamura blocked the strong shot by BORJA Miguel, while other Japanese defenders demonstrated their physical toughness and defended tenaciously until the end of the first half which ended 0-0.
Right after the break, Asano intercepted a Colombian's pass and smashed a shot, only to be denied by the woodwork. One minute later, he then responded to a deep pass, but this time, the shot was blocked by the goalkeeper. Ideguchi and Yajima quickly responded to the blocked ball but were unable to find the net.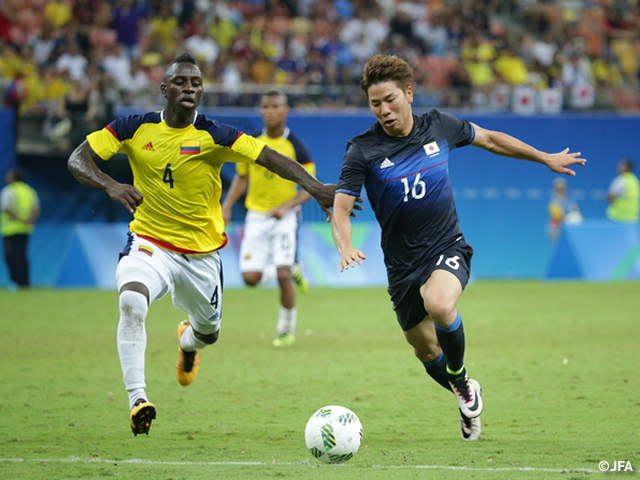 The opening goal was scored by Colombia; in the 59th minute, Gutierrez played a quick one-two pass with substituted forward Andres RENTERIA and fired a shot, which hit Japan's defeneder UEDA Naomichi (Kashima Antlers) and deflected into the net.
In attempt to equalise, Japan made substitutions. In the 62nd minute, Yajima was replaced by MINAMINO Takumi (Salzburg/Austria), while Ideguchi was substituted by midfielder OHSHIMA Ryota (Kawasaki Frontale).
However, Japan conceded another goal; in the 65th minute, Renteria got through on goal from dribbling, but the shot was denied by goalkeeper Nakamura. The blocked ball headed towards defender Fujiharu and his clear attempt, unfortunately, found the Japanese net.
Japan stepped up a gear. Right after conceding the second, in the 67th minute, Minamino received the ball from Ohshima and passed it to Asano. With his left foot, he smashed a shot successfully into net, scoring their first goal.
Furthermore, in the 74th minute, midfielder Nakajima with a perfectly aimed shot above and beyond the reach of opponents' goalkeeper found the net with his right foot, equalising the score 2-2.
Japan continued to attack seeking for a tie-breaker. In the 90th minute, substituted defender KAMEKAWA Masashi (Avispa Fukuoka) took a shot but was unsuccessful. In the additional time, Asano, running into a space behind the defenders, received a cross from Minamino, but his attempt could not find the net. Japan shared the spoils with Colombia in a 2-2 draw.
On Monday 8 August, Japan will move to Salvador where the last match in Group B against Sweden will be held.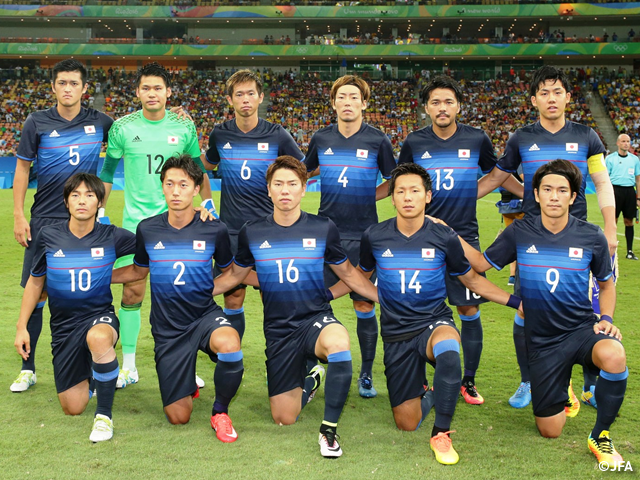 Coach and Players' Comments
TEGURAMORI Makoto, Coach
Looking at the overall performance of the match, we could have won today. It was regrettable that we conceded the 2 goals and ended up in a tie. In Japan, the expectation for this Olympics was not high considering that their national team did not qualify for the 2015 FIFA U-20 World Cup. However, this is a positive result considering that we earned a point from a title contender, Colombia, in this world class competition.
We understand that advancing to the final round is dependent on the result of others. However, I am positive about our performance in the last match of this group; we are getting better as the tournament goes on. Our approach of initiating offense from press defence in the front line has been improving. We will continue to do what we have done so far. Players, showing fatigue from the tournament, will rest well and recharge themselves in order to win the last match in the group stage.
DF #2 MUROYA Sei (F.C. Tokyo)
The first match was not a satisfying one for us. Today, we were better and played as we desired, especially in the first half, winning the battle for the ball. I think we sorted out the issues which had been found in the first match. After conceding two goals, we didn't have any choice but to score. We never gave up, and through hard work, we equalised. We want to take this as a positive in competing for the next match.
FW #16 ASANO Takuma (Arsenal FC)
We conceded the second goal by own goal, but none of us were negative; we all believed that we could equalise and turn the match around, because we faced and overcame many challenges in getting here. Considering our defenders played very resiliently, the result could have been different if we scored earlier. I felt responsible. We competed well and I really wanted to score a tie-breaker in stoppage time.
MF #3 ENDO Wataru (Urawa Reds)
Though incorporating lessons learnt from the loss against Nigeria, we have shifted our mind to today's match. From the first half, we played at our rhythm, putting pressure on the opponents. We were able to equalise in the second half. This is a positive takeaway for the next match. At the same time, we have been conceding goals and we need to make necessary adjustments prior to the match against Sweden.
In the next match, taking early initiative and scoring an opener will be important. There is no need to feel negative about today. We should 'keep up the good effort.'
RESTREPO Carlos Alberto, Coach (Colombia)
I am not satisfied with the match today, because the result does reflect our potential. We tried to improve from the first match, but Japan also played better. They did not allow us our defensive midfielder to move freely and he ended up being tired. In the second half, we tried different tactics, but there were many misplaced passes and tiredness became an issue. On the other hand, Japan were in good physical condition and their pass work was excellent. I felt that they had been well-prepared for the Olympics.
Schedule
Olympic Football Tournament Rio 2016
Thu. 4 August
4-5
Group B 1st Match
vs Nigeria (@Amazonia Arena)
[Japan Time: Fri. 5 August 10:00]

Fri. 5 August
TBC
Training
Sat. 6 August
TBC
Training
Sun. 7 August
2-2
Group B 2nd Match
vs Colombia (@Amazonia Arena)
[Japan Time: Mon. 8 August 10:00]

Tue. 9 August
PM
Official Training
Wed. 10 August
19:00
Group B 3rd Match
vs Sweden (@Fonte Nova Arena)
[Japan Time: Thu. 11 August 7:00]

*The following schedule determines to win and advance to the next round
Sat. 13 August
16:00
22:00
Quarter-Final (If Japan top the Group)
vs Group A 2nd (@Fonte Nova Arena)
Quarter-Final (If Japan 2nd the Group)
vs Group A 1st (@Corinthians Arena)
Sun. 14 August
TBC
Training
Mon. 15 August
TBC
Training
Tue. 16 August
TBC
Training
Wed. 17 August
13:00
16:00
Semi-Final (@Maracana/Rio de Janeiro)
Semi-Final (@Corinthians Arena/Sao Paulo)
Thu. 18 August
TBC
Training
Fri. 19 August
TBC
Training
Sat. 20 August
13:00
17:30
3/4-Place Playoff (@Mineirao/Belo Horizonte)
Final (@Maracana/Rio de Janeiro)
*Local Time
*The schedule is subject to change due to the team condition, the weather, etc.