NEWS
Coach TEGURAMORI says 'keep our spirits high' prior to game against Colombia
07 August 2016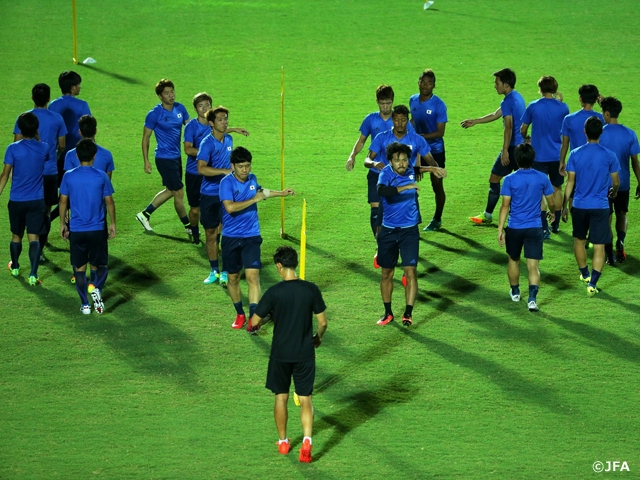 TEGURAMORI Makoto, the coach of the Japan's Olympic squad in Rio de Janeiro, appeared at an official press conference on Saturday 6 August at Amazonia Arena prior to the second game of Group B against Colombia the following day. He commented on the important deciding match (where a loss will disqualify for the knock-out stages): "it's vital to keep our spirits high."
The team have a two-day break after the defeat against Nigeria 4-5 in their first game. Japan must at least draw the coming game to have any chance of reaching second place and advancing to the quarterfinals.
Coach TEGURAMORI stated: "I don't believe we have to make significant changes to our defence. I analysed that it was due to nervousness and told the players so." He also commented on tactics: "it's up to how aggressive we can play. I hope we can also show aggressiveness in our defence."
In the evening, still in the daytime heat, the team held a practice session that was closed from public after the first 30 minute at a ground in the city.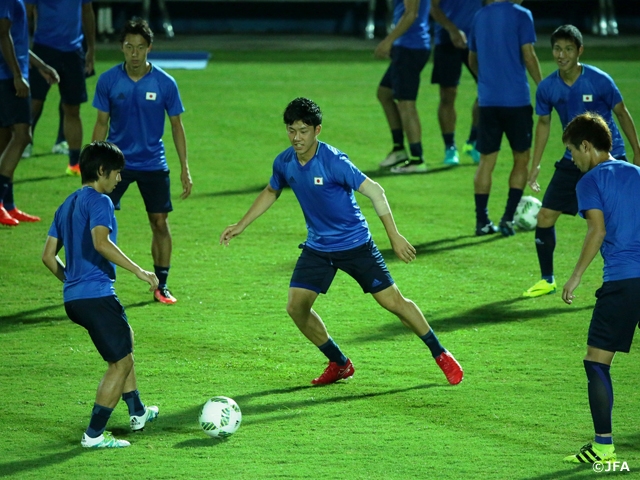 The players who had started the match against Nigeria did some running, while the others focused on agility workouts. Then, the team practiced attacks, including passing the ball around to take shots in formations. They also spent time on carefully going through set pieces.
Coach TEGURAMORI explained: "it's important to be a united team. I trust in the strength of the team."
As Colombia drew their first game with Sweden 2-2, they are also looking to earn three points. Forward GUTIERREZ Teofilo, one of the over-aged players, leads this team, collaborating with PABON Dorlan, another over-aged player at left forward, showcasing their aggressive style of football.
Coach TEGURAMORI analysed: "the opponent's extreme flexibility and swift attacks require high caution. We must defend fiercely to prevent them from playing freely."
RESTREPO Carlos Alberto, the coach of Colombia, commented: "Japan is an excellent team and we respect them. We know they can play swiftly." He also implied that he knew what to do against Japan, mentioning some players by name and noting their strengths. Those included midfielder NAKAJIMA Shoya (F.C. Tokyo), forward KOHROGI Shinzoh (Urawa Reds), and midfielder ENDO Wataru (Urawa Reds).
KOHROGI noted: "it's vital not to concede any goals. As I expect the opponent will defend tenaciously, we will have to find a way to get past them and look for tight but open space."
Midfielder YAJIMA Shinya (Fagiano Okayama) was enthusiastic: "it's our opportunity to demonstrate our team's strength. All we need is to play each match at full tilt."
The game between Japan and Colombia will kick off at 21:00 on Sunday 7 August (10:00 on 8 August Japan Time.)
Coach and Players' Comments
TEGURAMORI Makoto, Coach
I don't believe we have to make significant changes to our defence or positioning. I analysed that individual player's problems in the match against Nigeria were due to nervousness. So if we shake our game jitters, we should be able to make necessary adjustments in the next match. The most vital thing is to keep our spirit high – it's up to how normally, naturally, and positively we can play in the next game. As we conceded five goals in our first game, now we realise it won't be easy at all to win 15 consecutive matches, including the qualifying round. We learned once again that we had to showcase our strength even more vigorously under adverse circumstances. I told the players: "we must keep winning so that we can consider that the loss against Nigeria was a lesson learnt." As we've recovered enough during these two days, we'll be able to choose the best possible formation against Colombia.
MF #9 YAJIMA Shinya (Fagiano Okayama)
I didn't expect things would go smoothly from the opening game. The next match would be essential. Although we did learn that our careless mistakes could lead to conceding goals in the Toulon Tournament, we made the same mistakes in the first game. We will not let that happen again. Colombia have strong players up front. We shouldn't let them find their rhythm. We scored four goals in the first match and our goal difference is just one. We need to quickly recharge, or the tournament will be over. We're ready to gear up for the next match.
FW #13 KOHROGI Shinzoh (Urawa Reds)
Although I know Colombia is a strong team, I got an impression from video footage that they are not invincible. By defending solidly to keep the game scoreless, the opponent will have to press forward. Finding small space and splitting the defenders will be the key in creating scoring opportunities. It's vital not to concede a goal. I'll get through the opponents, who will play tough.
RESTREPO Carlos Alberto, Coach (Colombia)
Japan play tactically, keeping the midfielders compact. Nakajima (at number 10) is an excellent player. Kohrogi (at number 13) plays smartly and performs well, while ENDO (at number 3) initiates Japanese plays. We're ready to compete with them. We'll stick to our playing style, though making some changes in midfield to improve the solidity, balance, and possession of the team. We'll aim to keep a clean sheet, while looking for goals.
Schedule
Olympic Football Tournament Rio 2016
Thu. 4 August
4-5
Group B 1st Match
vs Nigeria (@Amazonia Arena)
[Japan Time: Fri. 5 August 10:00]

Fri. 5 August
TBC
Training
Sat. 6 August
TBC
Training
Sun. 7 August
21:00
Group B 2nd Match
vs Colombia (@Amazonia Arena)
[Japan Time: Mon. 8 August 10:00]

Tue. 9 August
PM
Official Training
Wed. 10 August
19:00
Group B 3rd Match
vs Sweden (@Fonte Nova Arena)
[Japan Time: Thu. 11 August 7:00]

*The following schedule determines to win and advance to the next round
Sat. 13 August
16:00
22:00
Quarter-Final (If Japan top the Group)
vs Group A 2nd (@Fonte Nova Arena)
Quarter-Final (If Japan 2nd the Group)
vs Group A 1st (@Corinthians Arena)
Sun. 14 August
TBC
Training
Mon. 15 August
TBC
Training
Tue. 16 August
TBC
Training
Wed. 17 August
13:00
16:00
Semi-Final (@Maracana/Rio de Janeiro)
Semi-Final (@Corinthians Arena/Sao Paulo)
Thu. 18 August
TBC
Training
Fri. 19 August
TBC
Training
Sat. 20 August
13:00
17:30
3/4-Place Playoff (@Mineirao/Belo Horizonte)
Final (@Maracana/Rio de Janeiro)
*Local Time
*The schedule is subject to change due to the team condition, the weather, etc.