NEWS
Day 5 in Olympic prep camp: first full pitch scrimmage in Brazil
27 July 2016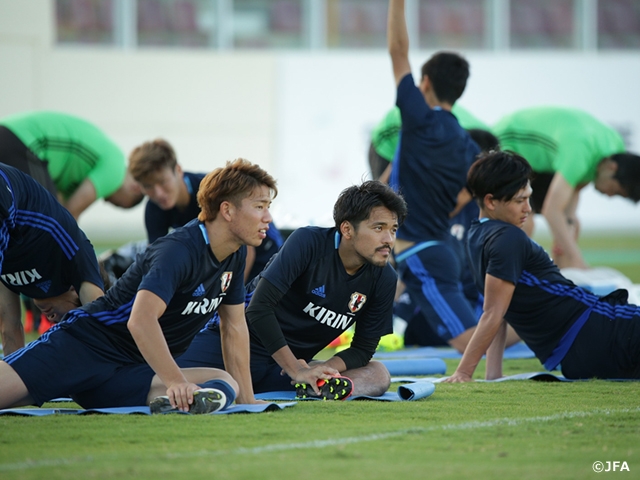 Entering the fifth day of the training camp in Aracaju located in the north east part of Brazil, the Japan national team for the Rio de Janeiro Olympics engaged in the first scrimmage on a full-sized pitch on Tuesday 26 July.
In the early afternoon, the practice session was held for approximately 90 minutes with the strong summer sunshine. First they worked in groups of six, moving and exchanging the ball with one touch in an area of the 10 square metres with time restrictions. Between drills using the balls, they also ran some sprint drills.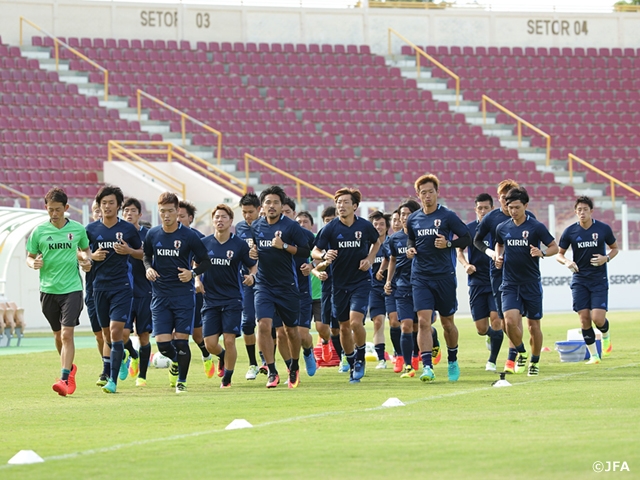 Later, they reviewed attacking formations to see how forwards react behind defenders to long feeds from the back or cross balls from flanks as well as how the offence is built by sending short and quick passes from defenders to defensive midfielders and to sides and eventually to the strikers upfront.
Coach TEGURAMORI Makoto said on his purpose of long-feed formation drills, "we don't want to rely solely on everyone keeping the ball, (now that the team has forward KOHROGI Shinzoh)." He instructed his players that they pay attention to the timing when each player starts moving in a course of the build-up.
Also taking advantage of training partners and other coaching staff, the squad engaged in the first 11-on-11 scrimmage in a full sized pitch in this camp.
Midfielder OHSHIMA Ryota (Kawasaki Frontale) did not join the workout due to his unfavourable condition including a mild fever.
The team is scheduled to play a training match against a local club team, C.S Sergipe on Wednesday 27.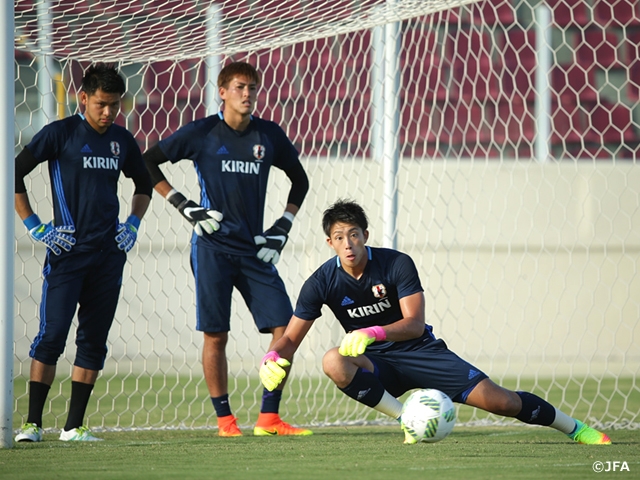 Coach and Players' Comments
TEGURAMORI Makoto, Coach
In the morning I had a meeting with over-aged players and I told them that the keys are simultaneity and interrelation. I also told them the basic principle is they play accordingly to the concept that this U-23 national team have established. I thought they understand things very fast. I want Kohrogi to realise that we can sometimes effectively keep the ball just because we always aim at the space behind defenders. That priority needs to be understood. Then I hope combinations take place right there.
I discussed with the two defenders the timings of putting pressure in a normal type of defence and in early pressure defence as well as the distance between them and a player next to them. I have no doubt that they are able to take this U-23 generation to the next level if their potentials are added onto what the team have already established.
In team offence, it's necessary for everyone to understand we get a ball and attack quickly. Keeping the ball is not our ultimate goal and I want them all to know that. I told them to make good decisions in the course of a match especially right after a goal is scored or when we need to outsmart opponents. In tomorrow's training match, we will pay attention to each player's conditioning and how they understand their own roles in the course of organisation of both offence and defence.
MF #9 YAJIMA Shinya (Fagiano Okayama)
I came here after finishing a match in Okayama. It was the longest trip I had ever had, so I admit I still have fatigue. But my condition should get better gradually. I have continued playing in matches, so playing matches isn't a problem. Tomorrow we have the first match to play here, and it's also the first match to play with over-aged players, so I am looking forward to it. I am naturally good at adjusting to how others play, so I want to play well with them. It's just a continuation of what we have been doing, so I want to make sure those things tomorrow.
MF #10 NAKAJIMA Shoya (F.C. Tokyo)
Yesterday, we players went out for dinner together. At the final qualifiers for the Olympics, we had an occasion like that as well. All the over-aged players are very easy to talk to, and although it was just a dinner together and talking with them, I think it was good to have a sense of unity of the team by using that opportunity. At the final qualifiers, we also didn't have fixed lineup at the spots behind the striker. But it doesn't matter too much, because I think all I should do is keep playing well at every match. In tomorrow's one, the line-up should have some changes, so I want to check out how I can play there and how we as a team can execute what our coach wants to do. I can't wait for it.
MF #3 ENDO Wataru (Urawa Reds)
We are starting to understand each other's characteristics, and the over-aged players are willing to talk to us a lot. Our combination is improving little by little. In tomorrow's match, of course we will go out to win it, but what kind of football we play there together with the over-aged players is important, including whether each of us can show his strength. Even though we try something new and fail it, it's okay if we can learn right there what we should do next. We want to keep actively trying. I know how good Kohrogi (from the same club) is and it's easier for me to play at defensive midfielder than at centre-back because I can play closer to him. I think we can show that in tomorrow's match.
Schedule
Tue. 19 July
PM
Training
Wed. 20 July
PM
Training
Fri. 22 July
PM
Training
Sat. 23 July
AM/PM
Training
Sun. 24 July
AM/PM
Training
Mon. 25 July
AM/PM
Training
Tue. 26 July
AM/PM
Training
Wed. 27 July
PM
Training Match
vs C.S Sergipe
Thu. 28 July
AM
Training
Fri. 29 July
PM
Official Training
Sat. 30 July
16:30
International Friendly Match
vs U-23 Brazil National Team (@Estádio Serra Dourada)
[Japan Time: Sun. 31 July 4:30]

Olympic Football Tournament Rio 2016
Sun. 31 July
TBC
Training
Mon. 1 August
TBC
Training
Tue. 2 August
TBC
Training
Wed. 3 August
TBC
Official Training
Thu. 4 August
21:00
Group B 1st Match
vs Nigeria (@Amazonia Arena)
[Japan Time: Fri. 5 August 10:00]

Fri. 5 August
TBC
Training
Sat. 6 August
TBC
Training
Sun. 7 August
21:00
Group B 2nd Match
vs Colombia (@Amazonia Arena)
[Japan Time: Mon. 8 August 10:00]

Tue. 9 August
PM
Official Training
Wed. 10 August
19:00
Group B 3rd Match
vs Sweden (@Fonte Nova Arena)
[Japan Time: Thu. 11 August 7:00]

*The following schedule determines to win and advance to the next round
Sat. 13 August
16:00
22:00
Quarter-Final (If Japan top the Group)
vs Group A 2nd (@Fonte Nova Arena)
Quarter-Final (If Japan 2nd the Group)
vs Group A 1st (@Corinthians Arena)
Sun. 14 August
TBC
Training
Mon. 15 August
TBC
Training
Tue. 16 August
TBC
Training
Wed. 17 August
13:00
16:00
Semi-Final (@Maracana/Rio de Janeiro)
Semi-Final (@Corinthians Arena/Sao Paulo)
Thu. 18 August
TBC
Training
Fri. 19 August
TBC
Training
Sat. 20 August
13:00
17:30
3/4-Place Playoff (@Mineirao/Belo Horizonte)
Final (@Maracana/Rio de Janeiro)
*Local Time
*The schedule is subject to change due to the team condition, the weather, etc.