NEWS
Japan's Olympic squad arrive in Brazil
23 July 2016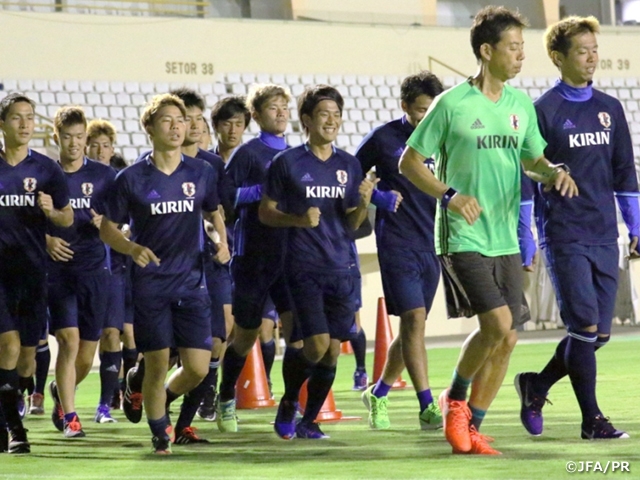 Forty hours after leaving a hotel in Chiba, Japan's National Team participating in the Rio de Janeiro Olympics arrived in Aracaju, Brazil located at the literally opposite side of the globe.
Children from the local state of Sergipe welcomed the team warmly at the airport. Following the lunch at the hotel, they, subsequently, went out to the pitch to loosen their body tightened through the long flights. Before the start of the session, the state governor Jackson Barreto gave a welcoming message to the players. In the local weather of 26 degrees Celsius and 66% humidity, just like that of early summer in Japan, recovery training centred on stretching and running, occasionally utilising balls for ball-feeling drills, where the players showed relaxed smiles.
Despite the arduousness resulting from the long trip and 12 hours of time difference, the team focused on the camp's main goal, getting their conditioning up in a very productive mood. On 23rd, the workout gets intensified, divided into two sessions a day.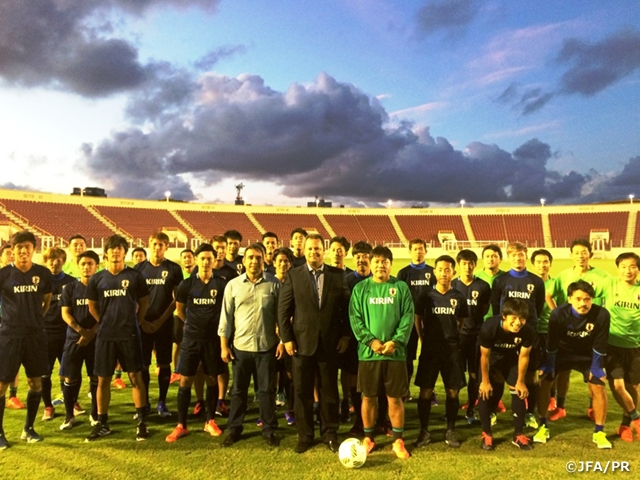 Coach and Players' Comments
TEGURAMORI Makoto, Coach
We had to come to the farthest country from our home, and we knew it would be a long trip. We have travelled this far, so we never want to waste this trip by achieving nothing. This travel has been long enough to make me feel that way. I said to my players, "we will recover and relax our body, but never relax your mind. We are here for a very important and valuable tournament. I want you all to understand that well. We are here not just to experience the Olympic Games but to get some results."
On our flights, in order to deal with potential jet lag, the players took sleep wisely at the right time. Today, I think this rather cool weather also helped us. They were moving well because of that effort to minimize the jet lag. But even though they seem to be in good condition, jet lag often don't go away in one or two days. So we have to take that into consideration and move forward wisely without expecting too much. Never to get injured, we will prioritise our conditioning for next two or three days. NISHI Yoshiteru (team's support staff) is not allowed to cook for us during the tournament due to regulations. So in this preparation period we thought we would need him to serve our players what we call "Champions Meals." He was with us throughout the final qualifiers, so I wanted him to be with us also during this tournament. That's why we asked him to be here.
In the 2014 World Cup, Greece also used Aracaju as their camp site. They had a good preparation here and advanced to the knockout round by putting away Japan. When I visited here before, I thought this would be a good place for our camp. Good preparation is mandatory for good results. Hopefully, we will prepare ourselves well here and put up a good result that will rewrite a history book for Japan.
DF #15 KAMEKAWA Masashi (Avispa Fukuoka)
It's been cooler than I expected, so we were able to have a relaxed first practice session. It's my first time to travel this far, so I am a bit tired. But we still have time before the first match, so we want to prepare ourselves well. Three over-aged players are really friendly that we almost forget the fact that they have been with the team only for two days. They talk to us a lot, which makes our communication much easier. In this tourney, we have separate goals as a team and as individuals. We need to meet them both in order for us to advance in the tournament. I want to show what I can do such as defending resiliently and working hard.
FW #16 ASANO Takuma (Arsenal FC / England)
I am finally in Brazil. I am getting highly motivated. Before the workout, our coach said, "we get to play football because of support from all kinds of people including our local communities. Let's work hard for them as well." That's so true. We are getting support from many people. So I want to play for them, representing Japan. The fact that we can represent Japan and play against other countries already helps our individual experience and growth. In addition, it is a tournament where the whole world is watching and we can showcase ourselves. So I want to show the world what I can do by scoring goals and helping my team win.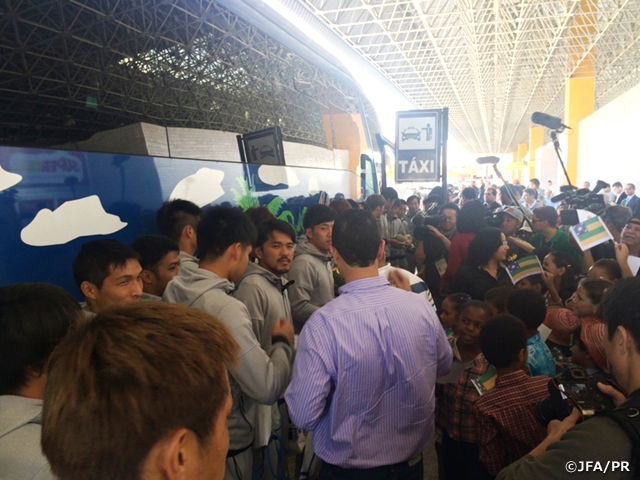 Schedule
Tue. 19 July
PM
Training
Wed. 20 July
PM
Training
Fri. 22 July
PM
Training
Sat. 23 July
AM/PM
Training
Sun. 24 July
AM/PM
Training
Mon. 25 July
AM/PM
Training
Tue. 26 July
AM/PM
Training
Wed. 27 July
PM
Training Match
vs C.S Sergipe
Thu. 28 July
AM
Training
Fri. 29 July
PM
Official Training
Sat. 30 July
16:30
International Friendly Match
vs U-23 Brazil National Team (@Estádio Serra Dourada)
[Japan Time: Sun. 31 July 4:30]

Olympic Football Tournament Rio 2016
Sun. 31 July
TBC
Training
Mon. 1 August
TBC
Training
Tue. 2 August
TBC
Training
Wed. 3 August
TBC
Official Training
Thu. 4 August
21:00
Group B 1st Match
vs Nigeria (@Amazonia Arena)
[Japan Time: Fri. 5 August 10:00]

Fri. 5 August
TBC
Training
Sat. 6 August
TBC
Training
Sun. 7 August
21:00
Group B 2nd Match
vs Colombia (@Amazonia Arena)
[Japan Time: Mon. 8 August 10:00]

Tue. 9 August
PM
Official Training
Wed. 10 August
19:00
Group B 3rd Match
vs Sweden (@Fonte Nova Arena)
[Japan Time: Thu. 11 August 07:00]

*The following schedule determines to win and advance to the next round
Sat. 13 August
16:00
22:00
Quarter-Final (If Japan top the Group)
vs Group A 2nd (@Fonte Nova Arena)
Quarter-Final (If Japan 2nd the Group)
vs Group A 1st (@Corinthians Arena)
Sun. 14 August
TBC
Training
Mon. 15 August
TBC
Training
Tue. 16 August
TBC
Training
Wed. 17 August
13:00
16:00
Semi-Final (@Maracana/Rio de Janeiro)
Semi-Final (@Corinthians Arena/Sao Paulo)
Thu. 18 August
TBC
Training
Fri. 19 August
TBC
Training
Sat. 20 August
13:00
17:30
3/4-Place Playoff (@Mineirao/Belo Horizonte)
Final (@Maracana/Rio de Janeiro)
*Local Time
*The schedule is subject to change due to the team condition, the weather, etc.